Nokia gets smarter
The people's brand promises more with its two new smartphones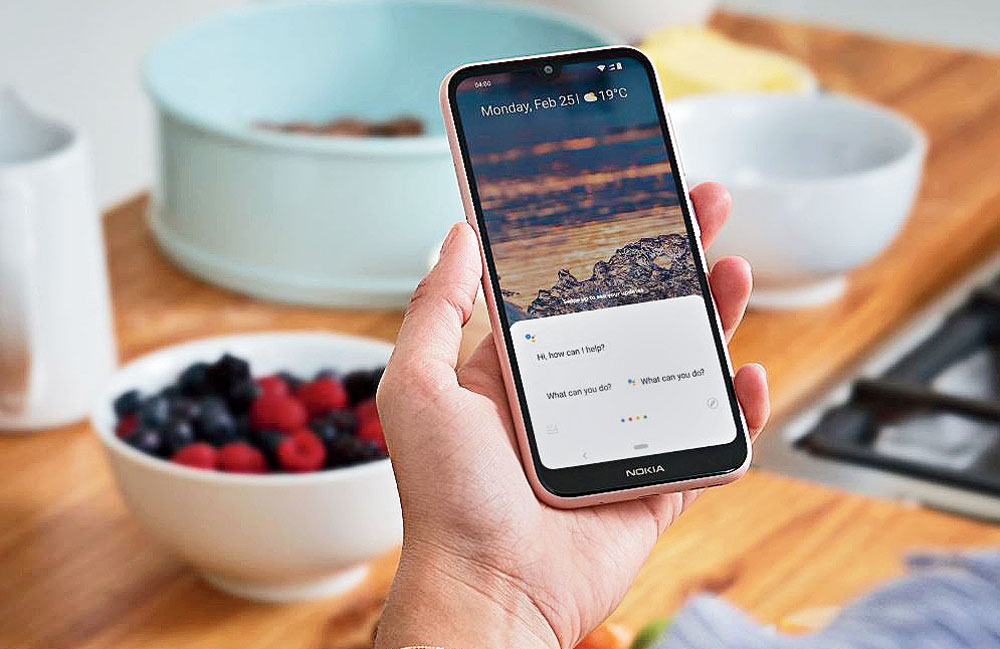 The Nokia 4.2
Picture: HMD Global
---
Published 26.05.19, 12:58 PM
|
---
It has been a good month for HMD as two of its launches — Nokia 4.2 and Nokia 3.2 — are being talked about. Bringing uniqueness to the price brand (Nokia 3.2 retails for Rs 8,990 and 4.2 for Rs 10,990) is an innovation that HMD thinks will work — a dedicated Google Assitant button. But the most important aspect of the phones is something the company has been speaking about right from the start — continuous Android updates and security patches. "There shouldn't be any alternative to the importance of delivering a trustworthy and secure experience," Ajey Mehta, HMD Global vice-president and country head (India), tells The Telegraph.
What distinguishes the two recent launches — Nokia 4.2 and Nokia 3.2?
Nokia 4.2 is the first in the series and is made for fans who are looking for flagship-calibre smartphones at an affordable price. What we have got here is cutting-edge design, dual cameras and the latest Android innovations, all this without breaking the bank. For Nokia 3.2 we have come up with a best-in-class display, a two-day battery life and advanced AI capabilities, including the Google Assistant button, which is there on both the devices. The latter is designed for fans who want to view more and do more, so there is a larger display. Apart from this we are offering the most secure Android experience to consumers and enterprises. The phones will continuously receive Android updates and security patches. An always-updated software translates into better security.
Do you think people would use the Google Assistant button often?
These are the days of voice-enabled devices. People are using voice a lot more than before. What we are doing is taking it to the next level and making interaction with one's Android phone much easier. This is the first time we have made the Google Assistant buttons available in the affordable phone segment and we do believe this will add to the premium experience. Over a period, we want the experience with the button to get much better. People are no longer satisfied with a device that's not usable for at least two years and we are working to ensure that the experience is not compromised throughout the ownership of the device.
Is it worth fighting for a share of the Rs 5,000 to Rs 15,000 segment?
Absolutely. Almost 70 to 75 per cent of the industry is actually in the Rs 5,000-15,000 segment. It's probably the biggest price band and the most competitive, yet it presents the most opportunity for us to grow. Though we are dedicated to offer devices across price bands, it is very important that we have a strong presence in the large price bands. Therefore we have launched these two devices pretty close to each other but delivering very different experiences, one looking at a flagship-grade imaging experience and the other (3.2) offers great battery life, which allows fans to do more and view more.
How do you decide on the chipset for the devices?
We focus on the experience that we deliver. Our three pillars — design and craftsmanship, real-life experience, and pure and secure Android — get delivered in all of our devices, whatever they are meant for, like gaming, streaming movies or taking photos. The chipset we offer is in line with the experience quotient.
Do you think there are too many smartphone launches every month?
It's the consumer who wins this game. The consumer is spoilt for choice but I believe that every phone has its unique proposition and deliver a unique message. Besides offering great imaging performance and battery life, it's about the latest Android updates, which keeps getting better. We are one of the most prominent partners for Google when it comes to the Android One programme and even the Android Enterprise Recommended programme. Nokia stands for quality and trust, so this is an important area for us. Yes, there are multiple phone launches every month what we deliver is the best experience. Do you think Android One (near-stock version of the Android OS) has a bright future?
I think it has a very promising future, especially because of the way the importance that is being associated with security and privacy and also in lines with regulations and compliance. It would become more and more important that we deliver a trustworthy experience. This is the basis on which Android One has been built and we believe that it's going to become increasingly important, especially now that we are in the era of Internet of Devices where so many things are inter-connected, collecting information and data, sharing it through cloud gateways. So providing secure experience is going to become super-critical and Android One will play a strong role.
It's an interesting time for the mobile phone industry, especially when we look at the way sanctions are being imposed on a leading mobile phone company.
Yes, there are changes that are happening. We don't talk about competition but all I can say is that it reinforces my belief that there shouldn't be any alternative to the importance of delivering a trustworthy and secure experience. Our phones are designed in Europe and we have partnerships that offer secure experiences. Consumers will pay a premium to ensure they have this. No compromise should be made on the issue of privacy. Nokia is about reliability and trust.
Many of HMD's launches take place in China but India is an important market for you….
If you look at many of the phones that we have launched recently, India is probably the first market to receive them. There have many devices that were announced and launched from India. The 5.1 Plus and 6.1 Plus are two examples that highlight the importance of the Indian market. We are a global company and select countries and markets based on the feedback we receive from fans. India is a very important market for us.