Mythic Quest takes us to the zany world of video games
"We tried really hard to make the show feel authentic to the experience of working in the games industry, both the good and the bad"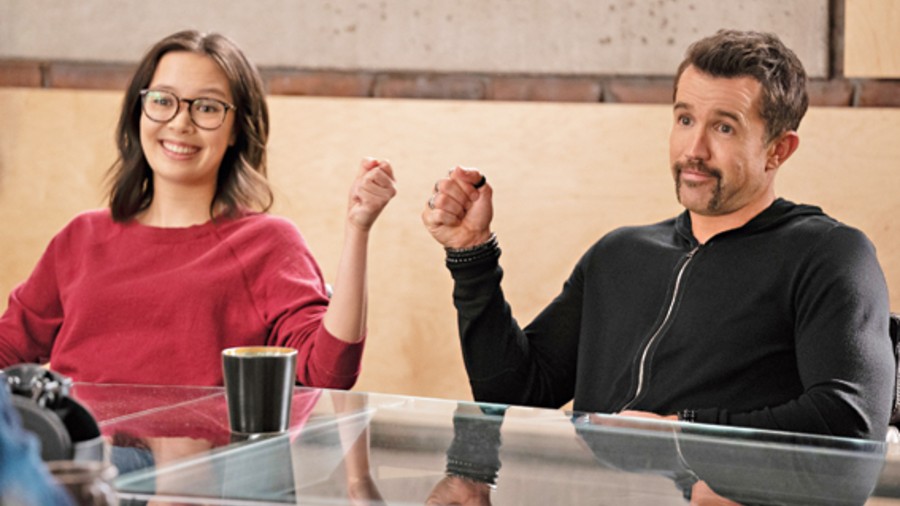 ---
---
In 2010, a storm engulfed the cultural scene when the film critic Roger Ebert said that video games could never be counted as art, for "no video gamer now living will survive long enough to experience the medium as an art form". Things changed rapidly in the next few years. Two years later, video games were curated for the first time by leading institutions like the Smithsonian and the Museum of Modern Art (MoMA went on to add video games to its permanent collection). In 2016, the creator of the game Passage, Jason Rohrer, became the subject of an exhibition titled 'The Game Worlds of Jason Rohrer', which some consider the first solo art museum retrospective for a video-game designer. And since 2020, video games have seen many through the pandemic. With each passing day of social distancing, many stepped into an alternate reality.
At the same time, 2020 saw the arrival of a TV show that embraces the gaming industry like few have done before — Mythic Quest. The Apple TV+ show dived deep into the world of video games without making the subject feel disconnected with reality. The premiere of the second season of the show is around the corner — May 7 — and this time the narrative is tighter and grittier.
One may even consider Mythic Quest in terms of The Office, which turned awkwardness into an art form. In the real world, people say the wrong things and always pretend to be cooler than they really are… exactly like the characters in Mythic Quest. They are, in fact, us but with better dialogues.
"We wanted to make sure that we weren't considered a quote-unquote video game show because that just turns off a large section of the population who don't play games or is not interested in it. We wanted to make sure that show appeared accessible to everybody that anybody would sit down to watch it and recognise the characters on the screen… as if these are people they worked with or lived with," Rob McElhenney, the show's co-creator, tells us over a video call facilitated by Apple TV+.
Most know McElhenney from It's Always Sunny in Philadelphia, which can be considered more of a traditional sitcom. He changed gears for Mythic Quest. He drew the lead character of Ian Grimm, the creative director of a multiplayer online role-playing game, to first appear tyrannical but that slowly fades away to offer an overview of issues that are not necessarily limited to an industry, like sexism, managerial skills, pettiness in the workplace and, very importantly, what can be achieved if colleagues join hands despite all differences.
'Authentic experience of working in the games industry'
To give you an idea of the plot in case you haven't been following the show, Ian Grimm shares most of the screen time with Poppy Li (played by Charlotte Nicdao), who gets promoted from being the lead engineer to co-creative director. Surrounding them are Brad Bakshi (played by Danny Pudi), head of monetisation, C.W. Longbotton (played by Oscar winner F. Murray Abraham), who keeps coming up with amazing background stories for the video game, Jo (Jessie Ennis), the office assistant, and two game testers, Rachel (Ashly Burch) and Dana (Imani Hakim).
In the new season, the two characters who may just win over your heart are that of Rachel and Dana. Ashly Burch, who plays Rachel, has been associated with the video game industry for many years. She has spent a decade as one of the industry's leading voice actors. On the Apple TV+ show she is also one of the writers.
"We tried really hard to make the show feel authentic to the experience of working in the games industry, both the good and the bad. We wanted to show the genuine passion and love of games and the diversity of people who work on them and we also wanted to show some of the more difficult sides, like how women are treated and some toxicity that exists. The idea was to balance it out by not making it just a love letter or just a condemnation of the industry. I'm friends with some game developers who said the show is very triggering for them, which I will take as a compliment," Burch said over video chat.
Opposite Rachel is Imani Hakim's Dana, who falls in love. "I am grateful to be the one chosen to represent the LGBTQ community of women with colour. There are so many pockets we are tapping into on the show without forcing it down one's face," she said.
The 'escapism' factor
For some, it will be the angle of video games that will be the main attraction but even if you don't know anything about games or don't even like games, just give Mythic Quest a chance. It has some smart writing and the narrative has depth. The characters can very well be ones who are in your office, like Brad Bakshi, the head of monetisation. The only thing he cares about is how a game can make money through in-app purchases, which is also a reality. Most games that we play today on mobile phones depend on the technique to keep the cash register ringing. "One of my favourite games that I remember falling in love with was Zelda and coming to work on this show, I didn't have a deep knowledge of video games that I do now. Early on, Megan Ganz (the show's co-creator) put me in touch with a head of monetisation and I got to learn all that goes into monetising games, especially in some of these massively multiplayer online games… how they continue to expand and about all these new releases. In some ways I've grown from just playing video games as a kid to now having a new appreciation for all the people involved in creating and maintaining a game, which is really incredible, especially the cut scenes, some of which are so theatrical and cinematic," says Danny Pudi who plays Bakshi. "It's fun to appreciate the escapism in these games and also see how much work it takes to maintain a great game."
That the video game industry also needs veteran storytellers forms one of the themes of the show. C.W. Longbotton is always around the office, helping to come up with crazy but believable storylines. And it's played by F. Murray Abraham, whose role in the 1984 film Amadeus is unforgettable. The 81-year-old actor remains as passionate about acting in a show meant for a video-on-demand streaming television service as he is about the big screen. "I am just simply lucky. I was a small-time hoodlum and I discovered acting because of a great teacher. I was simply a part of a gang. I knew instantly what I wanted to do for the rest of my life. It was simply an act of God; perhaps plain good luck," he told us.
If like Ashly Burch you grew up playing Donkey Kong and Mario, this is a show you will love. If it is The Office that you just can't get over, there is a similar degree of zaniness here. The real heart of the story is how a crazy bunch of characters get along day after day.
The second season of Mythic Quest arrives on Apple TV+ on May 7