Merge and defend
GAMES & GADGETS | Rooster Defense's unique premise is that you are a rooster commander trying to defend your golden egg from the military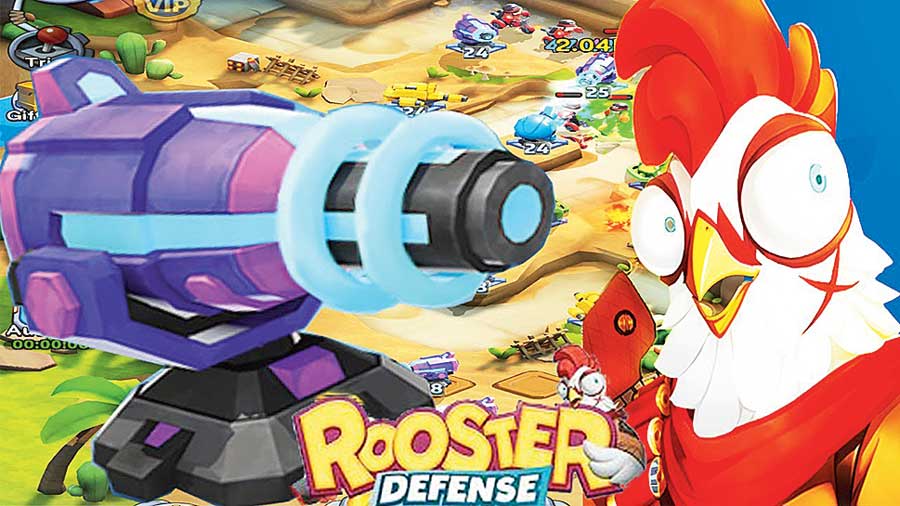 Rooster Defense combines the mechanics of tower defence and merge mechanics to make a compelling and addictive experience
Source: The game
---
Published 08.11.20, 10:57 PM
|
---
Game: Rooster Defense by Ohayoo
Genre: Casual game
Platforms: Android and iOS
Innovation in games usually happens when different types of gameplay genres are merged to come up with something completely new. Rooster Defense combines the mechanics of tower defence and merge mechanics to make a compelling and addictive experience.
As the name suggests, Rooster Defense's unique premise is that you are a rooster commander trying to defend your golden egg from the military. To do this, you have the help of advanced military equipment. There are two main actions you have to do. First, you have to create strong weapons by combining the ones available. This is the basis of the merge mechanic. To combine more weapons, you have to use the coins that you get by defeating enemies. Next, you have to decide where to place these weapons on the battlefield so that they are most effective in stopping the incoming barrage of armies. The game behaves partly like an idle game where enemies keep coming continuously and it is your job to fortify your base.
Your main goal is to complete areas. Every area has around 60 levels and every 10 levels, you have to fight a boss. These boss battles are challenging and need you to upgrade. The variety of enemies keeps things interesting and you on your toes. As you progress, you unlock new places to keep your weapons and new slots to perform merging. This ensures that you feel you are progressing and improving the game.
The most fun part of the game are the weapons. You can use multiple types of weapons such as the turret, the rocket launcher, the poisoner or the freezer. Each of these weapons can be levelled up through cards. After levelling up, they gain different and new powers. For example, the rocket launcher can morph into a nuclear launcher while the turret can be morphed into a sniper turret. This changes the way you use the weapons thereby changing your experience.
Rooster Defense gives you multiple ways to enrich your experience. Simply by watching an ad, you can double your attack power for an hour. You can also double coins needed to get weapons so that you can merge them by watching an ad. However, the most fun automation that the game provides is the auto fusion. This automates the merge mechanics for a limited time, reducing your effort in thinking how to best merge, and letting you focus on the placement of weapons. You can also subscribe to the battle pass that gives you additional rewards as you progress through the game.
VERDICT: Rooster Defense is a fun and addictive experience. You can get lost in the merge and defence pretty quickly and spend hours at it. However, after a point of time, the game does become very difficult and the only way for you to progress is to pay. If you are looking for a game which makes you feel powerful but also gives you a challenge to overcome in every session, Rooster Defense is the game for you. I would rate it eight out of 10.
Pop picks
Similar games we like
Smash Hit: This game takes the concept of the endless runner and adds a twist. You progress through a dimension in first-person perspective with only walls and glass in sight. You make your way by smashing marble balls into the glass.
Price: Free to play
Battle of Polytopia: This is a turn-based strategy game about controlling the map, fighting enemy tribes, discovering new lands and mastering new technologies. You are ruler of one of 15 tribes and attempt to build a civilisation.
Price: Free to play