Meet the man making some cool vibes on the Indian smartphone scene — Madhav Sheth of Realme
The Telegraph spent some time with the tech enthusiast to find out what drives the man and his company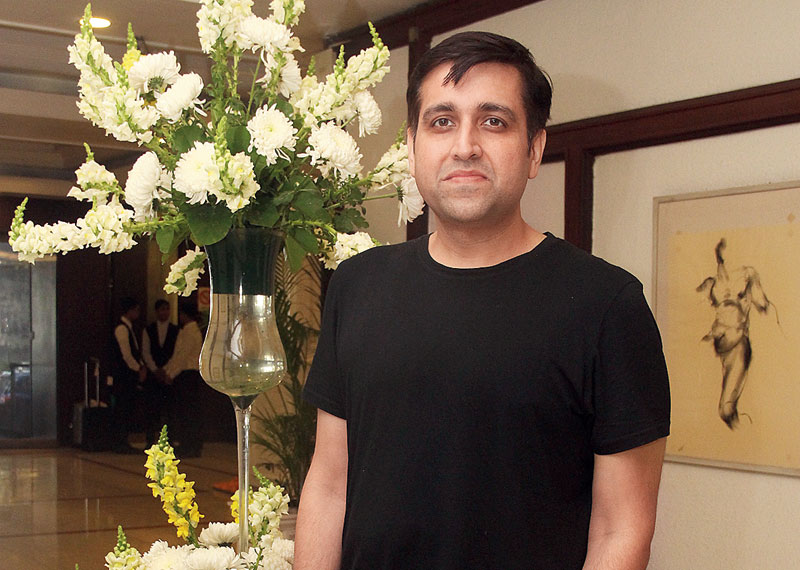 ---
---
Over the course of two summers (well, almost!), a Chinese smartphone company has quietly emerged in the pockets of tech enthusiasts — Realme. What started as an offshoot of OPPO has been offering the likes of Xiaomi stiff competition, hoping to cement its place as one of the most powerful phone makers. Behind the success of the brand is the self-deprecating Madhav Sheth, vice-president of Realme and chief executive officer of Realme India.
The Telegraph spent some time with the tech enthusiast over masala dosa and coffee to find out what drives the man and his company.
The C3 is an entry-level smartphone and is available offline. Since Realme is known for its online presence, how important is the offline market for you?
We have to understand Indian dynamics first; it's 65 per cent offline and 35 per cent online… that's the national average. For Realme it's vice-versa with 65-70 per cent online. So there is a huge scope in offline, which offers customers a chance to experience. Customers can see the product, experience it, go home, think over and then buy the product. I believe it's going to be big for Realme.
But the phone that's being talked about is Realme X50 Pro 5G. Yes, it's India's first 5G smartphone but the country is yet to have a 5G network. How does it work?
I think hardware needs to be ready before services launch. It's like TV. If you are buying a TV, you would buy the latest because one is not going to change certain hardware/devices for a certain period of time. So when 5G arrives, people should be able to experience it. Also, there are a lot of people who keep travelling to where 5G networks are already operating. I want Indians to enjoy and experience technology; they shouldn't be held back because there is no 5G network in India at the moment. If you go to China, Dubai, Korea, the US… they have 5G pockets now. I am looking at things from a different perspective: I believe Indians should be able to use all kinds of technology that people around the world are using. That's my mission.
What did you do when you first experienced 5G?
I checked the data speed. It was amazing. What one should do is try to download the heaviest of files to check how much time it's taking. 5G makes your life simpler. 5G is about more speed and services getting faster. So it's about making your life simpler and faster.
Where do you want to see Realme this year?
We want to be in the top three. I am expecting a double jump in growth figures. Last year we did 15 million handsets, this year we want to do 30 million handsets. Plus, there are IoT devices, software business expansion. IoT is very important for us. I want to connect to Indians one way or the other.
So far this year we have heard a lot about flip phones. Are you excited?
I always say there are two types of customers — tech enthusiasts who love to experience new technology and people who use devices to make their lives simpler. It's not that we haven't used filp phones in the past. In our college days we have used them but I agree this is new technology. What I want to see is such technology being available for the masses. Durability is one of the most important aspects. Such devices should be fall resistant to some degree and things like that.
Realme is very popular among tech enthusiasts but what about beyond them?
Now that the word-of-mouth phase has taken place, we are seeing a shift in the people who are buying our products. What Realme does is make phones appear more than just lifestyle products; they are about technology.
And there has been a lot of talk about the good design…
Design and power have been a part of our philosophy from day one. When I was a college student, I could buy a phone only on a certain budget. I can still put myself in the shoes of these college students. If I am spending Rs 10,000 on a phone, that for me is an iPhone. For me, that's going to be my iPhone for the next year or so. How can I have the privilege of design and the privilege of performance at that price? We make it possible. We have design teams in India and China who make things happen.
What would you say has been the cornerstone of your company's success?
At Realme we keep our ears to the ground, listening to our users. I normally attend user/fan meets just to understand what they are asking for. That is where they tell us what they want to do with a phone. Take for example our quad-camera phone. We heard our users say they wanted to use macro lens, portrait lens, wide-angle and so on… all on one phone. We delivered.
You have spent a part of your childhood in Calcutta. What was your childhood like?
Life was all about tech and cars. I still love cars. When I was small, I used to play around with these two things. I read everything I could lay my hands on to learn about them. It was my passion and I continue to follow it. There was a lot of gaming also. So I had this Atari set. I think I have destroyed 10-15 joysticks (laughs). This was an amazing time. As I grew up, I started reading about how some people have used tech to change the world. This still excites me. Technology can help save so many lives. I want to give the best of technology in a language the layman can understand. I always believe that technology shouldn't be for a certain segment of the population. It's for everyone. I think it is the birthright for people to use technology to simplify their lives.
Speaking of that, some companies believe that privacy can be offered only on expensive phones?
Privacy is for everyone. There is 100 per cent privacy on Realme phones. I think people should use less of third-party apps that are not verified. That's where most of the problems begin. It's something that's not within our control. People should be aware what these unverified apps take from one's phone.
Coming back to your childhood, where did you stay in Calcutta?
I used to stay in Gariahat, near the tram depot. There was Sharma Sweets, memories of which have stayed on with me. I used to love tram journeys. This was when I was in Class IV. I was there till Class VII. My dad being a banker with a national bank, he was transferred every two-three years. Because of him I got to understand the diversity of India.
Are you in touch with your school friends?
When you keep changing schools, you never get to have that one best friend. Books were my best friends. I never had the opportunity to get along with one person over a period of time.
Do you miss having a best friend?
Well, I would like my kid to enjoy that. I missed out but my kid should enjoy this… friendships are important. There is an age for everything. One shouldn't behave beyond one's age.
What did you read back then?
I used to love comics — DC, Marvel to Chacha Chaudhary and Tintin. Now I read biographies and management books. I need to know whether what I am thinking of is something also the world is thinking about or am I just being crazy. I need to realise that I am not the only one being crazy (laughs).
Any book that has inspired you?
I love Steve Job's biography. I like people who stand by their challenges and keep their promise. When you are targeting something, 10 challenges would come your way. That's what life is about. Stay focused and challenges would go away. Reading such books is a source of encouragement.
You are leading a technology company and you are also a father. How do you address the issue of digital addiction?
As a parent it is my key responsibility. A thin line separates proper use and overuse of technology. It is important for a parent to realise that a child needs information. In my case, at my child's school much of the things are taught on laptops. They have to use technology. But I don't like it if my kid is playing on a device or watching movies all day. I restrict that part to maximum one hour. I make it a point for my kid to go out and play. But it's no point being a helicopter parent… always telling kids what to do. We have to make them responsible and make them think independently.