Lancet: Credit goes to states, give them leeway
The journal has cited examples of Kerala, Odisha and Maharashtra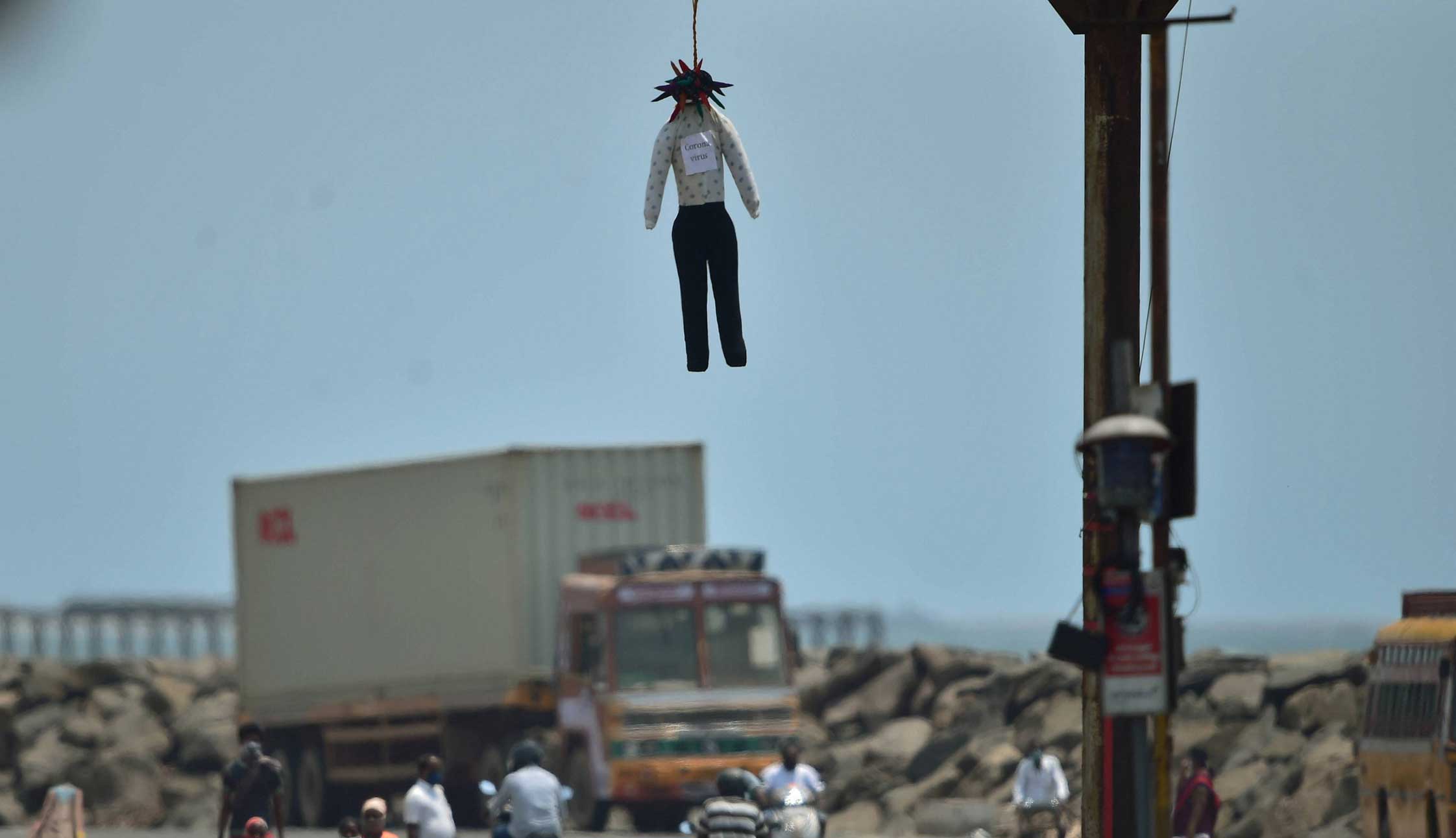 An effigy on coronavirus installed by Greater Chennai Corporation is seen hanging on a pole to spread awareness among people in Chennai on Saturday.
(PTI)
---
New Delhi
|
Published 25.04.20, 09:56 PM
|
---
The Centre should loosen its control and give states more autonomy over funding and decision-making on the Covid-19 pandemic, The Lancet, a top international medical journal, said on Saturday in a commentary on India under the lockdown.
The journal said the states "deserve much of the credit for India's Covid-19 response" and that the lockdown was "hastily prepared and immediately disadvantaged already vulnerable populations", echoing concerns expressed by Indian health experts and rights activists.
"Better planning and communication could have helped avert this crisis," it said.
The journal has cited the examples of Kerala, Odisha and Maharashtra to illustrate how the preparedness and response to Covid-19 has differed at the state level.
In Kerala, it said, extensive testing, efforts to contain the virus through community mobilisation, and healthcare facilities have helped maintain a very low mortality rate.
Doctors and epidemiologists tracking the epidemic in India over the past month have also underscored that while the spread of the coronavirus has slowed down in multiple states, the greatest "flattening" of the epidemic curve has been visible in Kerala.
The journal cited Odisha whose "exposure to previous natural disasters meant crisis precautions were already in place and have been repurposed". The number of new infections in Odisha has been less than seven or lower every day over the past week.
The Maharashtra government, the journal said, has used drones to monitor physical distancing during the lockdown and applied a cluster-containment strategy under which, if three or more patients are diagnosed, all houses within 3km are surveyed to detect cases, trace contacts or raise awareness.
Indian health officials have highlighted that the government has ramped up testing over the past month from 14,000 samples screened by March 23 to more than 500,000 samples by April 22.
But the journal has stressed that India's testing rates have been low (0.28 per 1,000 people on April 20) and attributed the low testing levels to "capacity issues, absence of political will, and operational feasibility". However, it said, efforts to reverse this situation are under way as hundreds of thousands of testing kits become available and more companies and labs are approved.
"Testing needs to be expanded exponentially as well as strategically as a tool to provide epidemiological evidence," the journal added, reflecting concerns expressed over the past month by Indian doctors.
The journal said the Centre should give the states more autonomy over funding and decision-making, pay greater attention to healthcare, and recognise the importance of having a strong public-sector capacity, especially in primary care at the district level.
It has underlined that India's public healthcare system is "chronically underfunded", receiving just 1.28 per cent of the GDP, which leaves primary care weak. "This pandemic could be the much needed wake-up call to the necessity of long-term changes to India's health system."