Lamborghini rolls out Urus Performante
Now the Urus SUV launched about five years ago has been a superhit for Lamborghini and the buying public across the world seems unable to get enough of them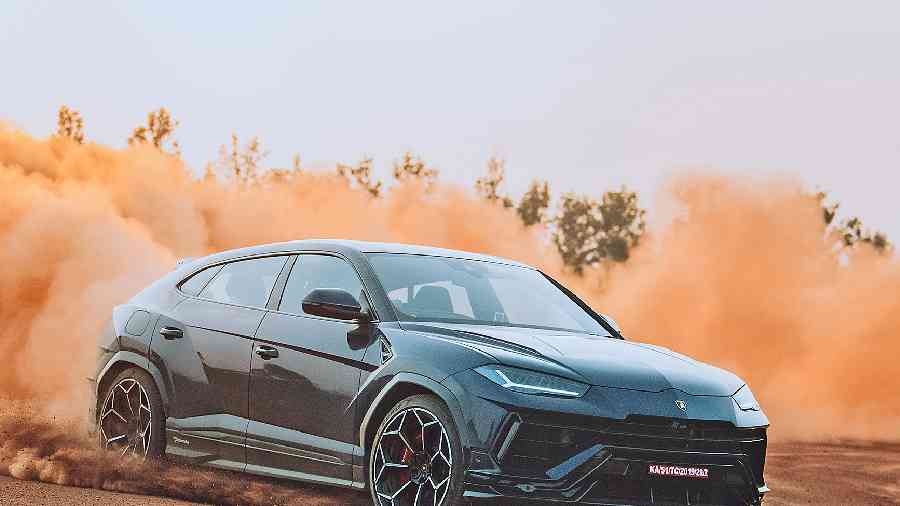 Going sideways on the dirt in the Urus was a great deal of fun considering how nimble this fivemetre-plus thing can be
Pictures: Lamborghini
---
Published 12.03.23, 01:39 PM
|
---
It is not every day that one wakes up to the prospect of driving on a dirt track in a 666hp vehicle with express intention of experiencing how well it can go sideways. Tokyo Drift, here I come! To be honest though, I am not terribly good at this. There are two reasons why. The first, of course, is that not too many opportunities to do this come my way. The other is that whenever I have ridden shotgun in a vehicle that is going sideways I have not really been able to savour the experience of being thrown around in my seat and thanking the good God above for whatever muscles he has given me that hold my innards, well, in. So there.
One does admit, however, that a good long drift makes for a pretty spectacular sight, especially on loose surfaces like dirt or snow, with the rear wheel raising a cloud of whatever it is slip-sliding across. And guess being able to do this in a fairly safe environment brings its share of fun. So it was at the upcoming Bren Raceway near Bangalore that we found ourselves strapping up in a Urus Performante, which was having what the company called its 'dynamic launch' In India. This was the second part of the drive Lamborghini organised for motoring scribes and was ostensibly intended for us to experience the 'Rally' mode of the Performante that was created for just this kind of situation.
Now the Urus SUV launched about five years ago has been a superhit for Lamborghini and the buying public across the world seems unable to get enough of them. True to Lambo tradition, however, (the company has typically kept models on the road for a decade or so before moving on to the next one) variants on the theme seem to be coming along now. That is probably the raison d'etre for the Urus Performante. So, how exactly is it different from the standard Urus? Well, the new one is about 20mm lower, about 50kg lighter with many parts like the bonnet, roof, mirror housings, and so on made of carbon fibre, an inch or two broader and more powerful and hence faster. We are not talking about very big changes, but just enough to keep things freshened up. And of course, the Rally mode in addition to the Strada, Sport and Corsa modes in the Urus 'non-Performante', which is still plenty of 'performante' unless one is not taking it off-road perhaps. URUS PERFORMANTE IN NUMBERS
What: High-performance super SUV L x B x H: 5,137mm x 2,181mm x 1,618mm
Wheelbase: 3,006mm Weight: 2,150kg Engine: 90°, 3,996cc, twin-scroll bi-turbo V8
Peak power: 490 kW (666 CV/657hp) at 6,000 rpm
Max. torque: 850 Nm at 2,300-4,500 rpm
Top speed: 306kmph 0–100 kmph: 3.3 seconds 0–200 kmph: 11.5 seconds Braking (100-0 kmph): 32.9 m
Tyres: 285/40 ZR22 (front), 325/35 ZR22 (rear)
Steering: Electromechanical power steering with rearwheel steering (LRS)
Transmission: 8-speed automatic gearbox with 4WD
Price: Rs 4.22 crore onwards, ex-showroom The first round of the Urus Performante experience had happened in the morning. It was on tarmac in the Nandi Hills area, a little outside Bangalore. The weather was glorious. There was just that little nip in the air, but the sun was shining bright and the air was crisp. A perfect time to test our limits in the Urus. It is our limits that are being tested because the Performante is good for 306kmph and chances were that on public roads we wouldn't be getting even halfway there.
Plus, push this long and broad (2.2m or so) SUV around bends and you would be surprised at the humongous amounts of grip that this one has. It is, in fact, very easy to get carried away about one's driving abilities and do something stupid with the kind of confidence it instils in the driver. It accelerates pretty hard and thankfully there is no law in the land that limits how fast you can accelerate, although there are limits as to how fast you can actually drive. And it produces that famous Lamborghini soundtrack, the growl when you accelerate and those pops and bangs when you take your foot off the pedal. It brings out the raucous kid in one and all that one wants to do is keep accelerating and decelerating all day. That the Urus Performante is no slouch is borne out by the fact that it is the fastest SUV to do the famous Pikes Peak hillclimb in under 11 minutes, which is pretty darn good. So anticipation was bubbling about the drive up to the peak of Nandi Hills. This is a lovely twisty road with a nice surface. The only problem is that traffic is kind of unpredictable. You could be forced to pootle around behind slow-moving traffic or you could belt it all the way up to the top. We had mixed fortunes. But it is amazing how much fun this can be if you do this in the Corsa or Race mode, with the engine constantly on the boil and a flood of torque coming through constantly. The only thing is the size, but it kind of wraps itself around the driver. After we had done the drive, we rode shotgun to be able to look around. And it was no less fun to do that. After the morning session and a light lunch, we were in the vehicle, helmet strapped on, sitting with the instructor in anticipation. And the fun began. There was much less grip out here and if one listened to the instructor, it was pretty easy after a couple of times to get the tail out. Also the fact that there was enough space to catch the car and bring it back in line just in case it started fishtailing was enough of an assurance. And, thus, after a couple of failed attempts, we started going sideways. Did we manage the long drifts that make us go "I wish I could do that"? Probably not, but it wasn't entirely bad for starters.
Oh, and about whether you should buy this SUV? Well, if you have about Rs 5 crore to spare, just go for it!