Keep a grip on your phone
Pebble Grip promises to solve most of my charging problems while I am on the move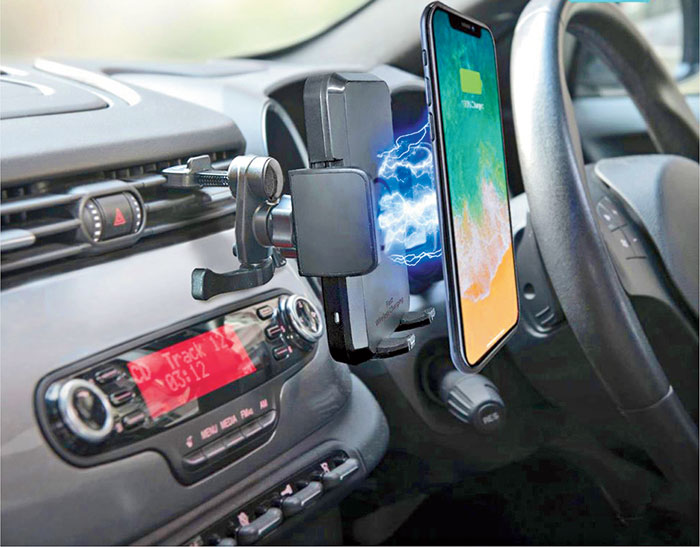 ---
---
Gadgets: Pebble Grip Wireless Car Mount

Tech Specs: Air-vent mounted, Qi-compatible

Price: Rs 2,499 on e-commerce platforms

Best for: Holding the phone and charging it
I have always struggled to keep a smartphone sitting quietly on the dashboard of the car. Especially when I have to travel on a dirt track or a road that has more pot holes than asphalt.
We've tried three mounted car chargers in the past six months, but none of these could prevent the fall of the phone when the car gathered speed. And, on the off chance that the phone stayed glued to the charging stand, it was a challenge to keep the dangling cable out of the way.
Pebble Grip, however, promises to solve most of my charging problems while I am on the move. Touted as "a combination of car mobile charger and mobile holder" in the product package, I found its latter attribute more appropriate. First, there was no problem fixing it on the air-conditioner vent of our Chevrolet Beat. It stayed firmly locked and was able to hold my smartphone despite a jerky ride along dirt tracks. More important, it was able to survive my younger brother's rash driving and frequent application of brakes. Not just for my phone, it was able to hold virtually all types of large smartphones — including Samsung Galaxy and iPhone Pro Max. Actually, the charger doubles as an adhesive and grips the air vents tightly. The name Grip seems apt for it.
It was able to draw power from a USB charger — from our car's 12 volt socket — and charge my phone. It proved even smarter with Qi-certified phones that it charged wirelessly. The mechanism involves an open interface known as Qi (pronounced CHEE; from the Chinese word qi, which means "energy flow") that defines wireless power transfer using inductive charging. Unlike other charging pads, this one features 10-watt charging, which worked splendidly for a Samsung Galaxy. Also, there was hardly any overheating while charging, perhaps because of their advanced temperature control. Apparently, its circuit protection saves it from current or voltage surge. The blue LED light on the left side of the charging mount indicates it's ready to go. It turns green when the phone is fully charged.
The device is manufactured by Pebble, an Indian accessory brand, co-founded by Komal Aggarwal, a rarity in the male-dominated tech start-up domain. Equipped with an electrical engineering degree from the National Technology University in Singapore and management degree from IIM Calcutta, she's helped Pebble carve a niche in the market.
This car charger is more or less impeccable, though the price is a bit high. It would have been better if Pebble Grip came with a 12V USB charger in addition to the micro USB cable provided in the pack. Nevertheless, I am happy that my phone never got dropped while I was on the move.