iOS 14 and Android 11 promise big on security to ensure your data is not compromised
The biggest takeaway from Apple's recent WWDC announcements is that privacy cannot be compromised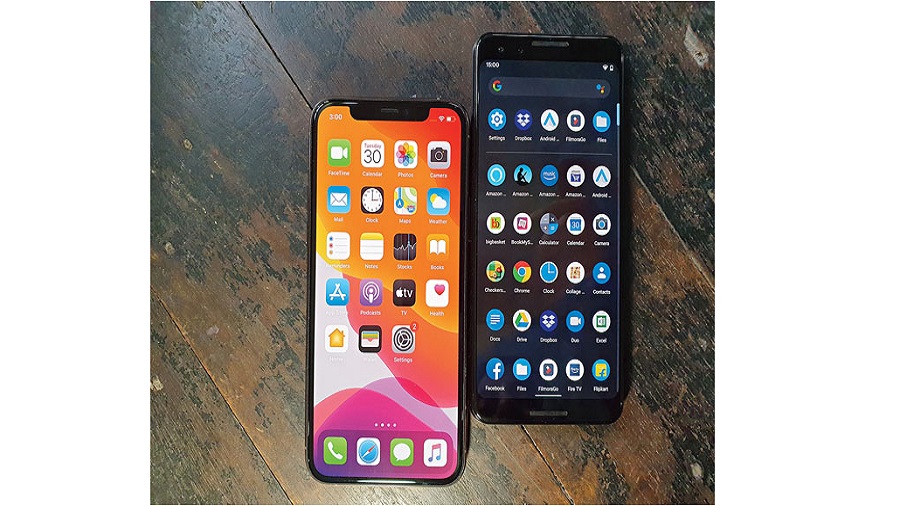 iOS (L) has been working around the philosophy "What happens on your iPhone, stays on your iPhone". Android is also raising its game
The Telegraph
---
Published 05.07.20, 08:45 PM
|
---
Privacy matters. The information on your phone is yours. The biggest takeaway from Apple's recent WWDC announcements is that privacy cannot be compromised. This means, apps that track you across the Internet should be brought to your notice. Google too is making some good moves. Let's look at what Android and iOS has to offer in the coming days.
iOS 14: Big on privacy
Once iOS 14 arrives this fall, it will be tougher for apps to track you. We may not be aware but there are thousands of apps on our smartphones that have trackers running in the background. These trackers are collecting and sharing personal information, like our location, email address and, at times, phone number. The idea is to inundate us with targeted ads.
What can we do?
Things got tightened when iOS 13 arrived, about how we can control data apps collect. Now the next step. With iOS 14 users will be able to find how each app tracks our data and what we can do about it. It will get clearer when apps try to track us across services while Apple will let people choose between the options of "Allow Tracking" or "Ask App Not To Track".
There is something called IDFA (Identifier for Advertisers), a random device identifier tag that Apple assigns to a user's device. Advertisers use the feature to track aggregate data without revealing a person's identifiable information. Earlier, users had the option to disable the IDFA, though the toggle was buried in the Settings app. Now the update requires apps to seek consent from iOS device users, making things more transparent.
There's more. Later this year, App Store product pages will feature summaries of developers' self-reported privacy practices, displayed in a simple, easy-to-understand format. Another significant change that will come with iOS 14 is how location tracking is handled. iOS already lets you block specific apps from collecting data about where you are, but the new version will also allow you to share approximate location data rather than precise location when granting an app location access, and get even more transparency into an app's use of the microphone and camera. Under iOS 14, iPhones will show an orange dot in the upper right corner of the screen whenever the microphone or camera is activated, both in the app and in Control Centre.
Last year, the company came up with the marketing phrase "What happens on your iPhone, stays on your iPhone". The new developments show that Apple is not going to put users at risk.
Android 11: More safety features
There are 2.5 billion active Android devices. That's a staggering number. This also means Google has a big responsibility to make its Android operating system as secure as possible. Over the years, the company has made incremental improvements on the privacy front but with the release of the Android 11 Beta, the company proves it is picking up pace.
If Android 10 addressed an issue like app developers requesting permissions, Android 11 is an improvement. Now there is a feature that allows developers to request one-time permissions for things like the microphone, camera, or location as an alternative to all or nothing. The next time the app needs access to these sensors, it will have to ask you for permission again.
It doesn't stop there. If you haven't used an app for some time, Android 11 will "auto-reset" all of the permissions associated with that app and notify you of the same. You can always choose to give the app appropriate permissions when it's opened the next time. This is important because there are plenty of apps we use now and then but don't uninstall it, which means the app still has permissions associated with it. Consider this "sort of a hygiene check", Charmaine D'Silva, an Android product manager, has told Wired.
With Android 11 we are also seeing an expansion of Google Project Mainline, a service that lets it update key system components over the air, without waiting for carriers or manufacturers. This could be a big move for overall Android security.
 
Stay safe with a few simple steps
A password manager helps generate and remember different complex passwords for every account. Use something like LastPass and 1Password to generate passwords and monitor accounts for security breaches.
If possible, use two-step authentication.
Stop sideloading apps, that is, installing apps from an unofficial source. Also, with increasing storage space on phones, we tend to keep useless apps. Get rid of what you don't need.
Be careful of the links you receive in emails and on social media. Make your accounts private and don't share anything you think gives away too much about yourself.