The true wireless market now begins at an extremely affordable price point, something that was unthinkable even a year or so ago, and one of the promising brands that's turning up the sound is Dizo, which is an independent company and the first brand in the Realme TechLife ecosystem.
Being a new entrant, Dizo ensures most departments fire on all cylinders, putting in very few compromises. Taking competition to Oppo Enco Buds or Skullcandy Dime, where Dizo Buds Z shines most is while streaming music. Weighing just 3.7g (each bud), these sound cans come with 10mm dynamic drivers and have a frequency range of 20Hz to 20kHz and are powered by Bluetooth 5.0, which could have been 5.2.
Nonetheless, the audio tuning is quite good, offering warm sound signatures. Listening to Adele's latest track, Easy on Me, the earbuds are able to capture the mournful piano and the subtle touches of bass. There ain't no room for things to change / When we are both so deeply stuck in our ways she sings and one can feel the lyrics. Equally enjoyable was Cold Heart, a collaboration between Elton John and Dua Lipa, remixed by Pnau. The hard grooves make for an ear-candy of a track, a feel the Buds Z retains. Then we went '80s with Rod Stewart's album Camouflage that comes with layers and layers of synth, guitar and drum-machine but everything gets captured quite well… given the price point.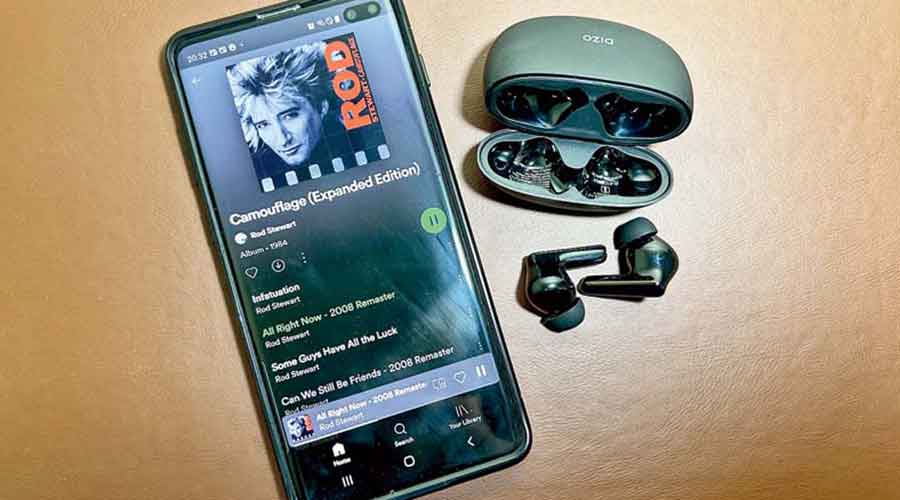 Dizo Buds Z comes with a warm sound signature
Though bass-heavy sounds are best served on this pair, it also does a good job with mids and highs, allowing good enough separation of vocals and lead instruments. Buds does a good job across genres and at times comes across better than Oppo Enco Buds while playing EDM but an Adele album sounds better on Enco. In case you want to experience wireless earbuds before diving deeper into the category, Buds Z is a good option, offering an enjoyable experience without breaking the bank. And if you are wondering, there is no active noise cancellation on Buds Z.
Moving to calls, the positive aspect of Buds Z is Environmental Noise Cancellation, which cuts off most sounds, like that of a fan or refrigerator, and traffic-related noises. Not that all noises are cut off but the buds do a good job with the algorithm to ensure acceptable call quality. It wouldn't be justified comparing this with a 10K wireless earbuds.
There are a few features to play around with if you use the Realme Link app, especially helpful are the EQ presets — Bass Boost+, Dynamic and Bright. It's also possible to tweak the tap controls. But that's about all, something that can be said for most earbuds in this price segment. Latency is kept to 88ms which is fair enough for casual gamers.
Boasting of 4.5 hours of battery life (total battery life 16 hours), it sounds good but much of that depends on the volume you listen to music at. Since there is no ANC, you may end up turning up the volume, which may not be the most sensible thing to do while listening to music for long hours or for that matter, gaming. The fit is snug but I am not the kind of listener who likes to enjoy music on earbuds. Maybe a few tracks during commute but earbuds are helpful when it comes to taking calls. Over the last few days of usage, the case didn't pick up scratches while travelling with car and home keys but we are not sure of long-term usage.
With the market packed with wireless earbuds, Dizo Buds Z certainly offers value for money, complete with IPX4 rating. For those dipping their toes into the TWS world, this is a good starting point.
At a glance
Device: Dizo Buds Z
Price: Rs 1,999
High notes
Bass-heavy sound
Sensitive touch controls
EQ presets are available
Good call quality
Muffled notes
Bluetooth 5.0 instead of 5.2