Head tracking feature combined with spatial audio makes Apple Music level up
iOS 15 is here and it's packed with new features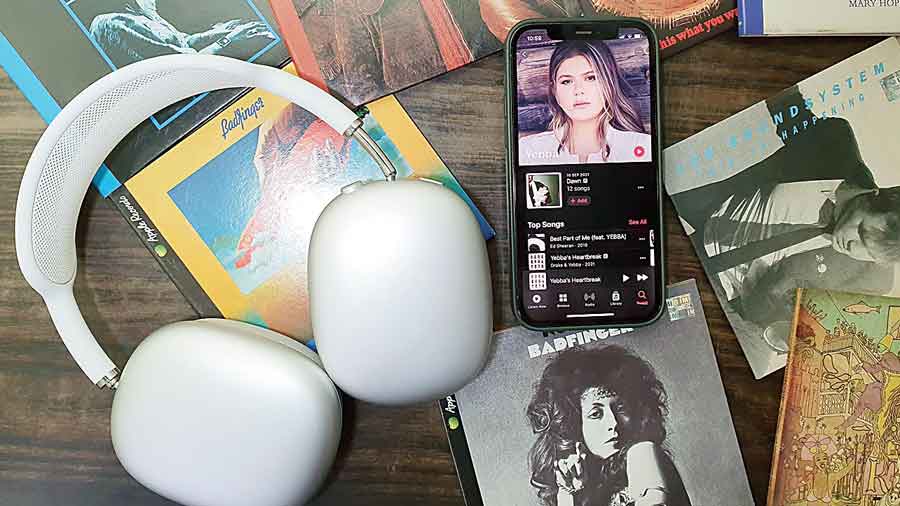 CAPTION: Head tracking takes music to a new dimension when listening to music on Apple Music via AirPods Pro or Max.
The Telegraph
---
Published 23.09.21, 12:23 AM
|
---
Growing up with stereo sound meant being in a two-track space while engineers continuously tried to go beyond it to make music more immersive. Apple has already made that possible with spatial audio on its streaming service Apple Music. But why stop there?
Spatial audio has been a game-changer as listeners feel it instantaneously. And once you experience it, there's no going back. It's akin to watching a movie in HD after having lived in the standard definition universe for a long time. The response to spatial audio has been very positive, besides the technology streams audio many times faster than non-spatial audio streams.
With the release of iOS 15, here's a new treat for music fans — dynamic head tracking with spatial audio to create a more immersive experience. It simply brings music to life and the technology can be enjoyed on AirPods Pro and AirPods Max.
When you watch a movie, you listen in stereo (on headphones) while the soundstage is limited. Sound comes through tiny speakers using two channels. If we move our heads, the speakers move with us but the image remains fixed. It is not a natural listening experience. With spatial audio, the virtual soundstage is larger and more detailed. Dolby Atmos allows many more channels so as to position audio in space, creating an immersive sound. What you get is an experience that's like in movie theatres; the sound will come from the original place around you. With music, if you are out and moving around or jogging, there is no fixed reference point because you are usually not staring at a screen. For music, Apple uses a technology to find subtle movements of the head to give you the feeling that music is coming from all around you; and not just the headphones. If you move your head, the sound re-orients. And the technology is even employed to stereo tracks.
Coming in at no extra cost to listeners around the world, the success of spatial audio has been remarkable. It is believed that 60 per cent of pop, 50 per cent of Latin albums, 40 per cent of country albums and 36 per cent of hip hop albums that reached number one 1 in the US on Apple Music's top charts in August were made available in spatial. The growth of the technology has much to do with what it brings to an album, like on Dawn by Yebba.
Apple had promised Apple Music head tracking in the fall, but hadn't directly linked it to iOS 15 at the time. In case you want to enjoy "regular" spatial audio, you don't need the company's higher-end AirPods, although you will need some form of AirPods or Beats earphones if you want automatic Dolby Atmos support. iOS 15 is here and it's packed with new features
Favourite features on iOS 15
When a friend sends across multiple photos over iMessage, these will appear in a dynamic collage formation to allow you to tap through to view the whole bunch in your photos app.
Support for 10 new Indian languages as part of the Smart Replies feature. The languages are Bengali, Urdu, Tamil, Punjabi, Marathi, Gujarati, Malayalam, Telugu, Kannada and Odiya.
When a user buys a new device, they will be able to use iCloud Backup to move their data to the new device. Even if you are low on iCloud storage, the migration won't be interrupted.
Focus. Do Not Disturb mutes alerts and distractions, only allowing important contacts and messages to come through. But it doesn't take into account the time of day or where you are. Open up the Focus feature from Settings and you can configure rules for Fitness (when you're at the gym), Sleep (when you're in bed), Driving (when you're on the road), and others.
Once you install iOS 15 on your iPhone, it will be able to recognise and process text in photos saved to your device, and also any text you see through the Camera app.
iOS 15 will allow users to drag and drop files between applications.
Locate a lost or stolen iPhone even if it was erased
The Safari address bar has been moved to the bottom. It's a hate-it or love-it move. You can move it back to where it belongs by visiting settings, Safari and turn on 'single tab'.
Look and sound better in video calls. You can have portrait mode in your video. It can also be used in other video-calling apps.
Get a summary of notifications.