Have something important to say? Start a podcast
Why not accept the traffic jams as inevitable and turn it into a learning experience by listening to podcasts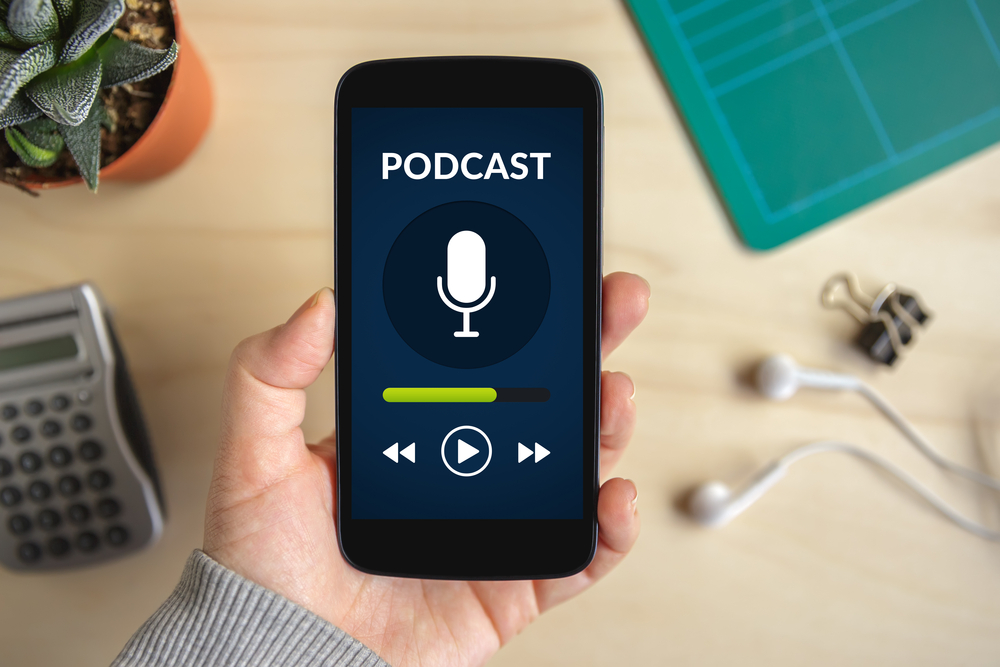 To broadcast, just podcast
(Shutterstock)
---
Published 03.02.19, 11:23 AM
|
---
Today, if you say you don't know what a podcast is, you are likely to be called a "grandma" or "grandpa" by Kitty Flanagan, the Australian writer and comedian. According to her, all you need is a microphone and a smartphone and the delusion that what you are saying is worth listening to!
Entertaining as it may be, people do get impatient even while listening to FM radio. Therefore, why not accept the traffic jams as inevitable and turn it into a learning experience by listening to podcasts? You can do that just about anywhere —while you are waiting for something or just killing time.
Podcasts have been around since 2005. It is a portmanteau word of iPod and broadcast. Apple did not create the podcast; it was called so because they had the most popular media player at the time, the iPod. But Apple did provide podcasts through iTunes. Podcasts are digital media files. They can be video but they are mostly audio. They can be streamed online or downloaded on your computer or smartphone. The best part is that you can watch or listen to them whenever you want to.
Podcasts are not standard audio files. Anyone can make a recording using a microphone or a smartphone and upload that to a website, but that cannot be called a podcast. What differentiates a podcast from a simple audio file is that you need to upload your recording to a podcast-hosting website, which will then produce a subscription called an RSS feed that will allow people to subscribe to your podcast. This is what turns your audio file into a podcast.
Also, a podcast is not just one file — it is a series of audio files related to the same topic. Several episodes make a podcast. RSS stands for "Really Simple Syndication". The RSS feed tells your computer, smartphone or tablet which episodes are available and where to download them. This is where a podcast-hosting service comes in. A podcast host makes it easy for you to upload .mp3 files and say what the episode is about. It then generates the RSS feed.
Podcasting, as well as listening to podcasts, is slowly catching on in India. How does one listen to a podcast? If you have an iOS device, the podcast app is a default app. On an Android device, you will have to download an app from Google Play. You are spoilt for choice on both platforms, as there are several podcasting apps. Open the app and browse for podcasts. You will get Featured, Top of the Charts and All Categories of podcasts to choose and build up your library.
Beginning a podcast isn't a big deal. First, decide why you wish to podcast. It could be to promote a business or as a hobby. You could talk about something you are passionate about. Next, you decide who would be your target audience. You should plan out your podcast in such a way that people would want to listen to it. Design and name it well so that people get attracted to it. Decide on your podcast host. Try not to get a free host. If the service is free, it could mean that your data is the product. Besides, free podcasting hosts may shut down anytime and take your podcasts down with them. Hubhopper is India's one such podcast directory and AI-enabled content aggregator. It connects content creators of different genres with diverse listeners. It is the largest podcast and publisher repository in India with genres such as mythology, comedy, fitness, self-help, societal issues and travel. A good host will provide useful reports to you about your listeners and help you get started by providing you with necessary tutorials, blog posts and other information. Hubhopper's app is available for both iOS and Android devices.
Hubhopper has introduced "Hubhopper Original" which gives Indian storytellers a voice. It encourages independent and small-town podcasters of all age groups across India and provides the help needed in the making and distributing of a podcast.
Send in your problems to askdoss@abpmail.com with TechTonic as the subject line