Why 'Will Hero' is still fun to play
Will Hero by Gameplar is an arcade game released in 2018, and it gets so many things right for the player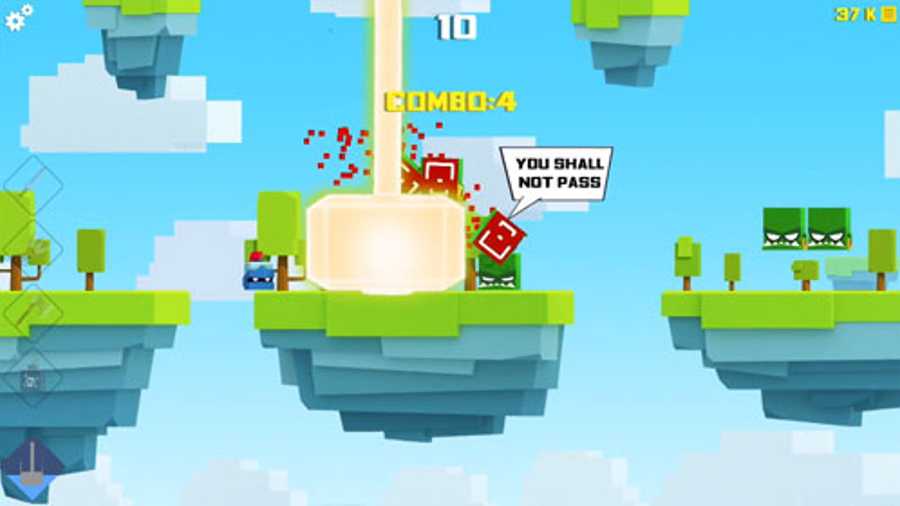 In this you play as a heroic cube in knight's armour on a quest to save the princess cube from evil orc cubes.
Sourced by the correspondent
---
Published 21.03.22, 06:50 AM
|
---
Game: Will Hero by Gameplar
Genre: Arcade, platformer
Platforms: Android and iOS
This isn't a new release but one I've enjoyed playing from time to time in the past three years. Will Hero by Gameplar is an arcade game released in 2018, and it gets so many things right that is to be fun to play even today.
In this you play as a heroic cube in knight's armour on a quest to save the princess cube from evil orc cubes. Tapping on the screen makes you dash forward, and you keep tapping to keep dashing at great speed. The challenge lies in tapping at the right time while your character keeps jumping perpetually on its own. It's a fresh mechanic that's easy to learn, hard to master, but still enjoyable.
As you move across platforms, you encounter green orc cubes that kill you if they jump on you, but you can safely jump on them. Along the way, you collect and use an arsenal of unique weapons to kill them. From shurikens to missiles to a hammer, the fun lies in the different weapons you can wield. You learn cool new ways to attack orcs and eventually even the boss orcs who have captured the princess and your friends.
This is among the few games that can be played both in landscape and portrait modes. Having just a tap-based control, you can play in portrait mode with one hand while riding the bus or go landscape to get a larger view of the screen.
What makes this game memorable is its comic personality. Both the hero and the orcs, despite being just cubes, have a variety of expressions that make these characters feel more real. The orcs even mock you when you die or say things like "I'm not getting paid for this!" when you kill them. It's these little things that connect. Will Hero is not without its flaws. As the genre suggests, arcade games were originally designed for arcades, where kids would insert coins into the machine and play for not more than a few minutes at a time. These weren't games where you would progress across days. Likewise in Will Hero, after you've seen all the weapons and bosses, there's not much to look forward to the next day. There is variety in the game modes and bonus areas that keep things fresh, but even after a few days, I seemed to have reached no farther than when I'd started.
VERDICT: Will Hero is a fresh and simple arcade game that's fun to play and is easily playable in a few free minutes of your day. The controls and weapons are easy to learn but somewhat hard to master, making it quite satisfying when you do get better at the game. The art and dialogues are funny and would make you smile while playing the game, even when you lose. There's not much to look forward to after unlocking some initial characters. But in this case, I consider that to be a good thing — for the feeling of playing an arcade game that doesn't get me addicted. And that's why I still play it occasionally. I'd give it a 7.5 out of 10.