Galaxy Tab S5e: Jam-packed with innovations
The tablet boosts productivity, entertainment and convenience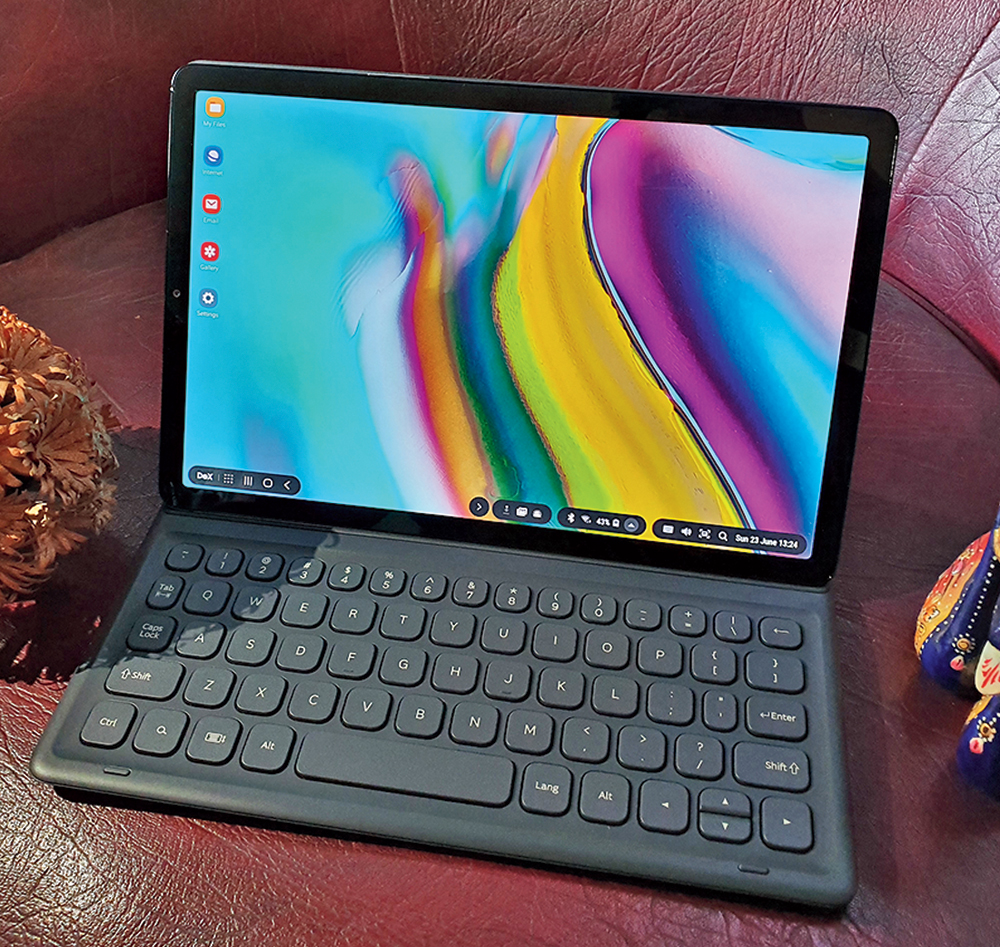 ---
---
What do you get when you marry a tablet with a game-changing feature like Samsung's DeX? The gutsy Galaxy Tab S5e. Use it as a tablet for streaming or as a productivity machine, the device has enough to offer. Here's what Aditya Babbar, director, mobile business, Samsung India, has to say about the tablet business in India.
How much has the tablet become the desktop in terms of power and functionality?
The tablet has been able to create a unique use case for itself. Let's talk about the Tab S5e, our slimmest tablet, weighing only 400 grams. When we talk about the top end of the market, it offers two-in-one convenience on the go. We have packed a lot into the tablet, like DeX (it extends the functionality of a Samsung device to allow desktop-like functionality). One of the biggest problems consumers have is connectivity over a long time… the battery usually runs out in extreme use cases. Our tablet takes it to the next level by offering 14 hours of battery backup for you to use productivity and entertainment tools. I would say the tablet has been able to create niche use cases.
So it has become an important segment?
It is an extremely important business segment. We have launched two new tablets — Tab S5e and Tab A 10.1. It's a range that covers the affordable to the premium segment.
What are some of the emerging trends in the segment?
There are three big trends. One of them is two-in-one and that's a market, which is growing in recent times, and has the use case of desktop-like on-the-go solutions. With the new tablets we are bringing in the DeX mode, which was available on our Note9 and Tab S4, to our mid-to-premium range. Consumer needs in this category involve editing documents, web calling, connecting to different meeting requests… all on the go. This is one of the big use cases.
The second big use case is entertainment-plus. Our tablet consumers are power users. You can clearly differentiate how they use YouTube or OTT media platforms on the tablet compared to the smartphone. They find shopping convenient on the tablet. What we are bringing is a 10.5-inch unibody metal design with great sound solution and powered by Super AMOLED technology at an affordable price point.
The third use case is education. It gives consumers the best experience without spending a lot. Since the tablet will also be used at home, it comes with a Kids Mode. In a lot of homes, kids engage with tablets for different experiences, from watching videos to learning on the device. So we have got applications that help kids with colouring or something like Lego Education. We are working with different partners to come up with education solutions.

And what has it for business users?
On-the-go office connectivity. With Knox, all your office documents are extremely secure. Second, there are solutions that help particularly with office work. Third, long hours of connectivity. You don't have to carry two chargers to power devices. Productivity, entertainment and convenience are some big use cases.
For tablets, software is an important aspect. How have you worked around it?
When we did DeX for the mobile it was about quick connectivity and DeX on the tablet is about creation. The moment you touch the Samsung DeX mode, the tablet converts into the desktop mode, which we are used to. Two, if you see from an app application point of view, we have got almost all the applications to work on desktop mode. Once you switch to DeX, all our applications adapts to it. We understand the biggest need in this mode is productivity and a lot of homework has been done on this front. There are a lot of enterprise applications, it can handle photo editing tools and then there is the E-Meeting app.
And the S-Pen?
That's available on the flagship end of the market with the Tab S4. It's for people who want to explore the tablet from a creative standpoint.