Galaxy A72 : A premium mid-range phone in a crowded market
In case you need to upgrade now, here is a good handset from the South Korean electronics giant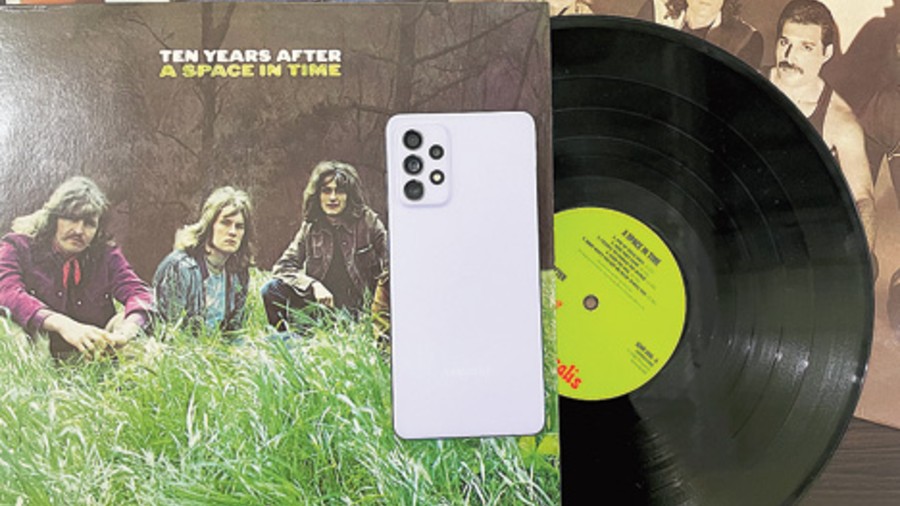 Samsung Galaxy A72 comes with optical image stablisation as well as a telephoto lens, both of which will ensure that the phone remains a worthy companion for a few years.
Pictures: The Telegraph
---
Published 01.04.21, 01:01 AM
|
---
With limited amount of money in the pocket, this is the year when it makes sense to buy a midrange phone. But it's not that simple. Even four-five years ago, there were flagship phones and, well, "non-flagship" phones, which were basically cheaper devices with limited features. Now, there are a number of cheaper but powerful phones available. Midrange is no longer just about the processor or just about the camera. And it's definitely not just about the battery. There is a combination at play.
Xiaomi has some interesting models and so do Vivo and Oppo. We are not looking at OnePlus 9R for the moment as it's yet to arrive. And then there is Samsung, which, frankly, is having a good time.
With relationship between the US and China deteriorating in the recent past, Huawei is back to serving mainly the Chinese market, allowing Samsung a bigger stab at the global smartphone pie. Combine this with another strength of the South Korean company — delivering devices at every price point, from super budget to super premium. There is a phone for everyone. And what do people need? Something that's an all-rounder, which is tag any brand has to work hard on. Samsung Galaxy A72 is the new kid on the block and a successor to a very successful phone.
Flagship-grade feeling
Phone users can be bias while looking at the past. We tend to remember the good times we had with a flagship phone, mainly capturing all those beautiful memories. Frankly, any flagship from 2019 still has many advantages, a couple of them being optical image stablisation (OIS) and telephoto lens. Those videos standout and pictures still look very presentable.
But these tech jargons come at a cost. OIS uses optics to stablise the camera, offsetting the movements that we make while taking photos. It makes a world of a difference to videos. In fact, it's as important as resolution when it comes to the video department. Telephoto lens allows you to capture distant objects with enough sharpness and clarity.
On the Galaxy A72 there is OIS as well as a telephoto camera. I liked shooting with the 3X zoom because of the way it lets me capture close-up compositions. No, I wouldn't use it all the time but it does give way to some good photographs if you are going out for morning walks around waterbodies, getting inspired to indulge in bird photography . It's an important feature if you are planning to retain the phone for a few years. But the 30X digital zoom remains gimmicky.
The OIS factor helps a lot while taking vidoes for social media. The main 64MP camera has OIS and so does the telephoto 8MP camera.
One may say that 108MP options are better but don't go by figures. The performance of the 108MP camera that you get on the Galaxy S21 Ultra is massively better than what you get on, say, Realme 8 Pro. Overall, 64MP sensors offer more detailed results in good conditions over 48MP but it's more about how the image processing is taking place and also computational photography that makes or breaks a phone's camera performance. iPhone 12 Pro with its 12MP camera beats any 108MP option out there.
Also present in the camera department is a "fun" mode, which has a range of filters, courtesy Snapchat, which is finally having a good run in countries outside the US. The boredom of Facebook and Instagram is pushing youngsters towards Snapchat where innovations are in plenty.
The camera department makes you feel that the phone is flagship-grade. Powers of a prince
As exciting as the camera is the design, which borrows heavily from the premium Galaxy S21 phones. The camera island looks amazing, thanks to the metal rings around each camera. Though the back panel is made from plastic, there is nothing cheap about it. It's a finish that keeps smudges at bay, plus ensures that the phone is less likely to shatter if it accidentally drops.
The 6.7-inch FHD+ super AMOLED display is quite good for gaming and streaming, especially because it comes with 90Hz refresh rate. I don't mind 90Hz even though 120Hz is becoming the norm for Android phones. Scrolling on the phone is super smooth and so are animations.
There are two speakers — one on the top, one at the bottom — to give you a stereo audio experience without earphones, which is another reason why movie viewing is good on this phone. Oh, the 3.5mm headphone jack is present.
All this brings us to the chip — Snapdragon 720G, which frankly is not the latest. Does it get work done? Oh yes, there are no lags. Will it deliver over three years? Samsung's OS policy says that the phone will support three major OS upgrades. Overall, the phone has enough powers to make it act like a prince while the king (Galaxy S21) obviously has more weight to throw around.
Should you buy it?
Given that the phone comes with 5,000mAh battery, it should last a day and a half of heavy usage. To make charging easy, there is support for 25W super-fast charging but the adapter in the box is 15W. The camera department shines and so does the display. Personally, I will wait till the end of the year before I splurge flagship-grade money on a phone. Vaccine, travel, 5G… my priorities are stacked up in that order. If your phone is just one year old, join me in the wait. In case you need to upgrade now, here is a good phone from the South Korean electronics giant. Samsung Galaxy A72 is a joy to use over other midrange Android phones.
Device: Samsung Galaxy A72
(Rs 34,999 for 128GB+8GB and Rs 37,999 for 256GB+8GB)
High notes
• 90Hz display refresh rate
• 25W charging support
• Stereo speakers
• OIS on the main camera and telephoto snapper
• 3X optical zoom
• Water resistant (IP67)
Muffled notes
• 120Hz refresh rate could have been offered
• Some bloatware, which can be deleted