Fitbit Charge 5: A no-nonsense fitness tracker
It has a vibrant touch-sensitive AMOLED display, which is very responsive and bright even under full sunlight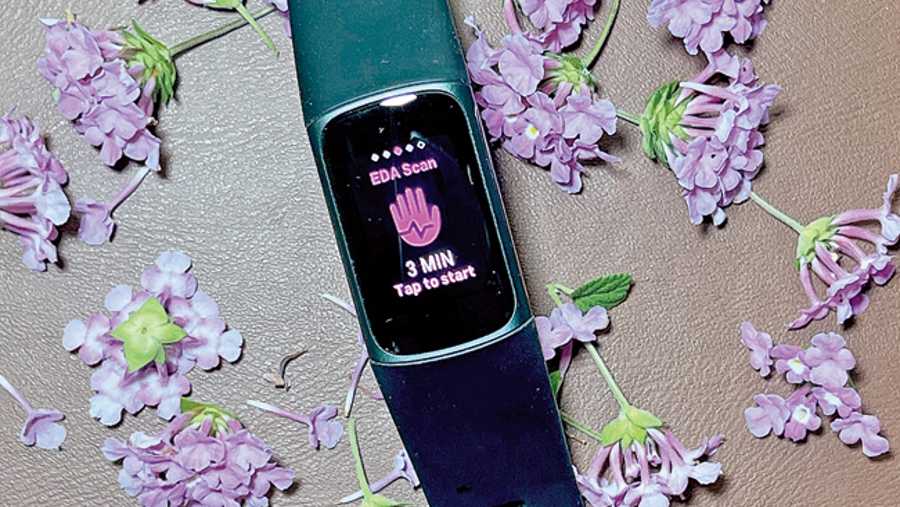 ---
Published 23.11.21, 02:56 AM
|
---
Accuracy, trust and ease of use. These are important factors while purchasing a fitness tracker or a smartwatch because you don't want to end up with false statistics. There is a sizeable crowd that swears by fitness trackers and wouldn't like to splurge any amount on a smartwatch. It's about needs and wants. In case you are still keen on getting a fitness tracker, then how much are you willing to spend? You can pick up something for as little as Rs 2,500 or spend Rs 15,000. Obviously, there are big differences in what you get. We have been trying the Fitbit Charge 5, which is an advanced fitness tracker for several reasons. Before charging your debit/credit card, reconfirm what you want from a fitness tracker and whether that's beyond basic step counting. Read on if you want this, that and a lot more.
Ease of use
Fitbit has taken some of the best bits of its smartwatches and has packed it into a smaller form factor, which is liberating to say the least because it's light on the wrist and just perfect to wear to bed, besides getting days out of its battery. There are so many features on the fitness tracker that I find it tough to not call it a smartwatch.
Out with the old monochrome screen, Charge 5 has a vibrant touch-sensitive AMOLED display, which is very responsive and bright even under full sunlight. There are no physical buttons on the tracker, which could be a turn off for many but try it out because the display is quite well built. The navigation system will take a few hours to get used to but it's quite simple — swipe to get different menu options, tap to select and you can either swipe to go back or double tap on any screen to go straight back to the watch  face.
Premium features are worth a try
One big feature of the Apple Watch is called 'habit'. Well, once you starting wearing one, it's almost impossible to live without it. There is no going back. Fitbit is achieving quite that status with its premium subscription plan, which is basically Rs 999 per year (there is also a monthly plan) that offers users a range of options. Just to make you used to the package, there is a six-month free subscription with every purchase of Charge 5. I have been using the Premium tier for quite some time and it's simply a-m-a-z-i-n-g.
Before coming to how the premium tier helps, let's look at what are some of the things you can do on the Charge 5. There is the ability to set high and low heart rate alerts. There is an ECG app, which matches the one on Apple Watch. It basically checks potential signs of irregular heartbeat. There's an SpO2 sensor for blood oxygen, which everyone wants on a smartwatch these days. Also on board is an EDA or electrodermal activity sensor. What this does is track the smallest of changes in sweat level which basically gives a picture of how your body is responding to stress. It helps with stress management score that you can find in your Fitbit app.
Sleep tracking works the same way as on most recent Fitbits, which translates into a lot of details about your sleep stages, restlessness and even sleeping heart rate and, of course, everything comes together in a score out of 100.
This brings us to the premium tier. One of the biggest feature is Daily Readiness Score, which recommends how much you should push your body. It takes into account things like activity level, sleep, heart rate variability and so on. Should you take a rest day or should you just settle for yoga or a mindfulness session? It makes it easy to understand your overall wellbeing.
Fitness tracking and battery life
There are 20 workouts types it can track, besides being water resistant (you can track swims). There is a built-in GPS which means you can leave your phone at home and still be to track things like route information. It takes around 10-15 seconds to lock on to your GPS if you are not using connected GPS. You also have an option to set a goal, say distance, before you begin a workout. Though Fitbit is owned by Alphabet, the device works perfectly well with iPhones, except for a few niggling features, like quick reply. There are some watch faces to choose from but nothing as exciting as on a smartwatch, which I am okay with.
The other things missing are playback controls for music apps on your phone, music storage, speaker or microphone. This means, you remain focused on exercising. Thought he company says you will get seven days of battery life, I think you should expect four if you do 30-minute GPS workouts, do a few EDA scans and stay in always-on mode.
In case you are fine with an all-touchscreen experience, hardly any flaws can be found on this fitness tracker. In fact, is this a fitness tracker or just a couple of steps behind a smartwatch? Fitbit Charge 5 is a no-nonsense fitness tracker that offers a lot of user-friendly metrics.
At a glance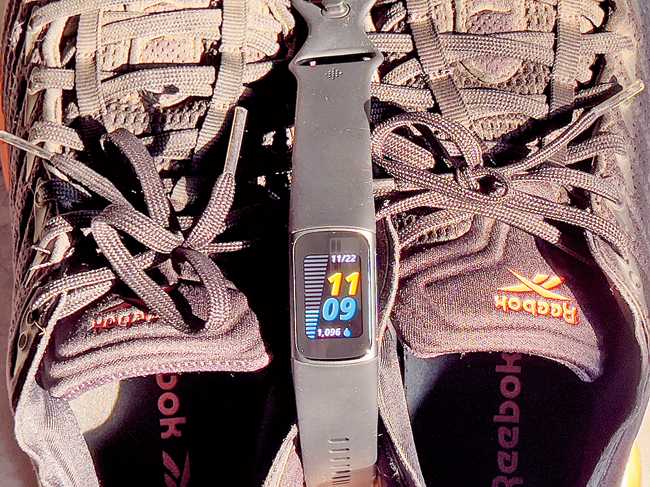 Device: Fitbit Charge 5
Price: Rs 14,999
High notes
• Daily Readiness Score offers a quick look at what could be your day's fitness routine
• Excellent battery life
• The app offers plenty of data to work around with
• Packs plenty of sensors
• Lightweight
Muffled note
• In case you don't like an all-touchscreen experience, you will find this device difficult to get used to