Elon Musk: master of one-liners
Tesla chief is changing 'corpo' communication, using his tweeting stylebook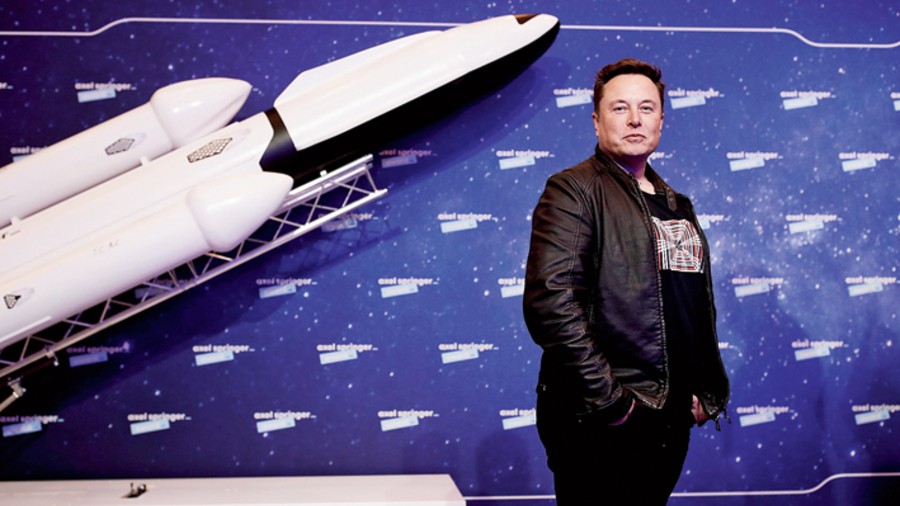 ---
---
Just a few weeks ago, Elon Musk pipped Amazon founder Jeff Bezos as the world's richest person, driven by an astonishing rise in the value of his electric-car company, Tesla Inc. While the two tech industry giants continue to clash and compete – from roads to outerspace – multi-billionaire Musk is the voice that doesn't hesitate to speak up. He has perfected the art of one-liners that can roil up his 44.2m followers, take the stock market by storm and even create a stir in medical establishments.
Hotcha in Twitter universe
One-word responses or a line works best on Twitter, which Musk knows well. Among his recent tweets is "Gamestonk" followed by a link to the Reddit forum where much of the discussion around GameStop is unfolding. That one word has acted more like an endorsement. (GameStop is a US video game retailer whose stock has suddenly shot up and become a hit among day traders while putting the squeeze on Wall Street's big players.)
It's not the first time he has done this. Last week, the man, who's worth some $180 billion, had to deliver his thoughts on Discord, which is a communications platform where all kinds of conversations take place. He tweeted: "Even Discord has gone corpo…" Not exactly the language one would like to hear from a CEO but it's effective in the online era.
Also, last week: "I kind love Etsy" followed by "Bought a hand knit wool Marvin the Martian helm for my dog." A Bloomberg report said that following the mention, the shares of Etsy soared.
More? Also, last week. The video game fan followed up Wednesday's Tesla Model S refresh reveal with this tweet: "It can play Cyberpunk" followed by an image that showed a dashboard display-screen featuring The Witcher 3, a 2015 game from the same developer though Cyberpunk came out just last month.
Not always have his freewheeling tweets been beneficial for his finances. In 2018, his "funding secured" tweet around taking the company private at $420 a share brought litigation and operational challenges. And in another episode, he was sued by a cave explorer whom he had labelled a "pedo guy" on Twitter. The diver was saving Thai schoolboys trapped in a cave.
Like (and unlike) Jobs
Like him or hate him, Elon Musk bears some resemblance to the way Steve Jobs functioned – both are known to speak their minds. Like Jobs, he too is passionate about products and doesn't mince his words while communicating to his boardroom or Twitter followers.
Some time ago, Microsoft co-founder Bill Gates was asked in an interview with Bloomberg whether his contemporary, Elon Musk, could be considered the "next Steve Jobs". "If you know people personally, that kind of gross oversimplification seems strange," he said before point out some differences between the way Musk and Jobs operate. "Elon's more of a hands-on engineer. Steve was a genius at design and picking people and marketing. You wouldn't walk into a room and confuse them with each other."
Walter Isaacson, who wrote a book about Jobs, has recently told The New York Times: "In many ways he reminds me of Steve Jobs. He's got an absolute passion for his products, and he's very unvarnished. He doesn't polish himself for public consumption, especially when he's communicating on the web."
Meanwhile, at Tesla
Tesla has posted its first full-year profit and has unveiled plans for a sharp increase in production over the coming years to meeting rising demand for electric vehicles with record deliveries.
And after showing interest in India several times, he is finally delivering. The company has registered with the Registrar of Companies in India as Tesla India Motors and Energy Private Ltd while Vaibhav Taneja, Venkatrangam Sreeram and David Jon Feinstein have been named directors of Tesla's India subsidiary.
Yes, it's the same Tesla that Musk once considered selling to Apple. On December 23, 2020, Musk said: "During the darkest days of the Model 3 program, I reached out to Tim Cook to discuss the possibility of Apple acquiring Tesla (for 1/10 of our current value). He refused to take the meeting." Where did he say it? Twitter, of course!