Driving the code
Dipesh Shah, the man who's shaping the next technological move of the South Korean electronics giant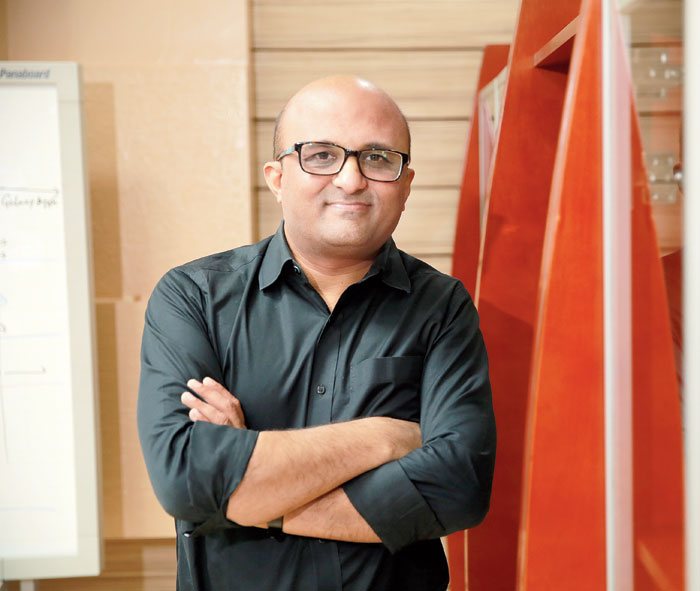 ---
---
Once I walked out of the airport in South Korea, there was a guy holding a placard; I am still in touch with him. As soon as I got into the car, he took out a car phone. It was a cellular CDMA phone. He asked me to call my mom and say that I had reached safely. I was so excited to speak to my mother. That immediately showed me the power of technology and how it can connect me to people," says Dipesh Shah, managing director of Samsung R&D Institute Bangalore, while remembering his first day at the job with the South Korean electronics giant in 1994.
Shah completed 25 years at Samsung this year and as the first employee of the company's Bangalore R&D centre, which started in 1996, he has seen many firsts. Being in the midst of innovations, he has been able to contribute to a striking ecosystem which is bit like the song Hotel California: Once you check in, you might never leave.
The Telegraph spoke with the man about what makes him tick and his passion for SRI Bangalore.
First day at the job
I vividly remember my first day at the job. I used to work with a start-up in Bangalore for one-and-a-half years. We developed a palmtop computer way back in 1992. After that I joined Samsung Korea directly. Back then there was no Samsung India R&D, so I went to the Korea R&D in 1994.
When I travelled from the airport to the office, there was Samsung everywhere — buses by Samsung, electronics by Samsung, constructions by Samsung. It has been an exciting journey since then. The company has a lot of trust on the R&D talent in India. About 60-70 per cent of South Korea comprises mountains, so there is little space for people. So the challenge for Korea to become a global leader depends a great deal on R&D resources available worldwide. One of them is India. That's why India has Samsung's largest R&D centre outside South Korea. We, in fact, have three R&D centres in India (Bangalore is the biggest and also in Delhi and Noida). The trust they have on the Indian market keeps me excited.
Enter SRI
I joined in 1994 and it has been 25 years in the company. I have seen various world's first, world's best technology and products being developed in South Korea and supported by various overseas R&D centres of Samsung. The company started Samsung R&D Institute India (SRI) Bangalore in 1996. We have three main businesses. One is IM or information and telecommunication-related vertical, which includes smartphones and telecommunication networks. The second part is consumer electronics, which has TV and home appliances. The third is device solution, which people understand as semiconductor and chipset.
Speaking of IM, or IT and mobile communications, there are 30 different R&D centres across the world. There is a three-tier set-up: some R&D is attached to a specific business-related product, like smartphones. Their horizon (timeline) would be like one to two years, like what kind of new innovation can we present to the consumer. Samsung Electronics has an R&D process which spans three to five years, looking at lifestyle, economic and infrastructural changes. At a group level we look at things that may take eight to 15 years, like new material technology.
What goes on in Bangalore
Here, there are four important areas. The first is about wireless communication. You can call it modem, wireless communication or protocol software. We address things like how your smartphone constantly communicates with the base station or how does it hand over your calls, data, manage your battery and so on. From the days of 3G and 4G a lot of work has been done from Bangalore. Since 2011 we have invested a lot towards developing 5G technology. And this year we contributed a lot to the 5G launch of Samsung smartphones in the US market and also the 5G network that we have developed in Korea, the US and Japan.
The second area in which the engineers at the Bangalore centre are very well versed in is camera-related software. Take any of our smartphones, say Galaxy Note10, M series or A series, a large part of the image processing software is developed by us. For example, you are looking at a beautiful mountain range. The camera will automatically identify what you are looking at, so all the settings required to capture the moment automatically gets set… the wideness of the frame, white balance…. If you are looking at food, the settings would be different, for the colours need to be richer. This is called intelligent camera.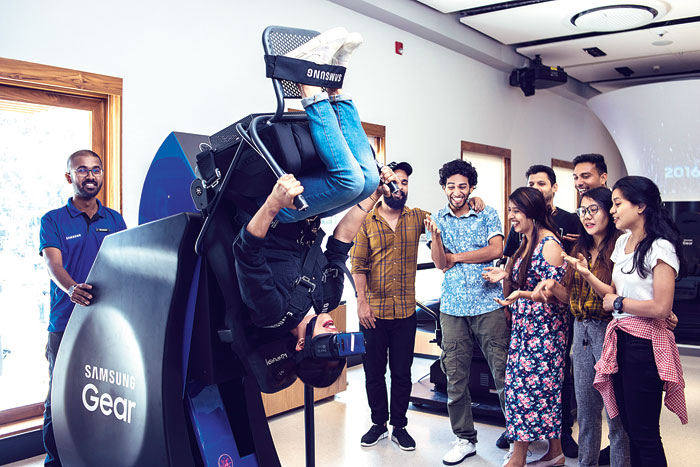 Third, Internet of Things or IoT. Take any Samsung smartphone or for iOS we have an application called SmartThings. Whatever device you buy — not only Samsung devices, for it's an open IoT platform which welcomes third-party manufacturers — you can easily discover them, connect them to the SmartThings application and allow automation across devices. For example, when my thermostat temperature goes up to 33 degrees Celsius I can ask my device to switch on the AC. Devices can talk to one another.
Lastly, AI. There are three variations. With Vision AI, the camera understands the world around you and helps take the right pictures. For example, if you are on a bike and want to capture a moment, because of the vibrations of the bike, it wouldn't be easy to get a steady video. Our Super Steady mode, which is an AI feature, takes care of it. Second, Voice AI which comes in the form of Bixby, the voice assistant Bixby for Korean language is done out of our Korean office but for English language (in the US, the UK or India market), all research is done in Bangalore. Third,
on-device AI because these days many applications use AI, like TikTok. Every machine-learning application can use the power of the Samsung hardware, which is very powerful and has neural processing units. So we have built the Samsung Neural SDK in Bangalore. Any third-party can use this SDK to enhance the speed of their AI applications.
Role in the Indian market
We call it Make for India. I have a cross-functional team, which has people from different backgrounds — design, quality, marketing, product planning and so on. Their job is to understand consumers and adopt some of the global products for the Indian market, like Samsung Pay. The original technology addressed the issue of payments using credit card. When we decided to bring it to India, it was about addressing a largely debit card market. So adopting global Samsung Pay solutions built for credit cards to enable debit cards, UPI and wallets (Paytm, MobiKwik and others) was the task at hand. Then there are some India-first innovations, like watching videos on YouTube and simultaneously chatting with friends on WhatsApp as people don't want to switch between the two apps. We came up with the technology and it was rolled out globally.
Future of gesture-based technology
Gestures on smartphones are currently only a complementary method of user interaction. The primary interface is touch and then comes voice, gesture, and so on. But we believe, as we go forward with AR and VR, gestures will become critical. Consumers and devices will interact through methods beyond touch.
Making Bixby Indian
Bixby on smartphones is primarily focussed on how all the mobile functions that are deeply embedded on devices are discovered by consumers. Bixby helps to break the menu hierarchy. If you want to allow face recognition on your phone, there are at least seven steps to achieve it using touch. This can be done away by interacting with Bixby: "Hey Bixby, set up face recognition on my phone." Additionally, Bixby has something called Marketplace. Like there is an iOS store, Google Play Store, Bixby has Bixby Marketplace where third-parties can come up with solutions.
About Indian languages. For the moment, we have enabled Indian English, which means a different set of pronunciations. If, for example, you say "Bixby, open Netflix and play Amitabh Bachchan's Deewaar", there are so many new words. Bixby can recognise the words and won't confuse any of the words that may sound similar in, say, American English. A name like Rahul will be recognised as Rahul and not Raul. We have already done this for smartphones and TVs in India. But to come up with other Indian languages, we have a roadmap and we are learning step by step.
Close to the heart
When the movement from 3G to 4G happened, that was a huge change. You can see the benefit people enjoy worldwide. If you look at Voice over LTE, it enabled voice calls to be free in the entire country. The solution was pushed by SRI Bangalore. We launched it in the US and Korea and then eventually it came to India. Each time a technological change takes place, there is a huge challenge and as we are speaking, 5G is taking off. There are huge opportunities out there. I am also very fascinated by AI. Today it may not offer the correct results all the time but it's getting better in leaps and bounds. We used to ask the camera to capture the world around us but now we open the camera to also understand the world around us.