Dell XPS 17 (9700): Ideal companion for content creators
There is nothing to dislike about this machine except the 720p HD webcam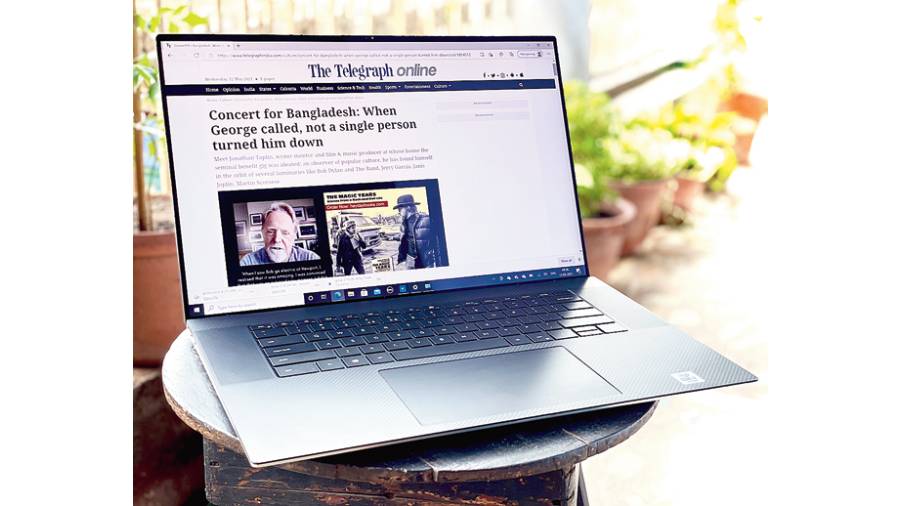 Dell XPS 17 (9700) is a dream come true for content creators.
Pictures: The Telegraph
---
Published 13.05.21, 01:05 AM
|
---
Should you buy Dell XPS 17 (9700) or a desktop? The laptop… for sure. It has a good chip, great design and, well, a 17-inch 4K touchscreen. Good 17-inch laptops are difficult to come by and this one's a wild, wild cowboy of the laptop world.
Vivid as your imagination
There must be a good reason why you want to get a laptop that costs upwards of Rs 2 lakh and it just can't be browsing. If you are a content creator, then this is the laptop. If you are a professional photographer who's always on the move, this is your rig. If you are a video editor who has to carry work around, this will help you. All that any creative person looks for in a laptop, it's there on Dell XPS 17 (9700), especially the screen.
If I were to make videos all the time and if Windows is my work driver, I will surely choose this machine without hesitation. The 17-inch 4K UHD+ InfinityEdge touchscreen has one of the best screens ever in terms of colour accuracy. The backbone is the installed Dell PremierColor software, which you should run as soon as you get the machine. In advanced settings, there are options to make advanced adjustments to the display colour — vibrant, SD video, cinema, photo, HD video, and so on. A photographer or content creator can fine tune the colour profile to suit every need. It also helps to know what the piece of content will look like with a different profile. Look at the screen from any angle, the colours are just perfect. Further, brightness levels can go up to 500 nits while we are used to around 300 nits.
Running a few tests on the screen shows that the laptop covers 100 per cent of sRGB and 100 per cent of Adobe RGB. Plus, the 16:10 aspect ratio is extremely helpful. It basically means you have more vertical space to play around with. If your Adobe Premiere Pro package has quite a few timelines to work with, more will fit in and it also helps when you are working with, say, thumbnails on Photoshop because you have to scroll less. Though the touchscreen is excellent but I am not a huge fan the technology when the screen size is 17 inches... that's really big.
Slick as a whistle
The second big feature for me personally are the ports. I like USB-C ports and there's plenty of that on the laptop. You get four USB-C ports with Thunderbolt 3, a full-size SD card reader, and a headphone jack. Missing are HDMI and USB-A ports but in the box is a dongle. I don't like dongles because it's messy and ugly. Sorry, that's just me.
The machine is, in fact, crafted to perfection. The chassis is made of CNC-machined aluminium while the keyboard deck has carbon fibre palm rests. There's nothing boring about it. When you hear of a 17-inch laptop, the first thing to strike you will be weight. No, it's only 2.4kg and it fits very well into my usual travel bag (which, sadly, is gathering dust!). The dimensions of the machine is only 14.7x9.8x0.8 inches.
Anyway, the backlit keyboard is also a dream come true. The spacing between keys is absolutely spot on and the key travel is exactly what I look for in a laptop, complete with perfect feedback. The palm rests are biggish and even though they are made of carbon fibre, it won't gather grease if you are careful. Just avoid dipping your fingers into a packet of chips while typing away. The smooth glass trackpad is also sizeable, helping with video editing a lot. On the two sides of the keyboard are speakers that get pretty loud and is possibly the best you will find in a Windows machine. Excellent bass response and just perfect for chilling over Netflix.
A workhorse
Of course, this is not a machine on which you just type letters; it's a beast meant for video editing. Powering the laptop is 10th generation Intel Core i7-10750H (12MB Cache, up to 5.0 GHz, six cores), NVIDIA GeForce GTX 1650 Ti 4GB GDDR6, 16GB DDR4 RAM and 1TB NVMe solid state drive. I usually use Adobe Premiere Pro and Adobe Photoshop, both of which performed without any hassle. Forget keeping 30 tabs open on Chrome, exporting videos take very little time and it gets the job done without you having to wait. You can also power up DaVinci Resolve Studio without facing any issues.Plus, the machine remains cool even after pushing it to the limit. The fans can rarely be heard while battery easily lasts eight to nine hours of moderate usage.
Should you buy it?
There is nothing to dislike about this machine except the 720p HD webcam. It's a machine that will see you through for years and if your choice of platform is Windows, this is a workhorse. It never stutters and never slips up. Excellent build quality and an outstanding screen make the Dell XPS 17 (9700) an ideal companion for content creators.
Device: Dell XPS 17 (9700)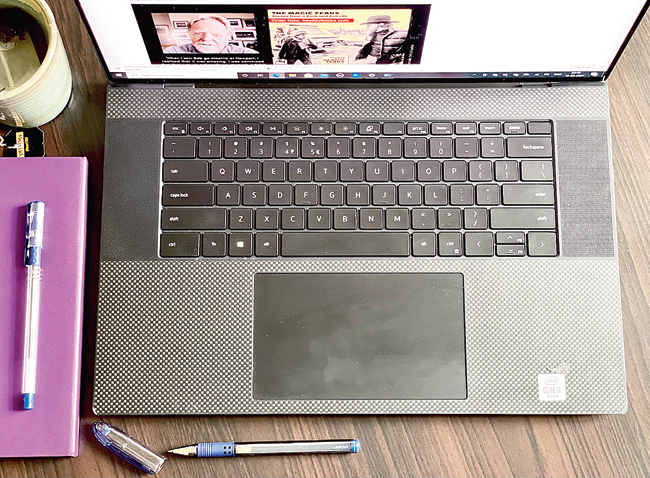 Price: Rs 211,499 on Amazon.in
High notes
• Best screen on any Windows laptop; perfect for content creators
• Outstanding keyboard
• Smooth trackpad
• Well-designed laptop and hardy
Muffled notes
• HDMI and USB-A ports are missing