Some of the most expensive parts of an airport to construct and maintain are runways. The longer the runway, the more cushion to the pilots during take-off as well as landing. Consider your phone in terms of a runway. Wouldn't you like that extra edge on the phone to last you a few years — four or five isn't a bad figure — without compromising on security, updates as well as speed. Smartphones, it's dozen to a dime out there but only two (at times three) brands make the right noises every year. For Apple, the iPhone has been a consistent performer.
To be consistent means delivering a certain level of productivity and processing power without the user having to worry about picture quality, frame drops, storage, security and, of course, it helps if the experience is free of advertisements. Why the discussion? Because the latest iPhone 12 series has a few things to offer that competition doesn't. Second, the long-term cost of having a good device is far less than having to buy a mid-range phone every year and a half.
The last few months, the only stretching I have done is while photographing my city on Sunday mornings. The idea is to be low-key. The idea is to capture a moment. For me, the choice is between my decade-old Canon DSLR or the iPhone 12 Pro (Max). I don't sell photos and the people I need to impress are basically me and the staircase wall, which can come alive with a few lovely frames.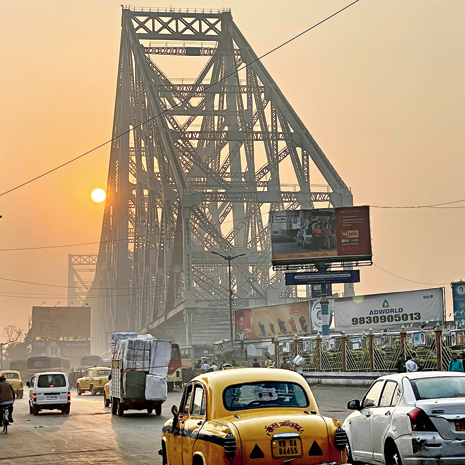 The Howrah Bridge at 7am captured on the iPhone 12 Pro. The Telegraph Picture
Fastest finger first
So here's a phone with a substantial price tag. Much of it is due to the hardware — the build, latest camera sensors and the most efficient (and fastest) processor available on a smartphone. The contrarian may say "Why bother to have the fastest or the most efficient? Last year's chip does a decent job."
It matters. Apple doesn't build devices to make analysts happy. The focus is on customers as they keep phones way, way longer than analysts do. Usually, an iPhone is retained for three to four years, even five, going by the experience of my circle of friends. The idea is not to look at a phone that feels snappy on Day 1 of its lifecycle but to see if the snap is there next year, the year after and the year after that. Getting the latest processor – in the case of the iPhone 12 series, it's A14 Bionic — is priority.
A charge not uncommon among Android users is the unavailability of the latest version of operating system or security updates. So you end up buying a flagship Android phone for, say, Rs 80,000 to find three years down the road — if the battery allows — that you have received only one or two OS upgrades and many of the applications are stuttering.
The A14 Bionic processor on the iPhone drives the latest OS out of the box and will continue to drive the latest OS as and when it's made available every year, plus every security patch. A related topic is cost. A lot of overhead gets built into the latest iPhone processor because Apple envisions what you will be doing not just this year but four years down the road. Since the company has the best application store at its fingertips, it knows what kind of apps you will be using. I can't do much about the battery drainage problem but having the latest silicon means snappy performance over several years.
Baking an Apple pie
The secret sauce helping the iPhone, which I have been using to take photos, edit photos and videos, plus making creatives for social media platforms, lies in the Apple-designed A14 Bionic. Consider Xiaomi or OnePlus, they all depend on other companies for chips. Agreed that Samsung does have its own chipset but for some reason the company doesn't market it in every country. In the US, it's Snapdragon. In India, it's Exynos.
On the other hand, Apple doesn't have to think about making a profit selling chips. For Apple, it's about thinking of Apple devices. This gives the company the leeway to work on processors that will be needed years down the line, plus, the hardware, software and engineering teams work together.
If a phone is bought with the sole purpose of capturing a palmful of flowers on a terrace garden in perfect daylight, any phone can do the trick. How does a phone perform with moving objects and at night? Apple has gone ahead with a technology that can be slowly expanded to cover its ecosystem. The LIDAR scanner makes AR experiences come alive dramatically on the iPad Pro but, on the iPhone 12 Pro, it also improves autofocus times up to 6x in low-light scenes for higher accuracy and reduced capture time in photos.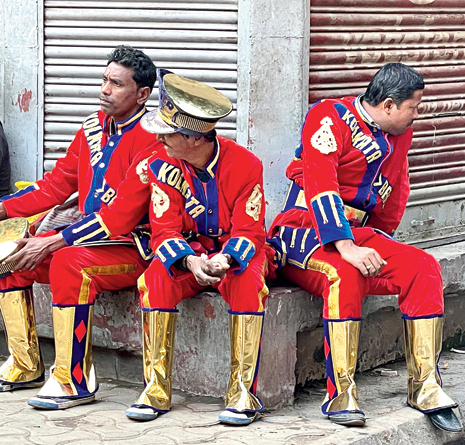 Three brass band musicians all set to begin their day around 9am The Telegraph Picture
Let's talk numbers
So, what does the A14 Bionic processor have to offer? In 2018, the A12 Bionic was the first 7nm chip to go into production and in 2020, the A14 Bionic is the first built on a 5nm process technology. What's that? Going from 7nm to 5nm means Apple has managed to squeeze in more transistors on a chip. It's supposed to have 11.8 billion transistors compared to A13's 8.5 billion transistors. That's a huge jump. The new chip has two performance cores and four custom efficiency cores that work together and the A14 offers up to 50 per cent faster performance than any other smartphone chip. Further, the four-core Apple-designed GPU is up to 50 per cent faster than any other smartphone chip, perfect for playing high-performance games, rendering augmented reality, and editing video.
The new buzzword on flagship Android phones is Qualcomm Snapdragon 888, which is fantastic but then, Apple keeps its ecosystem tight. The camera on the Samsung Galaxy S21 Ultra is the best we can buy on an Android phone at the moment. It has dual telephoto lens, which beats iPhone 12's telephoto performance, but in the next four years of a device's life, apps will come and many of them will appear first on iOS. Take, for example, the app Clubhouse; it's at the moment available only on iOS.
With speed, there's efficiency
Frankly, there is always the matter of pricing, which is up to individual budgets. But one thing is for sure: Having used both Android and iOS devices, I haven't needed to look up the answer to one question: "How do I make my iPhone faster?" The A14 Bionic processor on the iPhone 12 series is no exception. It's blazingly fast. Second, I keep wondering when the next Android update will arrive on my phone. That's not even a concern in the iOS world. The latest iOS 14 is compatible with iPhone 6s, which arrived in 2015. I wouldn't say everything Apple does is the best but every device it comes up with is perfectly usable over several years and comes with no major flaws. That's the story of iPhones. It's as snappy on Day 1 as it will be on Day 1,000 and beyond.
iOS because…
Quick software updates: Apple ends up supporting new iPhones and iPads with iOS updates for five (at times six) years from release because the devices are powerful enough to last that long. Once an iOS upgrade is pushed, it comes to devices globally within a couple of days, unlike Android.
Value proposition: Apple makes hardware and software. So the two come together seamlessly.
App selection: Apple's App Store has a wide range of apps and some of these first come as iOS-only. Plus, apps are optimised for both the iPhone and the iPad's larger screen.
Security and privacy: Apple is open about its privacy policy and makes that extra effort to keep user data private.
Android because…
Choice of brands: You don't have to buy Google Pixel phones to enjoy Android.
Pricing: There is an Android phone at almost every price segment.
Customisation: It is possible to change the home screen with customisable application launchers.