Clean your phone to keep virus at bay
The microbes reside in the folds and corners of cases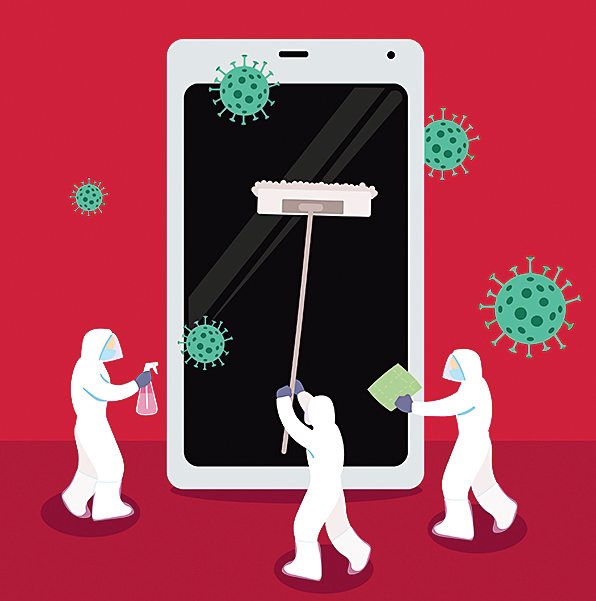 Apple now says you should gently wipe the exterior surface of the phone using a 70 per cent isopropyl alcohol wipe or disinfecting wipes
(iStock)
---
Published 22.03.20, 12:58 PM
|
---
What is the recommended way of cleaning a smartphone to disinfect its surface with coronavirus raging in the wild?
Raashi Jaiswal
Even without a pandemic, you should be regularly cleaning your phone and computer. The number of germs that reside on these devices will surprise you. If your phone has a case, you need to be even more careful. The microbes reside in the folds and corners of these cases.
You could touch a dirty surface and then pick up your phone and, before long, you might touch your face. Someone might cough nearby and your phone might have some droplets without you even realising it. A colleague sitting next to you might sneeze. Many use their phones in the toilet. And even though they wash their hands, the phone is never cleaned.
Yes, you must clean your phone, preferably every day now that an infectious disease is spreading fast. There are special screen and lens cleaning wipes you can buy that contain 70 per cent alcohol and won't scratch the surface.
Apple now says you should gently wipe the exterior surface of the phone using a 70 per cent isopropyl alcohol wipe or disinfecting wipes. Avoid getting moisture in any openings, and don't submerge your iPhone in any cleaning agents. Most other phone companies have similar advice for cleaning their phones.
Use only a soft, lint-free cloth. Avoid rough and abrasive cloths, towels and paper towels. Don't wipe the phone too much as this might cause damage. Never use aerosol sprays, household cleaners, bleaches, or abrasives. Spraying cleaners directly onto the phone should also be avoided.
If your phone has a case, you must remove your phone from it and clean the case. But you need to let it dry completely before you put your phone back in. The best way to clean the case is to use a soft, slightly damp, microfibre cloth to wipe the outside and inside of the case.
Just be careful with leather cases as cleaning with the wrong solutions will change its colour. Use warm water with mild hand soap and clean it with a cloth.
Keys on screen
How can I figure out the layout of Bengali characters on my keyboard? I have installed Bengali (Inscript) on my Windows 10 computer?
Biswajit Majumdar
Windows comes with a virtual keyboard. Go to Start on the desktop and type "on-screen". From the results choose On-Screen Keyboard. Once you change the language to Bengali by pressing the left Alt and Shift keys, you will see the Bengali characters on the virtual keyboard. You can press the keys with the mouse pointer till you are familiar with the keyboard.
Bluetooth bother
My Samsung PC with Windows 10 does not support Bluetooth. I am not able to connect any Bluetooth device with my PC. What should I do?
Asmit Kar
Get a Bluetooth 5.0 USB adapter. This dongle will function as a transmitter and receiver. You will be able to connect any device via Bluetooth with this.
Send in your problems to askdoss@abpmail.com with TechTonic as the subject line