China's Genshin Impact beats Japan at its own game
Released in late 2020, it is the first bona fide international smash hit for Shanghai's video game industry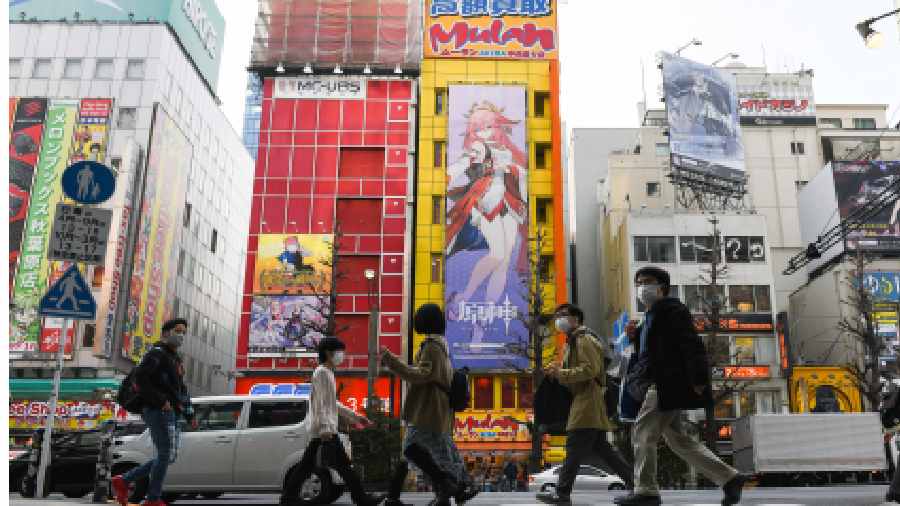 ---
Published 11.04.22, 12:03 AM
|
---
Genshin Impact has all the characteristics of a Japanese invention — giant robots; human-size swords; characters with huge eyes and spiky, rainbow-coloured hair; and a puzzling fixation on women in maid outfits.
There's just one catch — it's Chinese.
Released in late 2020, the game is the first bona fide international smash hit for China's video game industry. And, unlike other popular Chinese games, it is believed to have generated most of its revenue from overseas.
The game's success points to a shifting balance of power in the $200 billion-a-year global video game industry, which has long been dominated by Japan and the US.
But Genshin Impact is also a reminder that while China's video game industry may have achieved technical mastery, it still faces significant creative shortcomings. Although it has some Chinese elements, Genshin is a nearly picture-perfect reproduction of one of Japan's most popular video game genres —  fantasy role-playing games.
The game's creators, at the Shanghai-based company miHoYo, proudly refer to themselves as "otaku", a Japanese term often used to describe people whose lives are consumed by aspects of Japan's pop culture, like manga and anime. Even as China has grown into an economic goliath, it has had difficulty shaking the image that it is better at imitating other people's ideas than coming up with its own.
Still, copycat or not, Genshin is a sign to many insiders of the challenges the Japanese video game industry faces. Under fierce competition from the US, Europe and, now, China, it has ceded its once-dominant position over the past two decades.
From the standpoint of technology, art direction and game play, Genshin represents a huge leap forward for China, said Yukio Futatsugi, the CEO of Grounding Inc., a game developer in Fukuoka, Japan. "Frankly, it's a great game," he said, adding that it has made a lot of people in his industry think "we're in trouble".
In what may be a first for China, Genshin's mythos has inspired the kind of global response that has long defined success for Japanese games — cosplay, fan art and endless online dissections of the characters and their magical kingdom, Teyvat.
MiHoYo overcame initial scepticism among Japanese players by adding a new area to Genshin, called Inazuma, which is based on Tokugawa-era Japan.
The portrayal isn't necessarily positive the country is a cloistered, xenophobic archipelago clouded in radioactive fog. But for Japanese players, those negative aspects have been far outweighed by the positive portrayals of Japan and its video game culture, said Yusuke Shibata, who runs a YouTube channel where hundreds of thousands of players watch him play the game.
Japan accounts for nearly one-third of Genshin's revenue, even though play time and downloads have — on mobile at least — lagged behind those of top homemade games in the country.
Players win rewards through a lottery system, and the odds of getting the best ones — many of which are available only for a limited time — are vanishingly small. This inducement to gamble has drawn complaints from both players and regulators in Japan and China, but miHoYo has allayed those fears by making it entirely possible to play the game without spending a dime.
It is one of several Chinese games that have broken through in the Japanese market.
Only four years ago, Japanese developers held a monopoly on the top games in Japan. Now, about one-third of the top 100 mobile games in Japan come from China.
Futatsugi, the Japanese game developer, has been among the beneficiaries as Chinese companies look overseas. In 2021, he received a substantial investment from NetEase, giving him more freedom to express himself artistically.
"There aren't any companies in Japan that will give us the money to make the kinds of games we want to make," he said. It doesn't hurt that he is allowed to keep 100 per cent of the intellectual property from the venture.
Futatsugi says that the most serious threat to Japan's video game industry is not from China. Instead, he locates the core of the problem in Japan itself, pointing to its aging population and shrinking market, licensing agreements that keep profits out of creators' hands, and the reluctance of conservative companies to embrace new ideas.
NYTNS