Asus Zephyrus G15: a fantastic gaming laptop
Instead of reinventing the wheel, the company made a series of improvements to make the product standout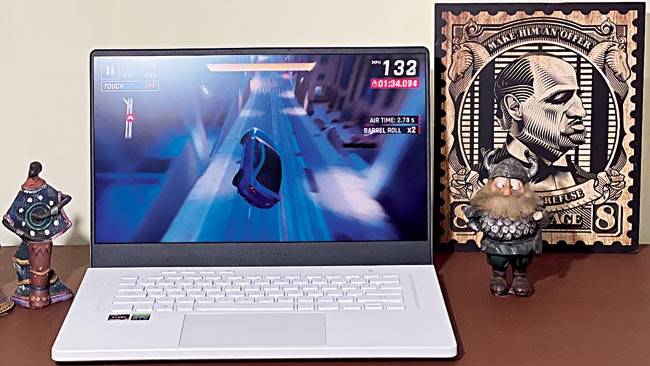 Asus Zephyrus G15 is a powerful gaming laptop that can also be used by, say, video editors.
Pictures: The Telegraph
---
Published 02.12.21, 03:05 AM
|
---
This is it. The best gaming laptop of the year. Or, is it a video editor's machine on which you can play games? Asus Zephyrus G15 cuts both ways. The company had to play it bigger-better than the G14. Instead of reinventing the wheel, and in the process destroying the formula that has clicked well, Asus simply made a series of improvements to make it standout.
Premium finish
Everything about the machine is on point — good size, good weight and it packs in a lot of power. It has, in fact, the ideal chassis for a laptop. Perhaps the biggest feature about the G15 is its portability factor despite being a gaming monster.
The fine balance between being a gaming machine and a productivity tool can be seen right from the screen, which is an excellent 1440p panel with 165Hz refresh rate and 100 per cent DCI-P3 coverage on the colour spectrum, which is great for video editing. Though it's a great tool for editing videos, one has to remember that out of the box, the screen is well calibrated for gaming. So it's best if you get a colour calibrator to get it right for video editing. Good viewing angles and a panel that gets bright enough ensures you can set this machine down anywhere to get work done. After all, it weighs only 1.9kg, which is extremely light for this kind of powerful machine.
Nothing can be faulted about the laptop's build, be it the premium finish of the lid or the keyboard and trackpad. The model we have for review is the off-white variant, the lid of which is covered in a dot-matrix design that produces a rainbow effect when seen at certain angles. Being made of magnesium-aluminum, you are ensured that it will tackle the march of time well. The only flaw I see has to do with the dots that may gather some dust over time. Of course, most dirt-related problems can be taken care of with a micro-fiber cloth.
The keyboard is large and quiet to type on and there is good key travel. I could easily manage to knock out several copies on this laptop and editing videos was easy. The speakers are on either side of the keyboard and they get pretty loud without sacrificing clarity. This is an added bonus because gamers tend to use headphones. There are six speakers powered by Dolby Atmos technology  — twin tweeters face front to fire sound directly at you while pairs of force-canceling woofers under the palm rests balance acoustics and minimise unwanted resonance. The only quibble I have is the absence of a print screen key, something I use often.
The backlighting on the keyboard is simple but effective. A suggestion: Get the grey variant because the backlighting is easily visible on that. Plus, it's slightly odd to find black bezels on an off-white laptop. Anyway, that doesn't take anything away from the laptop. Coming to the trackpad, it's big, responsive and has a satisfying click.
Like on other premium Asus laptops, you get ErgoLift hinge on this one, meaning the keyboard gets slightly raised as you push the screen back, making it easier to type and even when you keep the screen at 180-degree, viewing experience is not compromised.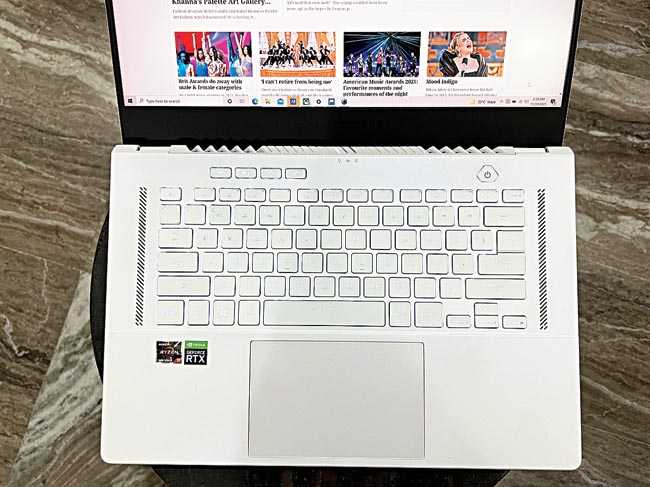 Flawless gaming experience
Powered by AMD Ryzen 9 5900HS with Radeon Graphics, every game you throw at it is well played out. Graphics-intensive games like Red Dead Redemption II played out on maximum settings and ray tracing didn't turn out to be an issue. We also played a lot of Asphalt 9: Legends effortlessly.
During the 10-day review period, there was no stuttering and heating was nothing out of the ordinary. Asus went with a compact size, so there will be a limit on the power draw by the CPU and GPU but it doesn't interfere with the flawless gaming experience. What I got is consistent frame rates and experience. Most of the heat dissipation happens from the sides and also the back. Going into the Armoury Crate, you can manage system performance — Silent, Performance, Turbo or Manual. I usually went with performance mode which kept fan noise under check. There is also a 'panel power saver' if you want to conserve charge but who wants to do that while gaming?!
Time for nitpicking. There is no built-in webcam on the machine but the box has a clip-on option but when travelling users may easily forget all about it. Since Asus wanted to make it a laptop for all occasions, a built-in webcam would have been a welcome move.
Should you buy it?
The deal breaker for me is battery life, which is easily seven hours, involving some video editing, gaming and usual office-related work. That's a pretty good figure for a gaming laptop. In case you stick to office work, you will easily get nine hours and restricting action to web browsing or YouTube should give you more screen-on time. The high-capacity 90Wh battery means you won't be caught powerless. In case you forget the charger, you can take advantage of Type-C charging.
It's a very well thought out laptop that's sure to keep you engaged for years. Compact yet powerful, Asus Zephyrus G15 is a fantastic gaming laptop.
At a glance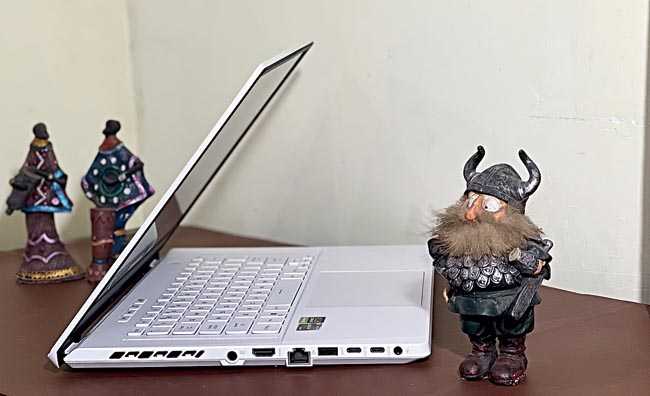 Device: Asus Zephyrus G15
Processor: AMD Ryzen 9 5900HS with Radeon Graphics; RAM: 16GB (review version)
Price: Rs 146,990
High notes
• Compact but powerful
• Suits gamers as well as video editors
• Excellent audio
• Highly portable
• Good battery life
Muffled notes
• Clip-on webcam
• Power cable is in the middle of the left side of the chassis, which can be a bother