As the QLED 8K range of TVs makes its presence felt, AI upscaling is in the spotlight
'Interestingly, cricket fans across India are upgrading to bigger TV screens to enjoy the cricket World Cup'
---
---
Coming Sunday, all eyes will be on the World Cup final and all eyes would want every moment to play out crystal clear on the TV screen. "Interestingly, cricket fans across India are upgrading to bigger TV screens to enjoy the cricket World Cup," Raju Pullan, senior vice-president, consumer electronics, Samsung India, tells t2.
The new QLED 8K TV line-up — 65inch (163cm), 75inch (189cm), 82inch (207cm) and 98inch (247cm) — from Samsung is also a part of the rush to upgrade. Besides this, there is also the QLED line-up of 12 TVs, ranging from 43 inches (108cm) to 82 inches (207cm) across four series.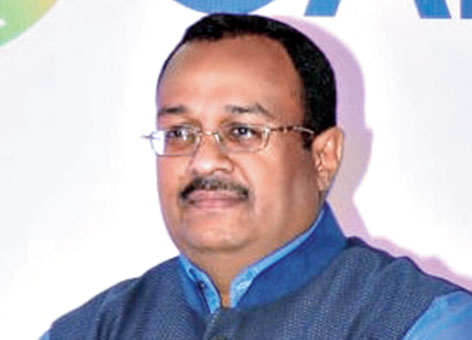 Here's more from the South Korean electronics giant.
Any trend or statistics you can share about smart TV consumption in India?
Migration to larger screens was one of the biggest trends we have witnessed this year in smaller towns as well as the metros. The 40-inch and above is the fastest growing segment in the TV business in India and we have maintained leadership in this segment by introducing the right product at the right moment. In Q1 2018 versus Q1 2019 in the 55-inch-and-above segment, we grew 70 per cent in units versus industry growth of 53 per cent.
Interestingly, cricket fans across India are upgrading to bigger TV screens to enjoy the cricket World Cup. In May, we saw sales of 55-inch and above TVs, which include our QLED TVs, double over last year. Sale of 75-inch (and above) TVs saw a 5x jump, indicating a rising demand for bigger screens this World Cup. We have also seen strong booking of our brand new QLED 8K TVs. This upsizing trend isn't only a metro phenomenon. Cities such as Hubli, Jabalpur, Raipur, Ranchi, Cochin, Nagpur and others too have seen two to six times growth in sales of TVs above 55 inches just ahead of the World Cup.
Since TV is not something that one upgrades every year, what are you delivering?
Size of the TV: Bigger really is better. The television industry here is seeing massive growth in the sales of 55 inches and above screen sizes, on the back of availability of high-quality content, cheap data, a greater push from smaller towns, higher aspirational level and increasing affordability.
Display: Samsung QLED 8K breaks new ground for ultra-premium TVs and home entertainment, delivering beautiful design that is supported with the most advanced picture quality in its portfolio.
Sound: Sound quality is a very important buying factor for a TV purchaser. Our 8K TVs utilise Quantum processor 8K that optimises audio and video to the specific content on the screen. It creates an even more detailed sound experience by tailoring the audio settings to the specific layout of the room.
Convenience and control: Users can take voice control one step further with the new Bixby feature along with other voice assistants like Google Assistant to access content through voice commands. In an industry first, we will offer iTunes Movies and TV Shows and Apple AirPlay 2 support on our 2019 smart TV models.
Turn the TV into a piece of art: Ambient Mode in QLED TVs is a unique feature that enables users to apply an interactive background to the virtually bezel-less TV frame, blending it into the living room wall.
What makes the QLED 8K TV different?
We have been the market leader in TVs for the last 13 years in India. The newly-launched QLED 8K TVs are the only ones that come with 8K AI upscaling technology. It lets consumers enjoy just about any movie or TV show on any channel in 8K resolution regardless of native resolution or method of transmission.
How important is it to upscale content?
Whether a viewer is watching content through a streaming service, set-top box, HDMI, USB or even mobile mirroring, the 8K Quantum processor recognises and upscales the content to appear in 8K quality. The significance of AI upscaling is reflected in flawless textures, realistic edges and reduces noise of realness and presence with an exceptionally true-to-life picture quality. Upscaling technology allows consumers to perfectly immerse themselves into the screen that comes with 33 million pixels, four times the resolution of 4K. It enables much better contrast, making dark areas darker and bright areas brighter — preventing blooming around bright objects.
8K Price check
65 inches: TBA
75 inches: Rs 10,99,900
82 inches: Rs 16,99,900
98 inches: Rs 59,99,900 (made to order)