Apple TV+ provides quality over quantity
The streaming service with a diverse programming catalogue is built on originals without giving into any pre-existing catalogue programming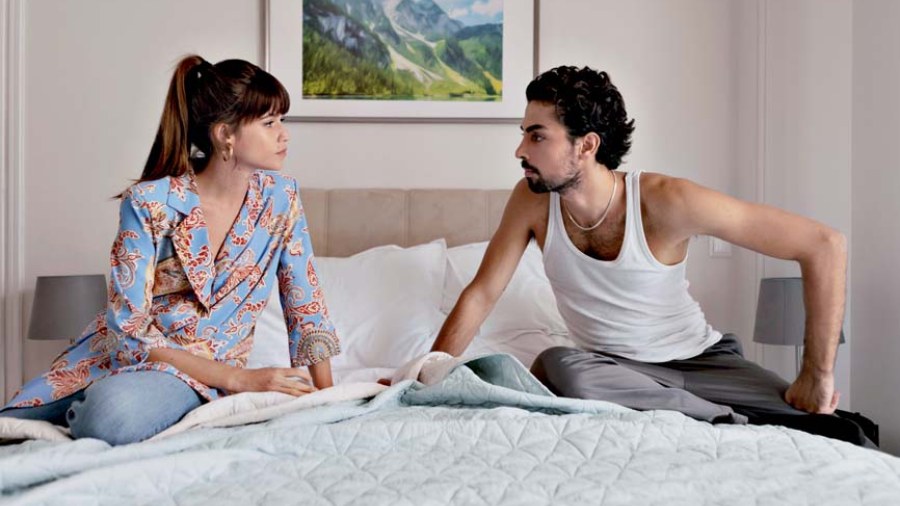 Niv Sultan and Shervin Alenabi in Tehran, now streaming on Apple TV+. Pictures: Apple TV+
---
Published 17.05.22, 12:07 AM
|
---
Consider this series of events. Around a month ago, Netflix announced a net loss of 200,000 subscribers in its first quarter while considering an advertising-supported future. The bigger repercussion is that Apple TV+ becomes one of the last remaining places on video streaming where no-advertising strategy remains alive. Second, in March, Apple became the first streaming service to win best picture at the Academy Awards for the film CODA. Not Netflix though it has been in the streaming game for a very long time.
From inception, it has been about gradual scaling, like any Apple product. Months into the launch of the service in November 2019, critics quickly panned it favouring Netflix. But Apple TV+ never wanted to be like Netflix, which comes with too many issues — password sharing, over expenditure on shows (some of which go off air after only a season), shows that are no longer different from many other streaming services and so on. Perhaps the silver lining for Netflix came last year when it announced in its fourth-quarter earnings report that it would not "need to raise external financing for our day-to-day operations".
So what's working in favour of Apple TV+? First, an ever-growing base of iPhones and iPads. The streaming service doesn't come free but as soon as you buy an Apple device, you get to stream for a few months free of cost during which you may just fall in love with the repertoire. Second, it's almost impossible to share an account. And you really don't have to because Apple One has you covered, more of which later in the article. Quality over quantity
Next, the shows are unlike what you get on other streaming platforms. This is perhaps the most important aspect. Take the example of a show like Dickinson, capturing the life of the poet Emily Dickinson, who had to struggle to get her voice heard. The storyline is restricted to the late 19th century but connecting it to our times is the music. Or consider Ted Lasso, which inspired viewers to power through the pandemic with its radical optimism. To more recent shows, the surreal Roar that tells eight tales about women, one even has a relationship with a duck. A bigger success has been Pachinko, which chronicles the harsh lives of generations of a Korean family living in Japan. More recently, the second season of Tehran has returned, which is one of the finest spy thrillers in recent times. Original films include The Tragedy of Macbeth, CODA, Finch, Greyhound, Palmer, Finch, Swan Song and many more.
Apple's library is built on originals without giving into any pre-existing catalogue programming. So you won't find popular shows from the 1990s or 2000s on the platform. We have to understand where Apple is coming from. The company has a multi-trillion-dollar market captilisation and is sitting on a huge pile of cash reserves, allowing it to play the long game in which the streaming service can remain non-profitable for years. That's not the case for Netflix, Disney+ or HBO Max. Instead of burning cash to make bad movies and shows, each entry on the Apple TV+ catalogue has something different to offer. The focus has been to make a smaller quantity of quality shows. Enough reasons to sign up
We are living at a time when it's easy to cancel a streaming service. Each month you reserve an amount towards entertainment. Netflix is obviously expensive. Then there are other global streaming services, plus several local ones, which are also presenting excellent content. During the trial period, customers realise there is enough snackable TV on Apple, which may not had been the case in 2020. Plus, the streaming service enjoys the might of the Apple install base of over one billion active iPhone users (total is 1.8 billion active devices, looking to hit 2 billion this year). Not that everyone with an Apple device will log in to the service but a lot of them could be willing to pay for quality content.
Once you buy an iPhone, you are sure to use it for four-five years if not more because of the top-quality of hardware. What can you do extra with the hardware? Watch films via Apple TV+, listen to music via Apple Music, play games on Apple Arcade, take fitness to a new level via Apple Fitness+, there's more. The streaming service is allowing Apple to diversify and spread its sources of income. When you buy an iPhone or an iPad, you will obviously want a plan for Cloud storage. So you subscribe to Apple One, which has different offerings — individual, family and premier, each giving you access to more Cloud storage and more importantly each tier includes Apple Music, Apple TV+ and Apple Arcade.
That way even Amazon Prime Video has done well. It's a no-brainer to have an Amazon Prime account for shopping and as soon as you get one, you are also given Prime Video and Prime Music. So Amazon will always have people logging in, which is not the case with the likes of Netflix or Disney+. If you don't like the services, there are no fringe benefits to keep you logged in.
There are no universal measures to evaluate streaming audiences, but one element can prove beneficial to the bottom line of any company — consistency, which Apple has in oodles. Be it products or services, there is quality. Add to this variety. As much as the streaming service has its eye on drama, thrillers and films, there are enough offerings in nature programming and children's shows. And TV+ has just taken baby steps; imagine what it can achieve if it launches content in local languages. Splurging does not amount to winning, most streaming services are learning quickly. For Apple TV+, it's about resonating with audiences. Big-hitters arriving on Apple TV+
Now & Then (May 20): Set in Miami, Now and Then is an eight-episode bilingual and multi-layered thriller told in Spanish and English that explores the differences between youthful aspirations and the reality of adulthood, when the lives of a group of college best friends are forever changed after a celebratory weekend ends up with one of them dead.
Prehistoric Planet (May 23): Narrated by Sir David Attenborough, the five-episode series will transport viewers 66 million years in the past to discover our world — and the dinosaurs that roamed it — all in stunning detail and set to an original score by multiple Academy Award winner Hans Zimmer.
Physical (season two, June 3): The protagonist Sheila Rubin having successfully launched her first fitness video only to encounter some new and bigger obstacles on her path.
For All Mankind (June 10): The propulsive new season of the alternate-reality series takes viewers to a new decade, moving into the early '90s with a high-octane race to a new planetary frontier: MARS.
Cha Cha Real Smooth (June 17): Cooper Raiff stars as 22-year-old Andrew, who is fresh out of college and without a clear life path going forward and stuck back at home with his family in New Jersey.
Loot (June 24): The new comedy follows Molly (played by Maya Rudolph), a woman whose seemingly perfect life is upended after her husband leaves her with nothing but $87 billion.
Black Bird (July 8): When high school football hero, decorated policeman's son, and convicted drug dealer Jimmy Keene (Taron Egerton) is sentenced to 10 years in a minimum security prison, he is given the choice of a lifetime — enter a maximum-security prison for the criminally insane and befriend suspected serial killer Larry Hall (Paul Walter Hauser), or serve his full sentence with no possibility of parole.
Coming up for children on Apple TV+
Hello, Jack! The Kindness Show (June 24): Jack and his friends set out to solve a kindness mystery: Who's behind the random acts of kindness popping up all over town?
Duck & Goose (July 8): A preschool series that celebrates the unique friendship of Duck and Goose, two best feathered friends that don't always see beak to beak.
Best Foot Forward (July 22): The live-action series follows 12-year-old Josh Dubin as he goes from homeschool to public school, eager to experience everything middle school has to offer.
Amber Brown (July 29): It's an unfiltered look at a girl finding her voice through art and music in the wake of her parents' divorce.
The Snoopy Show (season two August 5): Dive into new adventures with the happy-dancing, high-flying, big-dreaming beagle.
Surfside Girls (August 19): The live-action series is about best friends Sam and Jade as they solve supernatural mysteries in their sleepy California beach town.