Apple: new products that prove the company's supply chain efficiency
The new iPad Pro brings PC-like trackpad capabilities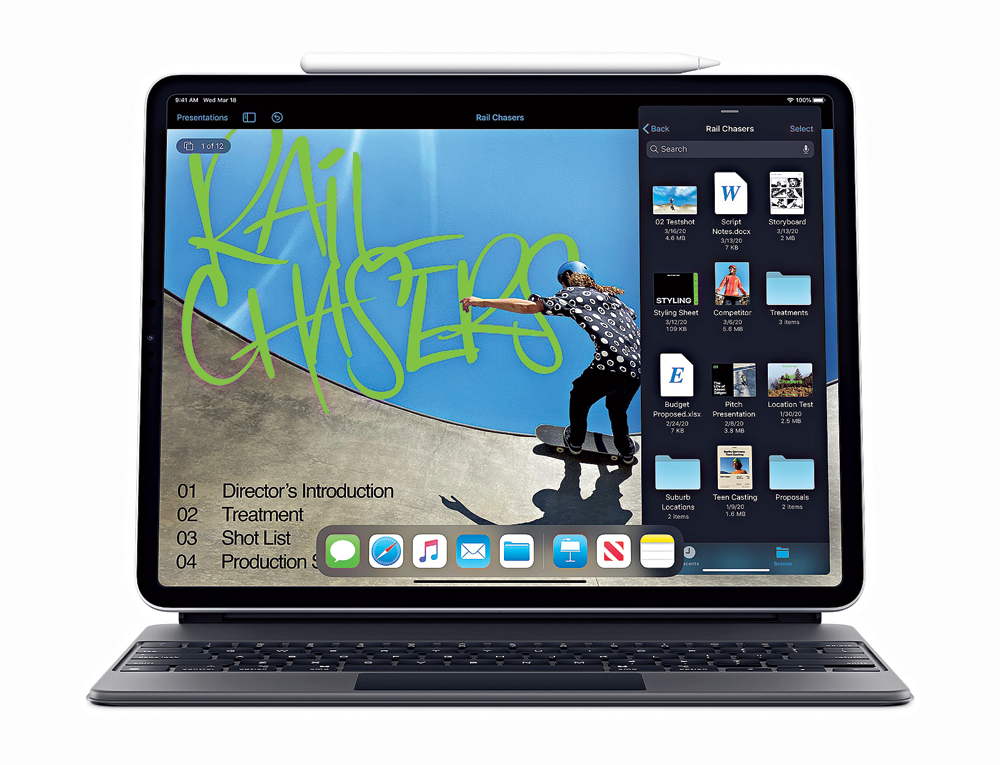 The Magic Keyboard for iPad Pro puts the beautiful multi-touch screen on display with its floating design
Picture: Apple
---
Published 19.03.20, 01:38 PM
|
---
It's obviously not business as usual for any company but, on Wednesday, Apple proved that business can still be conducted. The tech giant has announced the new iPad Pro and a new MacBook Air, which are much more than just incremental upgrades. In fact, the new iPad Pro brings PC-like trackpad capabilities, as the company seeks to make its tablet even more like a laptop. What's on the devices? Read on.
iPad pro with Magic Keyboard
Apple has announced trackpad and mouse support for the iPad. Not only that, the mouse cursor is unlike anything you have seen before. The new Magic Keyboard for iPad Pro, which is a separate purchase, keeps the tablet elevated or makes it appear "floating" with the help of magnets, allowing better viewing angles and more sturdiness when placed on the lap.
The most interesting part of the Magic Keyboard is the trackpad at the bottom, which lets you use a cursor and the experience has been completely reimagined for the device.
The pointer appears when you need it, that is when you touch the trackpad and doesn't have a permanent presence on the screen.
It's a circular dot, a shape that's most natural when it comes to the touch experience; it's like your fingertips.
When the pointer moves over an icon, it transforms, making it easier to select things. It's like how your desktop mouse pointer changes into a hand or a text cursor. You can move the cursor to the bottom of the screen to access the app dock. Moving to the upper corner, you get access to the control centre. Even the slide-over apps can be accessed.
The other aspect to the trackpad are gestures. In a video, Apple's senior vice-president of software engineering Craig Federighi walks one through the features. Using three-finger gestures is easy, like swiping up to go home or swipe right to effortlessly switch between applications or swipe up and hold to multitask. There is also support for pinch-to-zoom gesture.
On top of that, the keyboard is backlit and there's a USB-C port that allows passthrough charging, freeing up the USB-C port on the iPad that can be used for something else.
With the addition, the iPad Pro appears more like a computer and a laptop rival rather than just a slate. iPadOS 13.4 with trackpad support will be available on March 24 as a free software update for all iPad Pro models, iPad Air 2 and later, iPad 5th generation and later, and iPad mini 4 and later. And the Magic Keyboard for iPad Pro will be available for purchase in May.
Cameras and Lidar scanner
The iPad Pro camera system features a 12MP wide camera for capturing stunning photos and 4K video, and now includes a 10MP ultra-wide camera that zooms out two times to capture a much wider field of view.
There's also a new Lidar sensor. It uses infrared light beams to measure distance and can sense depths of up to five metres, allowing improved AR performance both indoors and outdoors. The technology is usually associated with autonomous cars.
Usually, when using AR on an iPad, the room needs to be scanned, which takes a few seconds but with the addition of Lidar scanner, things happen there and then. Apple has specifically noted the improvements in the Measure app, making it faster and easier to automatically calculate someone's height. The Measure app also now comes with Ruler View for more granular measurements and allows users to save a list of all measurements, complete with screenshots for future use.
The new Lidar scanner also allows the device to identify elements in a room easily, which will be a big boost to third-party app makers from the likes of IKEA as well as game developers.
Display and processor
The iPad Pro comes with edge-to-edge Liquid Retina display in both 11-inch and 12.9-inch sizes while ProMotion technology automatically adjusts the display refresh rate up to 120Hz for ultra-smooth scrolling and responsiveness. Giving video editing and designing 3D models a boost is the new A12Z Bionic chip. The eight-core GPU in the A12Z Bionic gives iPad Pro the highest performance ever in an iPad. And the battery should last up to 10 hours.
Pricing and availability
iPad Pro: The 11-inch iPad Pro starts at Rs 71,900 for the Wi-Fi model and Rs 85,900 for the Wi-Fi + cellular model, and the 12.9-inch iPad Pro starts at Rs 89,900 for the Wi-Fi model and Rs 103,900 for the Wi-Fi + cellular model. Available soon.
Magic Keyboard for iPad Pro: Available for purchase in May for Rs 27,900 for the 11-inch iPad Pro and Rs 31,900 for the 12.9-inch iPad Pro with layouts for over 30 languages.
MacBook Air: Starting at Rs 92,990. The new MacBook Air will be available in stores starting next week.
Mac mini: The standard configurations of Mac mini now come with double the storage capacity. The Rs 74,900 configuration now comes standard with 256GB, while the Rs 105,900 configuration features 512GB of storage.

Size: 12.9" and 11"
Display: Liquid Retina display with ProMotion
Processor: A12Z Bionic chip
Cameras: Pro cameras and Lidar scanner
Unlocking: Face ID
Storage: Up to 1TB storage
Input devices: Support for Apple Pencil (2nd generation) and support for Magic Keyboard and Smart Keyboard Folio
New MacBook Air
Apple has also announced a new MacBook Air, which abandons the problematic butterfly keyboard it introduced in 2015 that required extended repair programmes. In the last few months, the only way out of the problem was to buy the more expensive 16-inch MacBook Pro. Here's a cheaper alternative — the new 13-inch MacBook Air has the same Magic Keyboard, which includes a dedicated Escape key.
Besides the keyboard, the new device comes with a boost to the spec sheet with the latest 10th-generation Intel Core i7 quad-core process and Iris Plus graphics, offering twice the performance and 80 per cent faster graphics. Apple also increased the starting storage amount to 256GB. And for those who need even more storage capacity, MacBook Air offers up to a 2TB SSD, double the previous maximum storage.
Additional features include a three-mic array for more clear voice capture for FaceTime calls with friends and family (with more people working from home, it's an important aspect), Thunderbolt 3 ports for data transfer, charging and video output in a single connector, support for up to a 6K external display (a first for MacBook Air) and advanced stereo speakers for immersive, wide stereo sound for activities like watching Apple TV+ content or playing games in Apple Arcade.