Apple Music's monthly plan costs less than a cappuccino
Now you can access over 90 million songs a month for a plan which is designed exclusively for Siri and comes at Rs 49 a month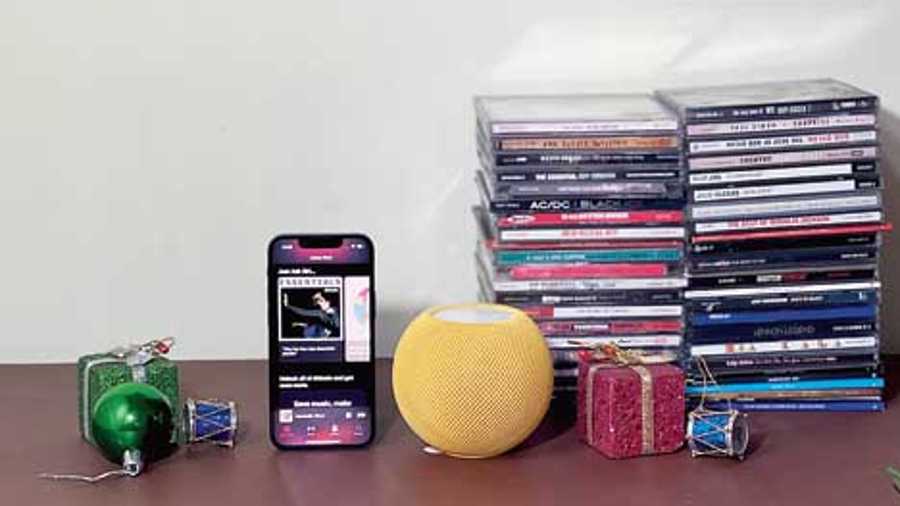 Apple Music Voice Plan works best if you are a casual music listener.
Pictures: The Telegraph
---
Published 16.12.21, 12:34 AM
|
---
There is a sizeable crowd comprising casual music listeners, people who simply want to tune in during commutes or stream a few songs through the HomePod. They don't want the full Apple Music plan, which comes with lossless audio, Spatial Audio, offline listening and all that bada-bing bada-boom moments integral to the popular music streaming service. Simplicity is key for many and for them there is a new option called Apple Music Voice Plan, which is designed exclusively for Siri and comes at Rs 49 a month. You heard that right. Suddenly you can access over 90 million songs a month for less than the price of a cup of coffee. With all the high points of the new plan come a few caveats. So read on to find out more.
Deep dive into the plan
With iOS 15.2 arrives this new plan and if you want to sign up for it, simply ask Siri to start the trial plan of seven days without any payment. Or, sign up through Apple Music app and as a new subscriber you will get three months for free and then it will auto renew after that.
Let's make one thing very clear because there seems to be some confusion about the charges. Rs 49 is not an additional charge to the current Apple Music plan that probably many of you already have. In case you are already an Apple Music subscriber, nothing changes for you and you may not even want to read about the new plan. For this set of customers, you can use Siri the way it already works with Apple Music unless you want to downgrade to Voice Plan and save some money. If you haven't tried out Apple Music at all, read on.
Voice Plan is perfect for those who really don't listen to music unless they are asking Siri to do so in the car or at home using Apple HomePod smart assistant speaker… or even on the phone and don't really care about having a library or an interface (sort of). The plan is strictly used via Siri, which means there is a limited visual interface through the music app and you can't save anything to your library or create a playlist. Of course, many people don't want to create playlists or save music for offline listening. Remember, these are casual listeners. You can ask Siri to play music on any Siri-enabled device — iPhone, iPad, HomePod, Mac, Apple Watch, AirPods and so on.
There is limited UI. After using it for 24 hours I realised there is more to the UI than I had expected. You can search for albums or artistes but to play music you have to ask Siri. As far as rest of the UI, your 'Listen Now' tab is filled with example playlists, recommendations that you can ask Siri to play and there is an option to sign up for the full version of Apple Music. If you are interested in Apple's Radio Music 1, that's also there while any previously purchased iTunes content is accessible.
When you are playing music, you will have access to the 'Now Playing' visuals, album artwork and background colouring, playback controls and options, like sending songs to a different AirPlay device or looking at what is next in the queue but you won't be able to manually choose from the list. When you ask Siri to play a specific song it will also create a queue of related music if you have auto-play turned on.
The implications
First, focus on Apple Music Voice Plan means Apple will continue to make Siri better. Second, the inexpensive element to the plan will entice listeners, who will slowly move to higher-priced tiers. Third, this is a way better plan than having to sit through ads on many rival streaming services. There are no advertisements with Voice Plan. Finally, it costs less than Rs 600 per year, which is very competitive in a price-sensitive market like India.
At a glance Service: Apple Music Voice Plan
Price: Rs 49 a month
• Apple Music Voice Plan, using the power of Siri, makes listening to music simple. Customers can listen to the entire Apple Music catalogue just by asking Siri to "Play hip-hop", "Play the latest release by Arianna Grande", or "Play the top songs from 1980". And if you don't know what to listen to just ask Siri to "Play some music for me" to get a personalised station made just for you.
• Apple Music is also adding hundreds of new mood and activity playlists created by Apple Music's editorial experts that are made for voice listening. Subscribers can ask Siri to "Play the dinner party playlist," "Play a playlist to help me relax" or "Play a work out playlist" to find just the right music for the moment. These new playlists are available to every subscriber of any Apple Music plan — and make using Apple Music, together with Siri, even better.
• Once subscribed to the Apple Music Voice Plan, users can request music be played across all of their Siri-enabled devices, including HomePod mini, AirPods, iPhone, iPad, Mac, Apple TV and Apple Watch — so you can listen to music wherever you are.