Apple Music rolls out Lossless and Spatial audio in India
The arrival means you can now get an immersive experience while listening to songs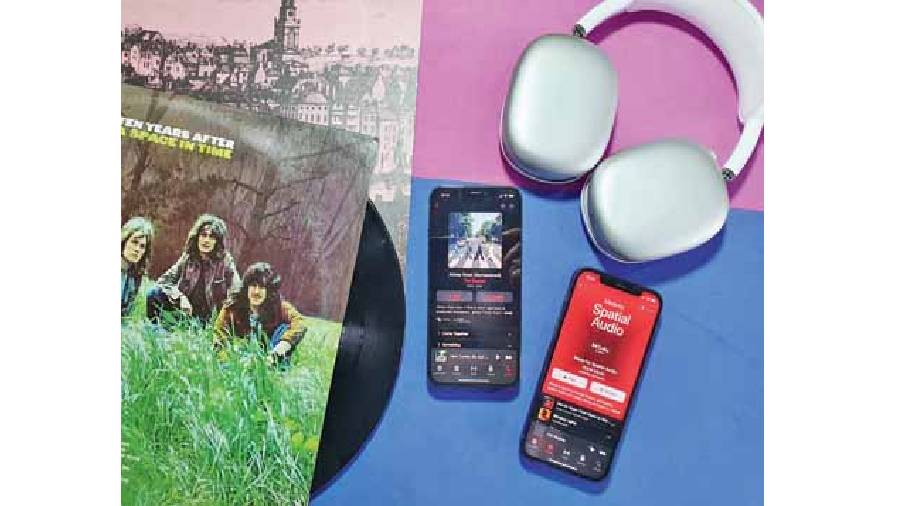 ---
---
The night we put the orchestra on it, the whole world went from black and white to colour," Geoff Emerick said decades ago while discussing the recording of A Day In The Life, the seminal final track on Sgt. Pepper's Lonely Hearts Club Band. The fact that there was no "electronic gimmickry" on it explains the track's popularity among Beatles fans and audiophiles. Having spent my childhood listening to this and other Fab Four albums on turntable hooked to a "proper" stereo system, A Day In The Life is something I rarely tune into these day because YouTube and steaming services have beaten the life out of the track by deleting important sound-related data from the file.
My cynicism can finally take a backseat, now that spatial and lossless audio have become accessible in India, thanks to Apple Music. Lossless audio streaming has long been a demand of audiophiles while the other part of the milestone involves spatial audio or an experience where sound seems to come from all directions — horizontal and vertical. Music streaming has finally become immersive.
Spatial audio
On the one hand is Dolby Vision, which has everything to do with video and on the other is Dolby Atmos that covers audio. To keep it simple, Dolby Atmos is a complex treatment of surround sound. In a 5.1 or 7.1 set up, you can hear instruments moving from left to right or vice-versa while vocals are usually in the centre. Now on Apple Music, you can listen to songs in spatial audio with support for Dolby Atmos (the selection is huge and continues to grow), meaning it's not just about consuming music in a stereo field but also from above, firing downwards. It's like entering a 360-degree sound box, hearing instruments coming from all around you. When Here Comes The Sun or Lynyrd Skynyrd's Simple Man was recorded, sound engineers had put in a lot of effort into the track. What you now get is an immersive experience.
What's special about spatial audio with support for Dolby Atmos is that you don't need wired headphones to experience it. By default, Apple Music will automatically play Dolby Atmos tracks on all AirPods and Beats headphones with an H1 or W1 chip, as well as the built-in speakers in the latest versions of iPhone, iPad, and Mac.
Lossless audio
The technology is not as simple as it sounds. "Lossless" in the context of music-streaming services means a streaming process in which the quality of sound remains unaffected. A music file's data remains intact and listeners can access a perfect reproduction of the original audio. It's the opposite of a "lossy" format in which quality is reduced by using compression technology that discards some sounds that largely go unnoticed. The compression is done keeping your data plan in mind and it also saves space on your mobile device.
Not the perfect of analogies, consider videos, which can be 720p, 1080p, 4K, 8K…. As we ask for better quality video, more data gets consumed. Something similar happens with audio. With YouTube videos you can select the quality of streaming. But with audio, we have largely been getting 256kbps, which is like watching 720p video, not that it's bad but things can be better. So you want 320kbps? Sure, but MP3 format can't support beyond 320kbps. So you have to move to something like AIFF or WAV. Apple Music doesn't use MP3; it's AAC, which is lossy when compared to lossless. For lossless audio, Apple uses ALAC.
To enjoy lossless streaming you need a fairly fast Internet connection and after a point, dedicated hardware. The lossless tier starts at CD quality, which is 16 bit at 44.1kHz, and goes up to 24 bit at 48 kHz. For the audiophile, there is also hi-resolution lossless all the way up to 24 bit at 192 kHz.
There are two numbers attached to resolution — word depth in bits (the difference between the loudest and softest sounds that can be recorded) and sampling rate in kilohertz (you can calculate the highest frequencies of sound that can be recorded). To give you a fair idea of what Apple Music lossless audio is offering, CD resolution is 16 bit at 44.1kHz. To make matters simple, consider CD resolution to be something like 1080p while 24 bit/48kHz is like 4K video and 24 bit/192kHz is like watching 8K video.
Lossless audio is delivered to the iPhone, iPad, Mac, and Apple TV, however, Bluetooth connections (on your wireless headphone) don't support lossless audio. You can listen to lossless audio on your headphone using Lightning to 3.5 mm headphone jack adapter. This process supports up to 24 bit/48 kHz lossless audio. To enjoy the top tier of lossless audio on your headphone, you will require a special type of hardware called an external DAC.
How much will it cost?
Not a paisa more than what you are currently paying. There's no extra payment involved and, needless to say, there are no advertisements. Tidal and Deezer also offer spatial audio but at a higher cost, plus, you don't have access to these services in India. For lossless audio streaming, there is Tidal HiFi, Deezer HiFi, Qobuz and Amazon Music HD but these are either costlier and/or not available in India.
Lossless audio is not about making every Apple Music subscriber turn to the format. But there is a sizeable user base that believes in good-quality sound. For example, I have plenty of LPs bought over decades and they sound stunning on analogue playback equipment. Once you listen to Pet Sounds on LP, you wouldn't like to stream the Beach Boys album on most music services. So, what if I get this album in lossless format? That would be helpful and will probably make me stream a lot more than before. Further, when music is released in high-res format, it retains the original dynamic range minus the noise. What you now have is a choice to enjoy a crystal-clear version of Hotel California versus one with some compromises. Perhaps most of our ears won't pick up the differences but for audiophiles, it's a big step forward, one that comes at no extra cost.
At a glance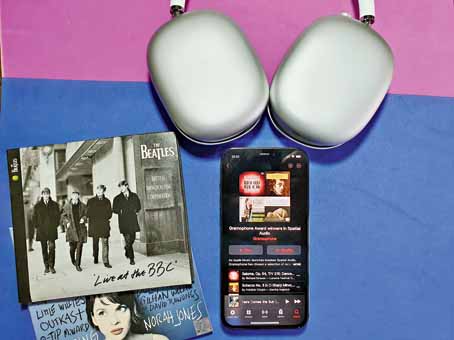 Experience spatial sound with Dolby Atmos
Update your iPhone or iPad to iOS or iPadOS 14.6 and then dive into settings. Tap 'music' and under 'audio', tap 'Dolby Atmos'. Choose 'automatic', 'always on', or 'turn Dolby Atmos off'.
Look for the badge
Albums that are available in spatial audio will have a badge on the detail page to make them easily discernible
Listen to lossless on your iPhone or iPad
You first need to update the iPhone or iPad to iOS or iPadOS 14.6. Then you need a wired connection to headphones, receivers, or powered speakers. To listen to songs at sample rates higher than 48 kHz, you need an external digital-to-analog converter.
Lossless library size
Apple Music is making its catalogue of more than 75 million songs available to subscribers in lossless audio.
File size for lossless audio
A three-minute song will take around 6MP with high quality at 256kbps, 36MB with lossless at 24-bit/48kHz and 145MB with hi-res lossless at 24-bit/192kHz
Enjoy it on Android
Yes, Apple Music is available on Android and spatial and lossless audio for Android is "coming very soon".
In the Logic Pro space
Later this year, Apple will release an update to Logic Pro that will empower any musician to create and mix their songs in Spatial Audio compatible with Apple Music.
Albums we are listening to…
Abbey Road by The Beatles, Songs In A Minor by Alicia Keys, Lover by Taylor Swift, Speak Like A Child by Herbie Hancock