Apple is encouraging several ecofriendly initiatives
Apple has awarded the Applied Environmental Research Foundation (AERF) a grant to work with the local community of a 2,400-hectare mangrove ecosystem in Maharashtra's Raigad district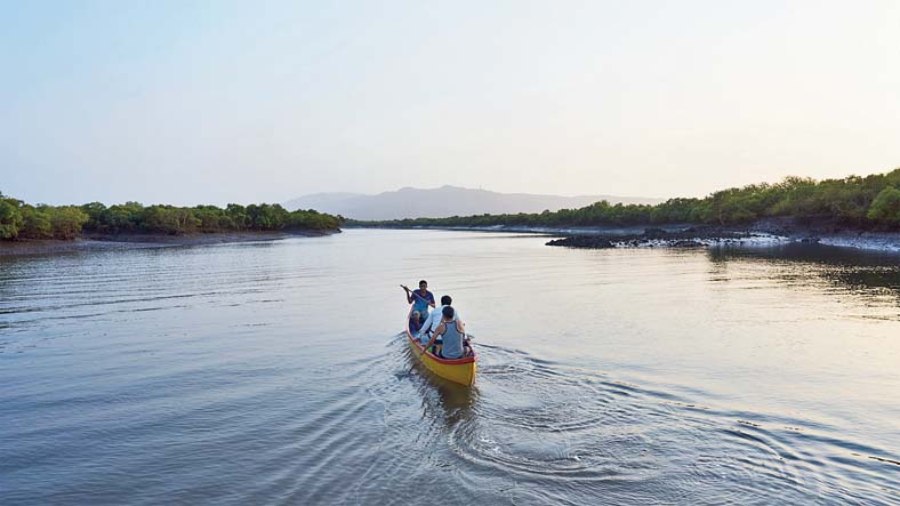 In Maharashtra, Apple and the Applied Environmental Research Foundation are partnering to conserve and protect mangrove forests.
Picture: Apple
---
Published 23.04.22, 03:54 AM
|
---
The mangroves of Maharashtra are under various threats, from climate change to human encroachment. Apple has awarded the Applied Environmental Research Foundation (AERF) a grant to work with the local community of a 2,400-hectare mangrove ecosystem in Maharashtra's Raigad district.
"The fight against climate change is a fight for the communities around the world whose lives and livelihoods are most threatened by the crisis, and that's where we've focused our work — from Colombia to Kenya to the Philippines. Our new partnership in India continues this momentum, helping a community benefit economically from the restoration of the mangrove forests that protect against the worst impacts of climate change," Lisa Jackson, Apple's vice-president of environment, policy, and social initiatives.
AERP is exploring the area with a plan to safeguard the future of these mangroves by creating alternative, sustainable industries in the local communities. The Foundation was co-founded by Archana Godbole and Jayant Sarnaik 27 years ago, and their mission is to achieve conservation through people's participation on the ground.
The power of mangroves shouldn't be undermined. After a massive undersea earthquake in Indonesia triggered a series of tsunamis that impacted India's east coast in 2004, people realised mangroves were the communities' silent guardians, absorbing the shock of the immense waves and protecting the villages that lay beyond.
Apple is also working towards using more recycled materials than ever before. Last year, Apple products contained almost 20 per cent recycled materials. Certified recycled gold, featured — for the first time in any Apple product — in the plating of the main logic board and wire in the front camera and the rear cameras of iPhone 13 and iPhone 13 Pro.
The company has also introduced a new recycling machine called Taz, which uses "shredder-like technology to separate magnets from audio modules and recover more rare earth elements".