Android 10 is here and it packs in a lot of privacy and digital wellbeing features besides gesture navigation
It's about time gestures are given a try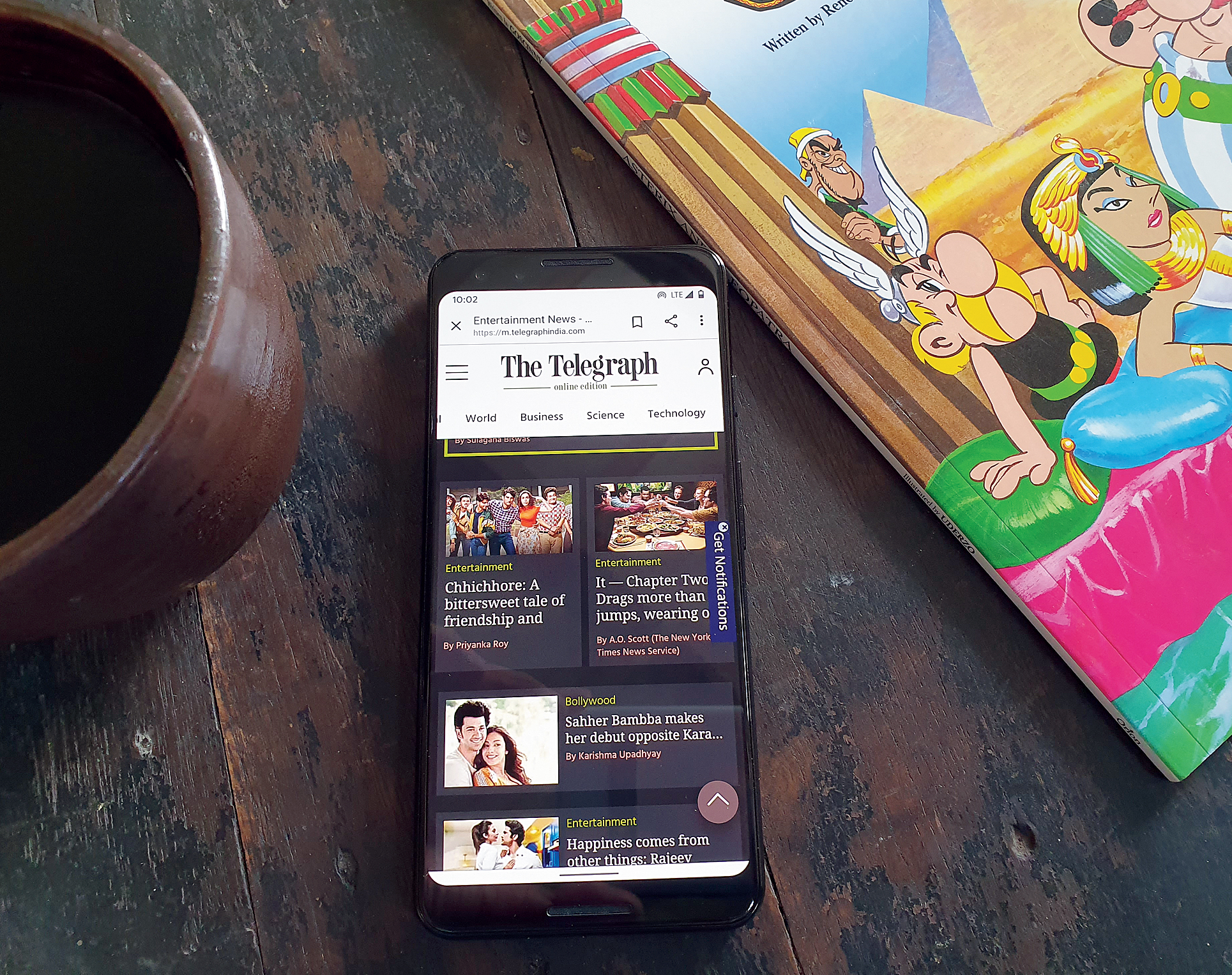 ---
|
Calcutta
|
Published 08.09.19, 10:19 PM
---
Gesture navigation
With the "pill" at the bottom of the phone becoming narrower, it's about time gestures are given a try. On Android 9 Pie, we swipe up from the pill to view recently-opened apps and there are three buttons at the bottom. On Android 10, you go home and access your recent apps using a combination of different gestures. It will hardly take a few minutes to getting used to.
To go Home, simply swipe up quickly from the bottom-centre of your screen. If you hold your finger on the screen for a bit — rather than moving it away immediately — while swiping up, you would be able to multitask… see a list of your recently-used apps and you can scroll horizontally to see everything you've opened. To switch between apps, swipe left over the small line at the bottom of the screen.
The 'back' function is the tricky part. To go back to a previous page, swipe quickly from the left or the right edge of the screen and an arrow shows up. But there is more to it. What about in-app menus that use the slide-out navigation drawer from the left edge of the screen? Enter "peek behaviour", which can be done in two ways. Hold your finger on the left edge of the screen, wait for the in-app menu to peek out and then swipe it in. Second, from the left edge of your screen where the in-app menu is, use two fingers to swipe across the display.
Darker than before
With Android 9 Pie, the "dark mode" arrived but it was applied to a few elements of the user interface. This time, the dark mode will apply to both the system UI and specific apps (you have to opt in). When battery-saving is enabled on a Pixel running Android 10, dark mode will be enabled by default. Also, YouTube, Google Fit, Google Keep, and Google Calendar will be available in dark mode. And it will be supported on Gmail and Chrome.
Stay in control
Updates have been made with the location data is handled in apps and there is a new approach to making security fixes available. You can choose to only share location data with apps while you're using them. You'll also receive reminders when an app that you are not actively using is accessing your location, so you can decide whether or not to continue sharing. With Google Play system updates, important security and privacy fixes can now be sent to your phone from Google Play, in the same way your apps update. So you get these fixes as soon as they're available, without having to wait for a full OS update. In a new Privacy section under Settings, you'll find important controls like Web & App Activity and Ad Settings in one place.
Digital Wellbeing
The initiative began with Pie but now is being expanded. There are app timers for specific websites and Family Link is now part of devices running Android 9 or 10. Parents can use it to set screen time limits, device bedtime, time limits on specific apps and much more. Parents can also review the apps children install on their devices, as well as their usage.
Besides, you now have greater control over where and when notifications would alert you. Mark notifications as "silent" and they won't make noise or appear on your lockscreen, so you're only alerted by notifications when you want to be.
Under Digital Wellbeing, there is a Focus mode that allows you to select certain apps and these could be silenced until you come out of the mode.
Better accessibility
There is something new called Live Captioning. A single tap can automatically caption videos, podcasts and audio messages, even things you record yourself and this is done without cell phone data or Wi-Fi. This is different from Live Transcribe, which transcribes the audio that's being shared around you. Unlike TV shows and YouTube videos, which already have captions, this time it will be an OS-wide capability and the feature relies on a local speech analyser that recognises speech on the device.
Multitasking for foldables
Google is trying to stay ahead since foldable phones as a category have yet to make a mark. The most awaited among these early devices, Samsung's Galaxy Fold, for instance, is coming soon.
Android 10 highlights

Live caption: Automatically caption media playing on your phone.
Smart reply: Take action right as you reply.
Sound amplifier: Hear what's around you more clearly.
Gesture navigation: Get around with a swipe and a pull.
Dark theme: Take it easy on your eyes. And your battery.
Keep your data private with more controls: Get new, smarter controls that let you decide how and when data on your device is shared.
Get security updates faster: Important Security and Privacy fixes can now be sent directly to your phone from Google Play, just the same way all your other apps update.