An app to curb cyberbullying
Children should avoid putting their whole life online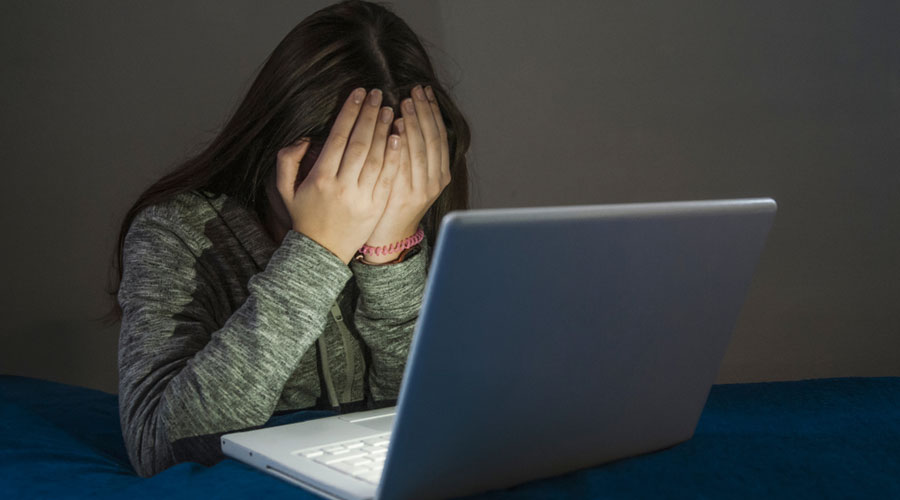 Bullying is when someone teases you relentlessly, talks against you, sends you hate messages and gangs up against you, isolating you.
Shutterstock
---
Published 02.11.20, 12:43 AM
|
---
An encouraging report appeared in newspapers in February: Meaidaibahun Majaw, a fourth-grade student from Shillong, has developed a prototype app against cyberbullying, which allows a victim to report such incidents anonymously.
What made a nine-year-old think of such an app? The answer is a little worrisome and takes you to the corridors of schools where children should feel safe.
Bullying is when someone teases you relentlessly, talks against you, sends you hate messages and gangs up against you, isolating you. Much of this goes on in schools. Now, with the prevalence of Internet usage, this bullying has mutated into online bullying.
Unlike the usual bullying where you could run home to protect yourself or change your school, online bullying follows you everywhere. This type of bullying, where digital technology is used to bully, is called cyberbullying.
What can students do if they are being bullied?
Common sense advice is to ignore the bullying. Bullies are generally attention seekers and ignoring them will stop them. However, if you are the student being bullied, it is not so easy. Another way is to tell adults, but the consequences may not be what you are hoping for. You should immediately block the perpetrator on social media. All social media platforms have this feature and children know these tricks better than adults. You could also change your email ID or phone number if possible.
If you or your parents charge the perpetrator, he or she may try to prove their innocence by deleting all messages and images from their own device. They could use temporary posts such as Snapchat to protect themselves. Be canny. Take a screenshot of the post as a record to back up whatever you are alleging. Record your call if it is done over the phone.
Children should avoid putting their whole life online. Avoid posting pictures of yourself. Your DP can be a symbol. Don't post anything that can get you bullied. Be aware of this phenomenon and avoid doing anything online that may result in being bullied. Do not talk to strangers online.
Role of elders
Teachers can create an atmosphere of trust where students find it easy to report any online abuse. Teach children about cyberbullying and how to identify it. Create an environment of respect and tolerance in the classroom. Incorporate the Internet and social media into lesson plans and teach children online etiquette.
Parents can monitor what their child is doing online and confiscate the mobile if he or she is caught mistreating others online. They can teach children to use technology responsibly. They can be sensitive to the way their child is behaving and detect the early symptoms of their child becoming a victim.
As a society we endorse bullying. How else can you explain that despite there being evidence of cyberbullying there are no laws in place to combat it? Even globally, not all countries have laws against cyberbullying. However, there are laws against harassment, laws against possessing child pornography images, laws against making death threats, and each or all these laws can be used against cyberbullies.
ReThink app
ReThink is an app that is available for both iOS and Android which tries to stop cyberbullying before it starts. It is an award-winning app curated by a 17-year-old teenager named Trisha Prabhu whose anger at the suicide of an 11-year-old victim of cyberbullying resulted in this app. ReThink works with every app that uses a keyboard — text messages, emails, social media, and its target is the would-be perpetrator of cyberbullying. Get your children, pre-teens, and teens on ReThink so that they can learn to make the right decisions online and offline.
ReThink is a "behavioural science-based" nudge or brake for impulsive behaviour. ReThink detects offensive and hurtful content in real-time before it is posted and prompts the user to reconsider posting the message. It has been found that with this pause, 93 per cent of teenagers refrain from sending off the hateful message. Visit https://bit.ly/3kCwLBq to learn more.
Send in your problems to askdoss2020@gmail.com with TechTonic as the subject line