Amazon's new devices are practical & wacky
These futuristic gadgets could emerge as game changers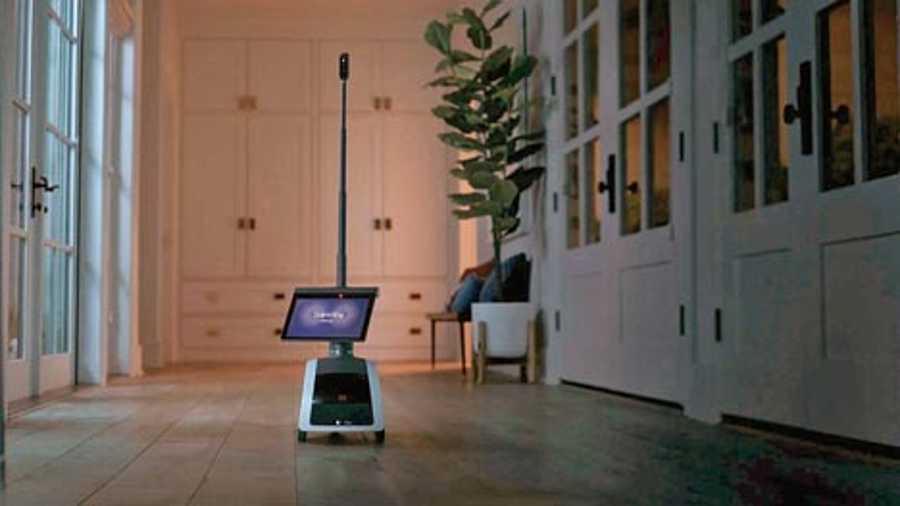 ---
Published 29.09.21, 11:00 PM
|
---
Ruh-roh Astro!
Real life hasn't caught up with the future as the Jetsons lived it in cartoons since the 1960s but Amazon is clearly trying to amaze us with its new product called Astro, which is the namesake of the cartoon character. We can already hear the dog Astro going "ruh-roh".
Astro is robot of a different kind, designed to help customers with a range of tasks, like home monitoring and keeping in touch with family. Sure, Astro can do the things Alexa can but the main difference between the robot and your Echo device is that Astro can follow you around the house (on the same floor; it can't climb stairs). Besides, Astro is also in a way your personal-security robot.
Astro can scan an area for events, which it can detect with a Ring sensor or camera. On leaving the house, Astro is jogged into patrol duty, thanks to its periscope with a 12MP camera that can rise up to 42 inches, which is enough to see over most tables or coutertops. The camera on the bot can be used for video calls or viewed through the accompanying phone app, which is helpful if you want to know what's happening at home. Around the telescoping pole are far-field mics that are used to pick up voice commands.
Astro can be more than just your eyes and ears while you are away from home. Around its back is a small payload area, which can carry 2kg of cargo. The battery on the bot is powerful enough to offer two hours of video calling and many more hours of smaller tasks, after which it rolls back to its charging dock.
You can make the bot create and store a 3D map of your home, which is helpful in case you want it to visit, say, the kitchen. With a top speed of about three feet per second, it can easily carry two cans of beer in its cargo area to any place in the apartment. If you are worried about privacy, Astro's processing and movements happen locally. And like on other Alexa devices, there is a mic/camera switch-off button on Astro, besides users can create out-of-bounds zones that the robot won't cross even if there are activities there.
Years in the making, Astro ($999.99; special price) is a big leap forward for Amazon and it makes robots a reality for households. 
Let it Glow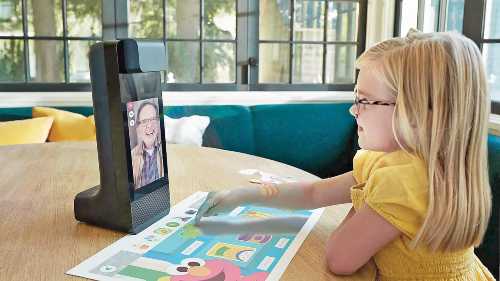 Amazon Glow is an inspired offering. The past 15 months of remote-learning may have inspired Amazon to push through this new type of device, part of a sub-category of smart displays, with a large tablet embedded in a sturdy stand with a built-in projector and sensors.
Though it looks like the massive cellphone Gordon Gekko used in Wall Street, it has functions that can connect kids and adults to play, draw and read together when they are not in the same room. The L-shaped gadget has a base in the rear to keep it stable, and on the front is a vertical eight-inch display capped by a projector that can project an interactive, touch-sensitive space on a mat.
Video calling is fine but that's not enough to keep kids engaged. So grandparents (or working parents) can call in and play some interactive games. Glow's projector beams content onto a mat while the adult on the other end of the video call can interact with the content using the Glow app on iOS, Android or Kindle Fire devices. Here's an example. Grandparents can read books to children, who can virtually turn the page themselves. There is an infrared sensor at the bottom of the device to determine where fingers are on the mat. To make the $249.99 device safe, parents can choose contacts that appear on the child's display.
Echo art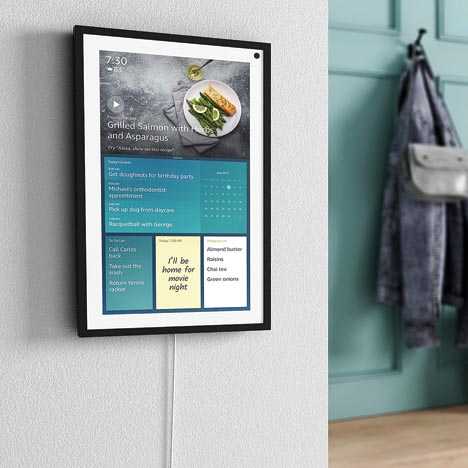 Amazon, of course, has bigger plans for its Echo range and what we have caught a glimpse of is the Echo Show 15. It is meant to be wall-mounted or placed on a tabletop stand. A bigger screen means, you can do a lot more in way of interactions, like access multiple controls simultaneously, such as following a recipe while a live security-camera feed appears. This is a large screen that can even become a TV for a place like the kitchen. Plus, it can rotate from portrait to landscape mode if you want to use it as a large digital photo frame.
The pitch is simple: Echo Show 15 is a hub for families to see everything on one screen — upcoming calendar appointments, sticky note reminders and even shopping lists. The 5MP front-facing camera can be used for video calling and more.