Amazfit T-Rex Pro is sporty and packed with features
Flip over or do cartwheels across the floor, the watch can withstand almost everything you throw at it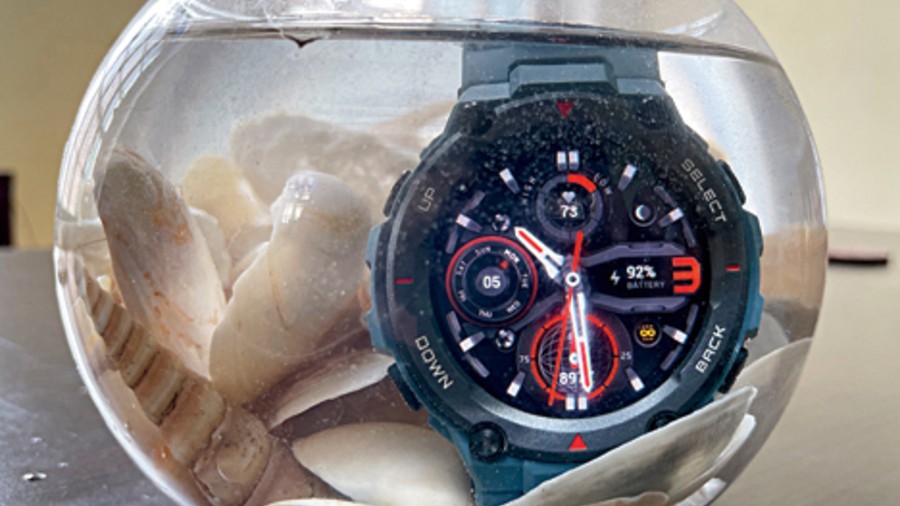 ---
---
Smartwatches are a dime a dozen, with every smartphone company having an offering which is slightly different from the last one. Then you have companies like Amazfit, which has, in the last few years, zeroed in on smartwatches, delivering some outstanding options. Distinguishing an Amazfit smartwatch is its no-nonsense approach and 'what you see is what you get' philosophy. The latest is Amazfit T-Rex Pro, a rugged-looking device which has adventure written all over it.
Smarts that matter
Out of the box, the first impression is: "Looks just like the Casio G-Shock." There is nothing sleek about it. Chunky bezels, faux screws staring at you… a watch that seems like it won't easily break. The question is whether it has the same toughness? The company says the device has passed 15 military-grade tests and it can pretty much tackle "hot deserts, humid rainforests and polar glaciers". So it's heat resistant up to 70 degree Celsius or handle cold up to minus 40 degree Celsius. Plus, there is ice and freezing rain resistance and salt spray resistance. From Calcutta to Sahara, Dras to Moscow, it looks like a safe option to wear.
Now that you have got a fair idea of the looks, let's dive into a few features that we like. The 1.3-inch HD AMOLED display can get bright enough to be read under full sunlight and it also has tempered glass and anti-fingerprint coating.
There is the option to receive notification from all the apps on your phone, something you can easily control and set using the companion Zepp app. It's an always-on display, so be careful if you switch on this particular battery-draining option.
Besides all the health stats and break up of figures, the watch gives perfect heart rate reading. There is also the feature everyone's looking for — SpO2 but take the reading with a pinch of salt. The reading won't make you a doctor. If you feel that blood oxygenation is slightly skewered, call the doctor. You have to hold your hand steady for quite a few seconds to get a reading.
Also there is barometric altimeter sensor, which can be helpful while trekking. What's most impressive is the GPS, which latches on in a few seconds and starts offering a good reading from get-go. Comparing the reading with that from Google on the phone, it's roughly the same.
There are ways to track over 100 workouts but I guess you will be restricting to mainly running, walking, jumping rope and swimming. There is also boxing, stair climbing, rowing and so on with most of the readings being fairly accurate.
The watch can track sleep but would you wear a chunky watch to bed? Apart from that it's a smartwatch with smarts that matter.
Should you buy it?
There is a music player on the watch but using it you can control the music app on your phone. The idea is to focus on things that matter – workouts. Also, the battery life if far better than most of the options available. The company promises nine days of heavy usage but with brightness dialed up and always-on display toggled on, I would say six days, which is actually a lot for a smartwatch. If you are going away for the weekend, you don't have to carry the charger for the watch. Amazfit T-Rex Pro can be a fashion accessory as much as an utility device. Flip over or do cartwheels across the floor, the watch can withstand almost everything you throw at it.
Device: Amazfit -Rex Pro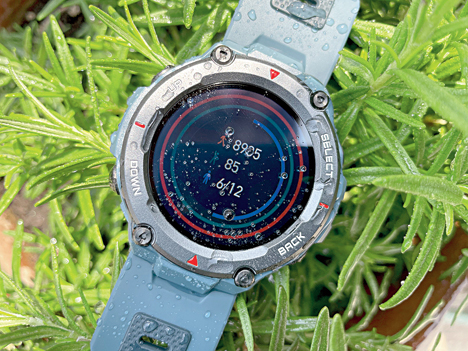 Price: Rs 12,999
High notes
• Good display
• Excellent battery life
• 100-plus workout tracking
• Sturdy watch and display
• Good GPS reading
Muffled notes
• There is no app store to fall back on