Back to theatres without leaving the sofa
A Sony soundbar delivers sound that's crisp, clear and deep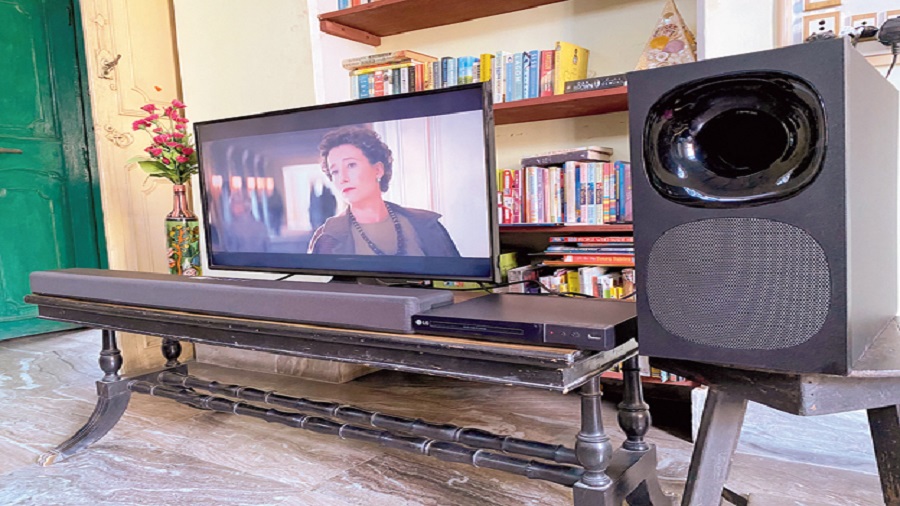 ---
---
Let's face it: the speakers built into our smart TVs are crummy to the point that the booming chariot race sequence in Ben-Hur sounds somewhat better than a mob of Australian desert brumbies galloping away in a YouTube video. Shelling out for a big TV is not enough. Like on smartphones, sound is a big issue on smart TVs. It makes a world of a difference when a soundbar gets plugged in.
Recently, we had an opportunity to review Sony's HT-G700 soundbar, which is a lot different from what you usually find in the market. Equipped with Dolby Atmos, the explosions in Die Hard sound explosive, John Cusack's sweet-nothings playing out to a brilliant soundtrack in Serendipity appear crisp and all the details in a film like Inception are made enjoyable. Not that there are a few quibbles but overall, it's meant to complement one's smart TV.
The wow factor
The 3.1 channel system comes with Dolby Atmos and unlike in most system, there are no top-firing speakers. Usually what happens is that the sound bounces off the ceiling and comes over your heads. It works very well with rooms that have a ceiling height of say 12 feet.
What Sony does is use a technology called Vertical Surround Engine, which, in a way, gives you the same effect but using three speakers that are firing forward; it uses timing to get the sound seperation correct. There are three speakers in the soundbar and they may look tiny but are extremely powerful. The HT-G700 offers top-notch Dolby Atmos without you having to worry about the room size — truly a big bonus in my place, which is on the older side and have high ceilings.
Just pay attention to where the sounds are coming from in a movie like Inception. When Leonardo DiCaprio's Dom Cobb is pushed into a bathtub full of water to forcibly kick him out of the castle dream space, one certainly gets the feel of a theatre, which during times of the pandemic is a huge deal. Further, this is achieved without having to place speakers all over the place. The HT-G700 is the best solution for living rooms.
Not just movies like Inception, we tried playing a few discs that are not big on sound — Saving Mr. Banks and The Jane Austen Book Club, yet a feeling of richness got added thanks to the soundbar, which can also upscale regular audio into Dolby Atmos.
Giving the soundbar an over-the-boundary score is the dedicated centre speaker for vocal clarity. No matter what movie you are watching, the speaker makes dialogues appear crisp, which helps when a movie or show doesn't have subtitles.
Second big point is the wireless subwoofer that comes with the soundbar. It makes the bass rich enough to bring all family members together.
Sleek design
Earning the soundbar some brownie points is its sleek design. It's sleek enough to fit below the lower bezel of your television screen, saving you the extra effort needed to keep the TV remote control working. Also, it's not a huge soundbar like most of the ones available.
On the soundbar are a few function keys, like power, Bluetooth, volume up and down. They are great and don't pose a problem in a well-lit room. Once the lights dim, it's difficult… almost impossible… to spot them.
On the remote control, there are some basic buttons, which are self-explanatory and mimics a wide soundscape. Music mode ensures more details in a soundtrack, voice mode accentuates speech while night mode optimises the sound balance at night, so you can hear everything clearly at a reduced volume. Personally we loved the Immersive AE button. Hit it and there is fantastic audio enhancement. You can end up hearing sound from all directions with up to 7.1.2-channel surround sound.
One may point to the absence of a dedicated digital assistant button. Frankly, it's unnecessary. Chances are one would be using the soundbar with a television that already allows access to a digital assistant like Google Assistant or Siri. So why add an unnecessary feature?
In way of ports, there are enough to go around and handle all kinds of configurations. While reviewing, it easily handled a DVD player, a Blu-ray disc player and DTH input.
Is it for you?
A good-sounding speaker usually turns out bulky while TVs have become thinner and bezels have shrinked drastically. Sadly, in the quest to attain better image quality and designs, brands have had to sacrifice in the sound department. Sony's HT-G700 manages to deliver sound that's crisp, clear and deep, taking us back to theatres without leaving the sofa.
At a glance
HT-G700
3.1 channel soundbar with Dolby Atmos/DTS:X
Wireless subwoofer
Bluetooth connectivity
Vertical Surround Engine, which gives you a feeling of the theatre
S-Force Pro front surround
400W power output
HDMI and optical connectivity
Price: Rs 39,990