A fitness band for college kids
Games & Gadgets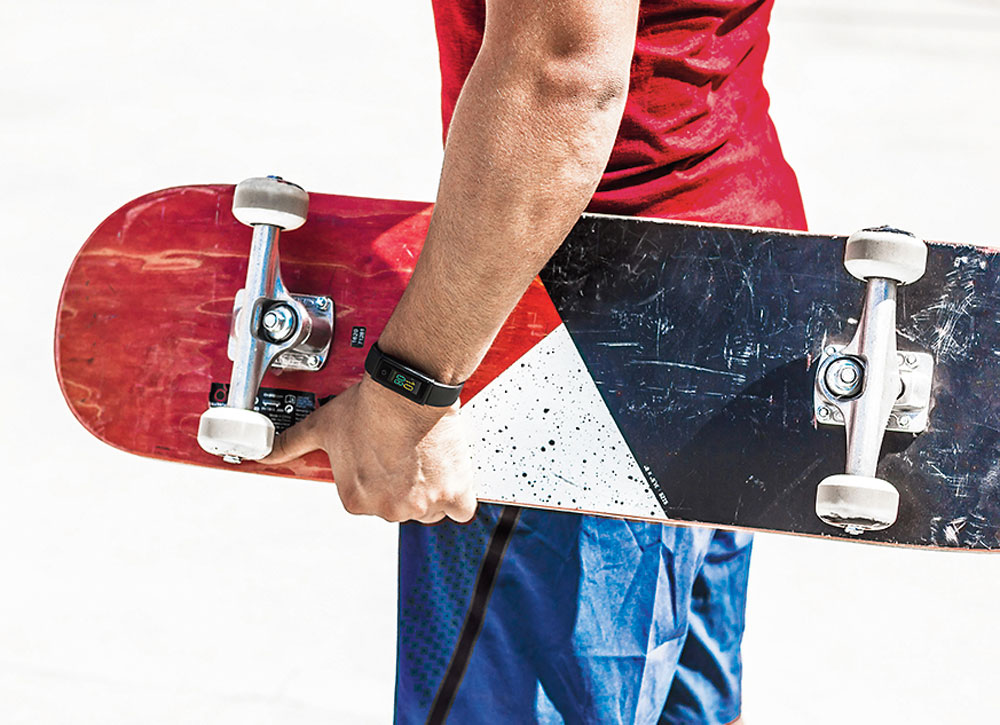 ---
Published 30.09.18, 11:24 AM
|
---
GADGET: Noise Colorfit
TECH SPECS: Fitness band for above Android 4.4/ iOS 9.0; monitors steps, sleep, blood pressure, blood oxygen; controls camera and music
PRICE: Rs 1,999
BEST FOR: Fitness-related tracking such as distance walked or run, calories consumed, heartbeat and quality of sleep  
POP PICKS
More fitness bands
Goqii Vital: Tracks heart rate, daily steps, calories burnt, distance covered, active hours and sleep pattern. You can get a personal coach, free doctor consultation and take diagnostic tests from home through a partner lab. Price: Rs 2,999
Mevofit Drive: Tracks activity such as steps taken, distance covered, calories burned, floors climbed and active minutes. Can sync this data to the app. Built-in high performance G-sensor for more accurate data. Price: Rs 2,690
Portronics POR-666 Yogg X: A slim tracker with a touch-enabled detachable dial. Pairs with smartphone on Bluetooth 4.0; consumes less power. Price: Rs 1,699
Boltt Beat: With continuous heart rate monitoring, it tracks hourly calories, distance, steps, flights climbed, running, walking and active time. Also measures quantity and quality of sleep and even toss and turns. Comes with a subscription of the Boltt Health App and an AI Personal Coach. Price: Rs 1,999
Oh no! Not another fitness band. That was my instant reaction when I was first informed of this gadget. This is the fourth "fitness tracker" to have arrived at our gadget review desk and I feel a bit sick and tired whenever someone mentions this not-so-new concept of tracking your fitness 24/7.
The earlier fitness trackers had failed to get me off my bed early in the morning. Even though I lead a more or less sedentary lifestyle, and love to guzzle a few glasses of beer while snacking on fish and chips, I envy those youngsters who huff and puff down park paths with a fitness band on the wrist.
When Colorfit arrived, I had been going through a particularly bad patch. Sleep had gone for a toss, blood pressure would often shoot up and, sometimes, my heart rate was too fast. The band fit snug around my wrist was reassuring, especially after I connected it with my android phone. My stats were not that bad: heart rate 75, blood pressure 130/85 and blood oxygen was 97. This is not meant to replace a proper monitor but you can get a general idea of vital stats. The pedometer indicated that I needed to walk at least 3,000 steps more. Sleep was a bit of a problem with poor quality of "deep sleep" and too many "wake ups". I set up a realistic goal and, within a few weeks, I've been able to improve my stats. Funnily, the band vibrated to celebrate the achievement of a set goal.
As a fitness tracker, Colorfit is near perfect. Made by Noise, an Indian start-up, it performs basic functions well and is priced within the range of its target group. The brand is regarded as "cool" by its target group — the youth, especially college kids who can't blow up a lot on gadgets.
It has a colourful LCD with three watch-faces and is IP67 water resistant. It gives push notifications for incoming phone calls and has a battery life of three days.
Perhaps to attract youngsters, there is a feature for music control — you can play and pause music (on your phone or a bluetooth speaker. Another feature —controlling the shutter of a camera remotely — seemed redundant. Just focussing on fitness is enough for a tracker of this genre.