A few interesting iOS and iPadOS 15 developments you may have missed
The Memoji function has been a big success since it was introduced on the iPhone X keynote and there will be more customisation to the popular Memoji function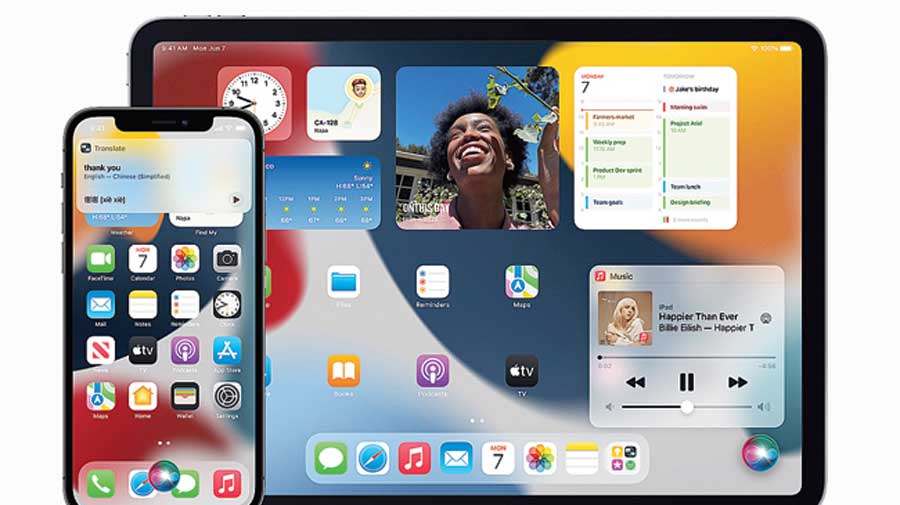 With on-device speech recognition, the audio of users' requests is processed right on their iPhone or iPad by default.
Picture: Apple
---
Calcutta
|
Published 12.06.21, 03:04 AM
|
---
More Memoji options
The Memoji function has been a big success since it was introduced on the iPhone X keynote. Besides injecting freshness into iMessage and FaceTime, there will be more customisation to the popular Memoji function. According to 9to5Mac, users can now customise their Memoji with over 40 outfit choices; represent yourself with cochlear implants, oxygen tubes, or a soft helmet; there will be nine new Memoji stickers that let you send a shaka, a hand wave, a lightbulb moment, and more; and, multicoloured headwear.
FaceTime focus
FaceTime will let you know when you're muted but trying to talk and it will let you zoom with the back camera to show things around the room without having to stand up.
Photos
EXIF data will be available in Photos, including camera and lens info. Plus, there is an option to adjust a photo's date and time. According to 9to5Mac, you will be able to mark specific subjects for featuring less often in Memories, widgets, and more. For example, if a photo is featured because of a specific date, Photos will learn to no longer highlight photos from that date. And if it helps, there will be an option to drag and drop files across apps on iPhone.
Privacy
A built-in two-factor verification code generator is coming to iOS 15, iPadOS 15 and macOS Monterey. Yes, you'll be able connect Internet accounts to Apple's Settings apps. And settings will auto-fill two factor codes if it detects you are signing into a registered account. It's like Google Authenticator.
Updates
Users can stay with a previous major version update when iOS 15 comes but will still be able to receive important security updates. At the moment, it's either you update completely or not.