Worried India balances West Asia options
Suleimani killing puts world on edge but does little for US long-term strategy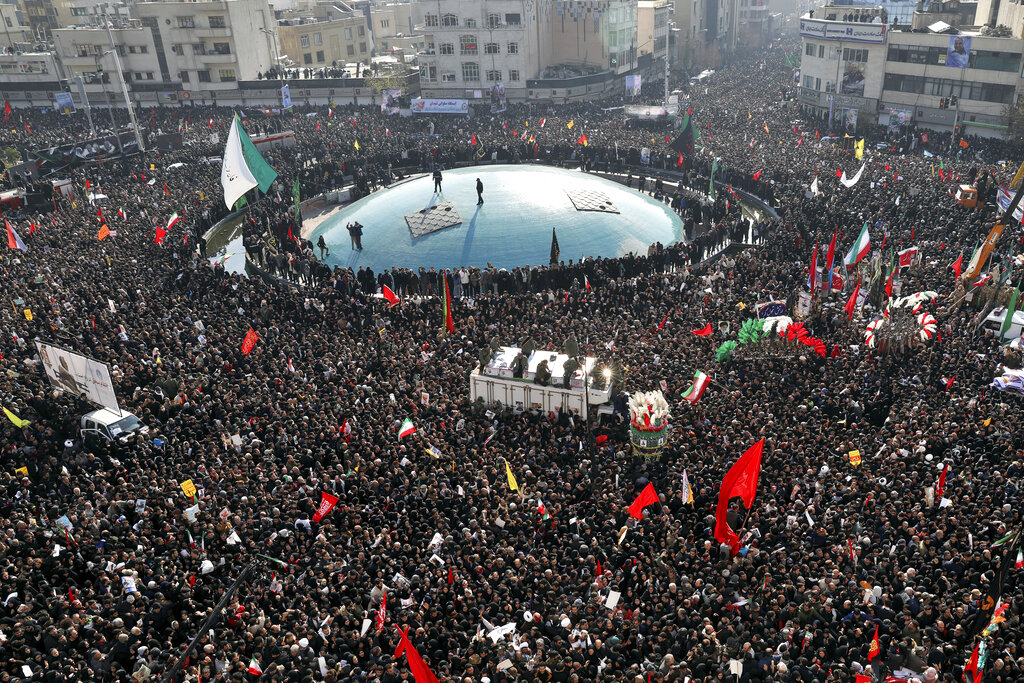 Coffins of Gen. Qassim Suleimani and others who were killed in Iraq by a US drone strike during a funeral procession at the Enqelab-e-Eslami square in Tehran, Iran, on Monday.
(AP)
---
Published 06.01.20, 04:48 PM
|
---
"It's hard to envision how this ends short of war," is the grim comment from former US National Security Advisor, Susan Rice on the US assassination of Iran's Major Gen Qassim Suleimani, commander of the Quds special forces and one of the most important political and military figures in the Middle East. Rice says retaliatory measures by Iran to the killing of its top-most general and US counter-retaliatory measures could spiral uncontrollably. "Americans would be wise to brace for war with Iran. Full-scale conflict is not a certainty, but the probability is higher than at any point in decades," she adds ominously.
Initially, India, reacted cautiously to the crisis but has now been putting its foot in the waters to test the mood in the region. Foreign Minister S. Jaishankar, who served in Washington as India's ambassador and is well known to American officialdom, was in Tehran on Sunday, holding talks with his Iranian counterpart Javad Zarif. Jaishankar has also made whistle-stop hops to Oman and the UAE and had talks by telephone with US Secretary of State Mike Pompeo.
Any conflict could have a devastating impact on the entire world and India would be quick to feel the pain, even if tensions only ratchet up a few notches. The Middle East has always been crucial geopolitically for India and that's true now more than ever. It's a temporary home for more than 8 million Indians. We get around 66 per cent of our oil from the region and Iraq is now our largest supplier, having overtaken Saudi Arabia last year.
Petrol prices have already gone up as a reaction to the Suleimani assassination, but HPCL chairman M. K. Surana says India doesn't need to worry yet. "Unlike earlier when most of the oil used to come from the Middle East, today there are multiple choices available and it comes from the US, Russia and other places," he says.
Iran is still reeling from the unexpected strike that killed Suleimani. His coffin was taken first to Ahvaz, a city near the Iran-Iraq border, then to Mashhad in northeastern Iran and finally to Tehran – even Ayatollah Khomeini, the father of the Iranian Revolution didn't receive such multi-city rituals.
The huge mourning in Iran underlined how crucial a figure Suleimani had been. He had built a network of contacts that spread from Lebanon to Syria, Iraq and the furthest reaches of the Middle East and his goal was to build a Shia power bloc. He was the key backer of the powerful Shia militia Hezbollah which led a huge mourning procession in Beirut and was also said to have been the figure behind the assassination of Lebanese Prime Minister Rafik Hariri. Soon after the drone strike on Suleimani, US President Donald Trump claimed the Iranian had been behind a terror attack in New Delhi. Trump didn't offer details, but he seemed to be referring to the attempted car-bomb assassination of an Israeli diplomat in 2012.
At a strategic level, Suleimani was said to have been the man who went to Moscow and spread out maps to show how, with Russian assistance, Syrian President Bashir Assad could be kept in power. Maintaining Assad in power was a crucial goal for him and when he found the Syrian forces to be largely incompetent, he spent several months in the country personally directing the battle against Isis.
Suleimani and the Americans are said to have worked together to bring Isis to its knees. He's also believed to have been behind the release of 12 American sailors who had been held by Iran after they strayed into the country's territorial waters. The Iranians have pointed out that Suleiman was the military advisor to both Syria and Iraq and was there at their invitation to combat terrorist groups like Isis, Al Qaeda and the Al-Nusra Front.
For India there's further cause for alarm. Iran and the US are two key players in Afghanistan along with our arch-rival Pakistan and also China. In that complex battleground, Iran and India have often found themselves on the same side, for instance, when they backed the anti-Taliban Northern Alliance. India has also been given the greenlight by the US to proceed with the Chabahar port project that could reduce Afghanistan's dependency on Pakistan for port access.
Significantly, the US called Pakistan Army Chief Gen Qamar Bajwa to inform him about Suleimani's killing before it got in touch with India. It also announced the resumption of military training for the Pakistan Army over the weekend. Any difficulty in the region, will inevitably result in the Americans being more dependent on Pakistan.
What happens next? Diplomatic efforts to cool tensions are in full swing. Meanwhile, the US is upping security at all its bases in the Middle East and so are its allies like Saudi Arabia, UAE and Israel. The Iranians always have an easy target in oil tankers passing through the Strait of Hormuz which is only 39km wide at its narrowest point.
Trump's two predecessors, George W. Bush and Barack Obama, had rejected carrying out any US attempt on Suleimani for fear of pitchforking the entire Middle East into conflict. While the US and Iran have been involved in a shadow war for years in the Middle East, it's not clear what Trump hoped to achieve by ordering Suleimani's assassination now. Alternatively, there's the question of whether he ordered the killing to divert attention from the current presidential impeachment proceedings against him.
Certainly, Suleimani had blocked the US in scores of different ways. But by the assessment of many US observers, he was too big a player to be assassinated. The former US ambassador to Iraq, Ryan Crocker, once summed up Suleimani's importance, saying: "If ever there was somebody who needed killing, it would have been him -- the damage he has done to us and would likely do in the future. But does it fit into a long-term strategy?"