Workers in a war of vaccination
Per government estimates, over 1.6 crore panchayat functionaries, community workers and other volunteers have been involved in various pandemic-related duties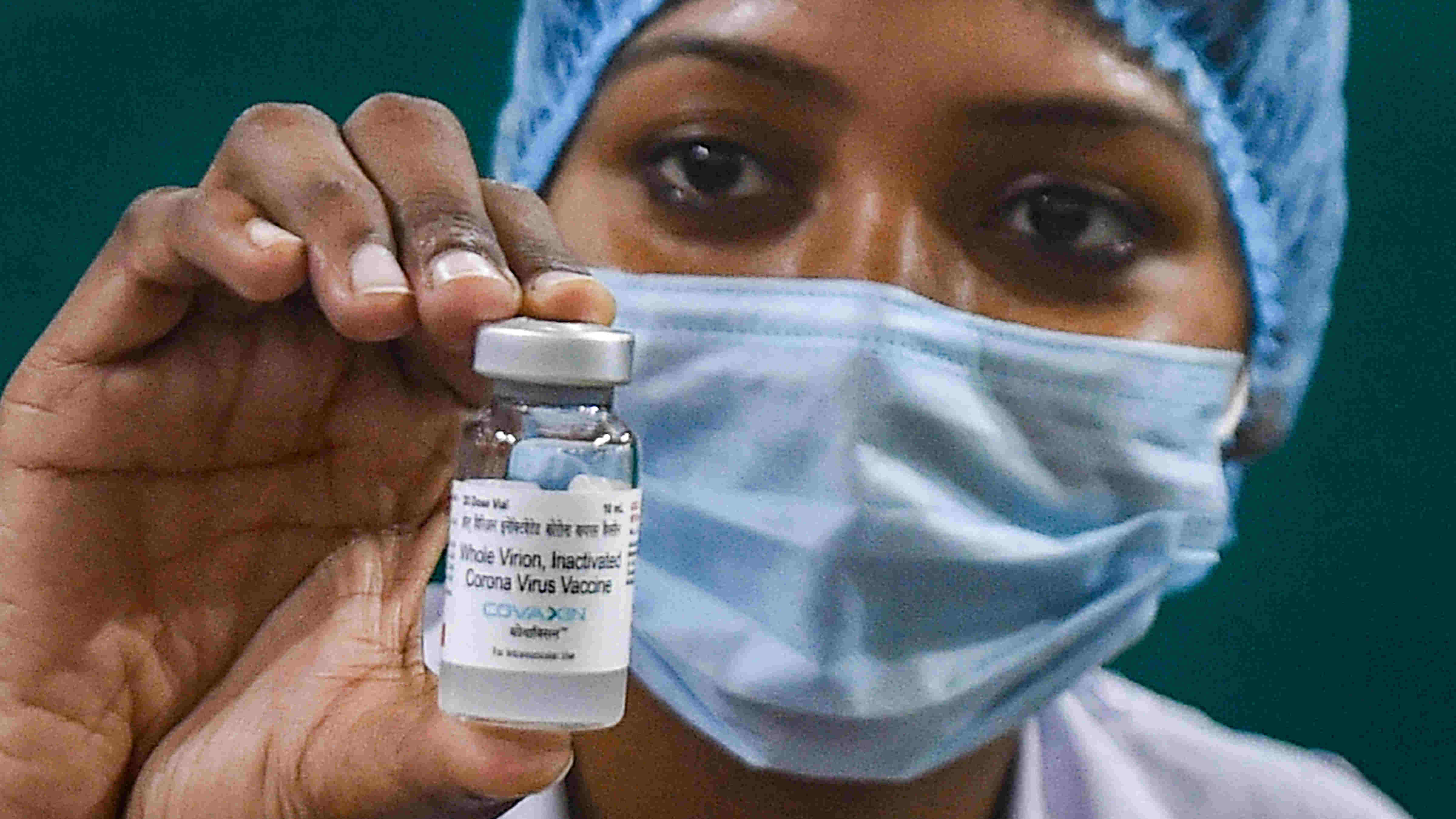 A medic shows a vial containing doses of Covaxin during a COVID-19 vaccination drive at a government hospital, in Kolkata, Wednesday, Feb. 3, 2021.
PTI
---
Published 09.02.21, 01:57 AM
|
---
India is witnessing one of the largest public vaccination initiatives, that of the two drugs against Covid-19. The responsibility to make sure that nobody is left behind will be borne by the bureaucracy and local health workers. The government has also relied on them for Covid-19 containment: their tasks ranged from contact tracing and assisting patients to monitoring the contagion's spread. Yet not much is known about the experiences and the costs that have been borne by them.
As per government estimates, over 1.6 crore panchayat functionaries, community workers and other volunteers have been involved in various pandemic-related duties. Since April 2020, the Accountability Initiative at the Centre for Policy Research has been documenting pandemic response in five states — Bihar, Himachal Pradesh, Madhya Pradesh, Maharashtra and Rajasthan. It has also focused on the roles of Anganwadi Workers, Accredited Social Health Activists and Auxiliary Nurse Midwives.
Even before the pandemic, AWWs, ASHAs and ANMs had assisted in a number of public campaigns to combat diseases such as malaria and tuberculosis. Collectively, their responsibilities have spanned nutrition-counselling, first-aid disposal, awareness generation and the provision of community-level care. There are reports that these community workers are now feeling stretched while carrying out their regular duties assigned under the government's health and nutrition schemes as well as pandemic-related tasks. ASHAs and AWWS, for example, have been delivering rations to beneficiaries since the centres were closed.
The resultant disruptions in nutrition and health-related services provided by anganwadis can lead to "several maternal and child deaths", cautions a policy note on the pandemic's impact on nutrition published by the Accountability Initiative. Reaching out to the most vulnerable as the local bureaucracy is doing through the home delivery of rations may prove to be a step in the right direction. This repivoting of administrative tactics is vastly different from the public perception of an unresponsive bureaucracy.
There are other challenges. ASHAs and AWWs are considered to be volunteers or honorary workers and are not classified as government employees. This means that they are ineligible for decent wage rates and other social security benefits. The average monthly monetary incentive that ASHAs receive is around Rs 3,000-4,000; the figure is similar to the honorariums given to AWWs. An insurance cover of Rs 50 lakh per person had been extended during the pandemic. The lack of incentives and the humongous workload have often led to strikes; in August 2020, over six lakh workers took to the streets to demand better work conditions.
ASHAs and AWWs also experienced difficulties within their homes and at work. The supply of protective gear, such as sanitizers, masks and gloves, was slow in the initial months. Community workers were thus scared of getting infected and infecting their families. Their job was made difficult by the stigma attached to the contagion. As the first point of contact for the majority of the population, they were also subjected to discrimination and public ire. Many community workers also complained of the lack of cooperation, saying people hid information from them. Strikingly, Covid-19 has not merely been a part of their job; it has also become a part of their identity. An ANM in Bihar talked about being called 'Coronadidi' in her community.
In spite of the difficult working conditions and other challenges, these workers have repeatedly expressed their pride in being able to serve the country.