Women and war
The changing nature of women's labour during conflict is yet to be given significant attention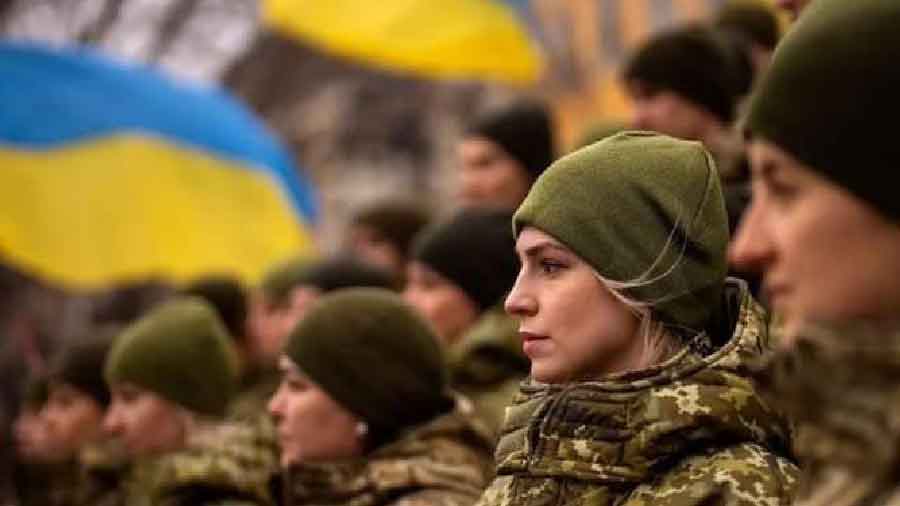 Women make up approximately 10 per cent of the Ukrainian forces
Twitter/@MoniVelasquezV
---
Published 18.04.22, 02:45 AM
|
---
The role of women during war in terms of their labour and bodies is receiving renewed attention in light of the Ukraine conflict. The narratives and negotiations seem to be changing, setting up a new paradigm in a postmodern society. Russia's attack on Ukraine has led to several such re-evaluations, especially of women's labour during war.
Women make up approximately 10 per cent of the Ukrainian forces. Kyiv issued a decree requiring able-bodied women working in a range of professions between the ages of 18 and 60 to register for mobilization. Ukrainian women soldiers are also engaged in waging a parallel, 'soft war' against Russia, sharing pictures and videos of hardship on social media.
The role of women in war has been changing, not just in Ukraine but around the world. 
During the Taliban's battle to control Afghanistan, several women leaders — Naheed Farid, Mariam Safi, Asila Wardak, Fawzia Koofi — had taken the battle to the Taliban in different capacities. In Afghanistan's Ghor province, women were reported to have taken up arms against the Taliban. The Taliban's restrictions on women's and girls' health, education, employment and their curtailed freedom of movement during their earlier stint in power may have led to the spirited resistance by women.
Women's lives changed for the worse during the Boko Haram insurgency in Nigeria. Some of them were abducted and enslaved. So, women came forward to help the security forces, particularly to frisk women at security checkpoints, and to fight the Boko Haram. This, in some ways, widened the scope for women's activism in that country.
Women's labour acquired a different dimension in the civil war in Yemen. Here, they played pivotal roles in supporting their families and served as unpaid domestic workers. In Syria, women also took up arms against the Bashar-al Assad regime.
The bodies of women bear the brunt of war as well. The bloodied face of a Ukrainian teacher, who survived a Russian missile attack, became the iconic image of the revolting conflict. Afghanistan, where several women protested against the imposition of the hijab, unveiled a different kind of contest on women's bodies. The consequences of this war on bodies were far more brutal elsewhere. Sudanese military forces have been accused of raping women, weaponizing their bodies in the process, in the Darfur conflict. After the United States of America withdrew from Iraq, several Iraqi women took to prostitution to support their families. Among thousands of photographs taken by guards inside the notorious Abu Ghraib are images of naked women detainees. The Boko Haram inflicted grievous harm, selling women as sex slaves and forcing them to marry the fighters. Similar — horrific —  cases of rape and sexual assault have been reported from the Syrian civil war as well. Elsewhere, the women of the Yazidi community suffered predations at the hands of the Islamic State, which was accused of enslaving them.
The United Nations may have issued warnings against the perpetration of violence — sexual or otherwise — by soldiers in different theatres of conflict but these transgressions continue to be a social — not merely war-time — malady.
Public attention must be directed towards something else. Passionate discussions on women's contributions and gender equality take place across a myriad global fora. However, the changing nature of women's labour during conflict is yet to be given significant attention in terms of policy and rehabilitation. This needs to change.