What are Nobel winners really like? Abhijit is an extraordinary cook, Esther a rock climber
Banerjee cooks at the end of his working day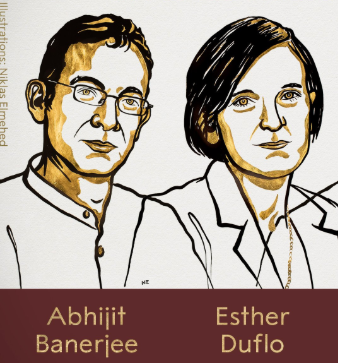 ---
---
"He'll win the Nobel Prize," said academic Pratap Bhanu Mehta to me. "She'll win the Nobel Prize," echoed Infosys founder Nandan Nilekani. It was 2010. Abhijit Banerjee and Esther Duflo's first book, Poor Economics, had landed on my desk and, as is my habit, I was scouting around for an assessment of the writers before I made up my mind about it.
It didn't take me long to make up my mind. In fact, with those endorsements, I just bought the book without reading it. Poor Economics turned out to be extraordinary -- a book that made me think more clearly, not just about poverty, but how people behaved and what a deeply felt, yet rigorous empathy for the other half could look like.
Nearly a decade later, a week before I am about to publish their second book, Nandan and Pratap's promise held true. Abhijit and Esther won the 2019 Nobel Prize for Economics -- making them two of the youngest winners of the world's greatest prize, and Esther only the second woman to win it in the field of economics.
There will be many smarter and more learned people who will tell you why they won. So, let me tell you what Nobel Prize winners are like. Firstly, Abhijit is a seriously extraordinary cook. He'll often cook two-course meals just by the by; and he can creatively construct meals around themes and ideas.
He does this at the end of his working day with his two little kids playing around him and making the mess that kids do. I still remember some of his cooking -- a salad of roasted peaches in Paris and a deeply satisfying Kolkata street-style chicken curry cooked in my kitchen.
Let me come clean. I actually spend most of my time talking to Abhijit about food and asking him for cooking advice. "Thinking of cooking a chicken and adding star anise. You think it will work?" Instantly will come advice. "Yes, but make sure you add sugar and perhaps try browning it before you pot roast."
Both Abhijit and Esther are also voracious readers -- they outread me and I am a publisher! In any given year, they will have read most of the book prize winners in India and abroad and will hold strong views about them. And I often find myself picking up one of their recommendations -- I am reading Jill Lepore's wonderful history of America at the moment because of Abhijit.
If Abhijit has inspired me to cook better, Esther has helped me with parenting advice. I sleep-trained my six-month-old (which let me tell is you is a severely traumatic experience) with Esther's handholding across the oceans. She is all about tough love. When my two-year-old started acting up -- those terrible, terrible twos -- she was the first person I wrote to.
Abhijit is a classic Bengali - a renaissance man who makes documentaries, is eloquent and talkative about the differences between the Bronte sisters and Jane Austen, and who sends me the most wonderful playlists of Hindustani music which he knows a great deal about. Esther is quieter when you meet her, but quick as an arrow, fiercely independent and tough and cool, a rock climber and the person who makes the family's clocks run on time.
How do they do it? Travel hundreds of miles for conferences, read voraciously, manage two sweet little kids, cook divine food, keep up their friendships and do world-changing economics? Maybe that's their genius.