The pimple is on full view
The smoke-filled skies of northeast Delhi unmasked the wounds in Indian society which now refuse to be hidden by face paint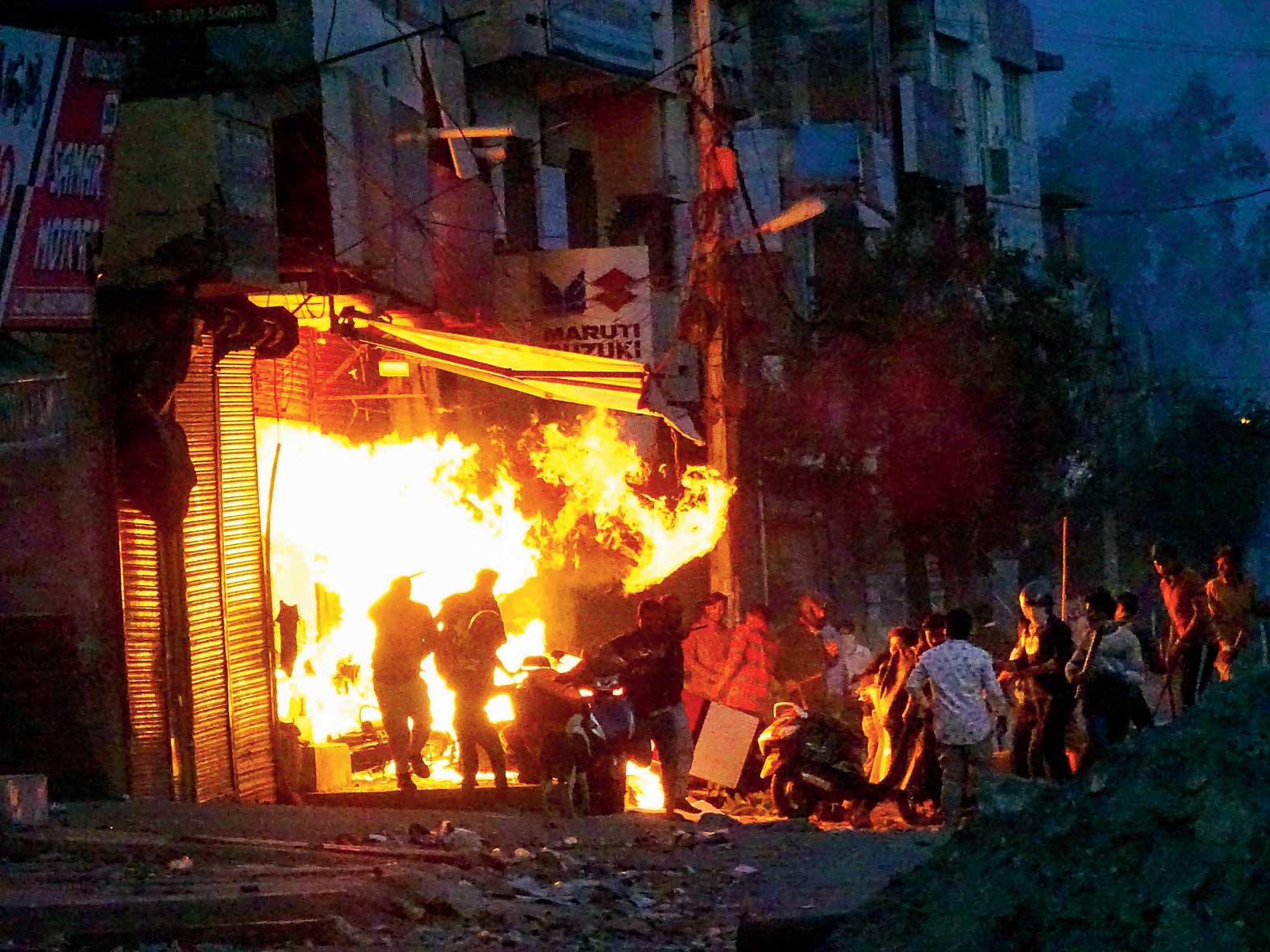 ---
---
Four feet tall and 1,640 feet in length, the wall was rapidly constructed to block an Ahmedabad slum from the eyeline of the visitor, the president of the United States of America, Donald Trump. To be doubly sure that there was no scope for embarrassment to the world's largest democracy, residents of the slum were evicted. Trump drove past, attended a mega public show with Prime Minister Narendra Modi before 110,000 cheering people, and flew off to Agra and then to New Delhi.
The wall did its job of hiding one wart. But another festering pimple was waiting to burst.
A day after Trump's departure following a packed 36-hour itinerary in India, pundits and analysts are dissecting key outcomes from the visit. Modi mispronounced Trump's name; the US president garbled the names of Swami Vivekananda and Sachin Tendulkar and referred to the Vedas as "Vestas". But Trump largely stuck to the script, lauding India's rich history, culture and diversity, while Modi pandered to the megalomania of his guest, ensuring that the US president — even in an election year — will not see a bigger audience than the one in Ahmedabad.
Trump announced $3 billion in defence purchases by India. Modi declared that the two countries had decided to add another adjective to the description of their relationship, which is already a mouthful: it's now a Comprehensive Global Strategic Partnership.
But the biggest takeaway from Trump's visit was one epitomized by events unfolding barely a few kilometres from Hyderabad House in New Delhi, where Modi and Trump held talks on Tuesday. Groups of violent mobs, divided along religious lines, burned shops and houses and thrashed each other. The horrific riots on the streets of India's capital had left at least 20 people dead, including one police officer, by Wednesday evening. Journalists were beaten up. The smoke-filled skies of northeast New Delhi unmasked the wounds in Indian society which, filled with poisonous puss, now refuse to be hidden by face paint. Modi and Trump were speaking of enforcing international legal norms in the South China Sea. Meanwhile, Delhi Police was showing its incompetence — or wilful negligence — in upholding Indian laws in the capital.
It was embarrassing for India's diplomats, among the finest in the world. They've worked for months on this visit, and the formal events went as smoothly as is possible when Trump is involved.
Yet, sadly, just as the violence shone a light on the reality of a divided, unequal India — one which the Ahmedabad wall tried to hide — Trump's visit underscored how a long-held narrative about bilateral relations with the US is also crumbling. For decades, we've heard that what makes this partnership special are the 'shared values' that bind the world's largest and oldest democracies; that their broad strategic convergence on common concerns like China's rise and terrorism allowed them to not get bogged down by more mundane niggles.
To be sure, the India-US relationship — and indeed every bilateral partnership — has always been based on pragmatism, and we've consistently seen give-and-take. But today, the India-US relationship increasingly looks like a sum of several transactional deals — spanning both the substantive and the surreal — rather than a friendship of comfort basking in the halo of uniqueness.
Want to put off a trade deal without attracting fresh economic backlash? Fast-track the decision to purchase military equipment worth billions of dollars. Keen to retain a US waiver on sanctions for the Chabahar Port that India is building in Iran? Rapidly increase imports of American oil and gas. Want to get Trump to visit India? Make sure you can cater to his vanity and fascination with crowd sizes — for those who've forgotten, Trump insisted that his inauguration in 2017 drew a larger audience than Barack Obama's swearing in circa 2009, despite evidence to the contrary.
Even the Indian American diaspora, 4.5 million in number, is little more than a pawn in this bidding game. In exchange for Modi telling them in Ahmedabad that Trump is their "true friend" and in Houston that Trump is indeed making "America great again," the US president has publicly lavished praise on the Indian leader, never mind that he's known to have mocked his accent in private.
And the CGSP? It turns out that's not new either. Obama and the then prime minister, Manmohan Singh, used the phrase to describe the relationship back in 2013.
None of this takes away from the continuing importance of this bilateral relationship, or from the close people-to-people ties that do serve as an important bridge between India and the US. As some experts have pointed out, it's also smart of Modi and his team to have understood what matters most to Trump — trade — and to ensure that they give him enough there to keep the relationship on even keel. If the transactional approach is part of the Indian diplomatic establishment's calculation as the only workable way to outlast a Trump administration while minimizing damage, that's understandable.
Let's just avoid the lofty descriptors for the relationship. Just like Delhi Police's motto — "With You, For You, Always" — they sound hollow at the moment.