What 73-year-old Lalu Prasad did not expect and who beat who in Odisha
DELHI DIARIES: Samajwadi Party, Aam Aadmi Party and Shiv Sena mum on Stan Swamy death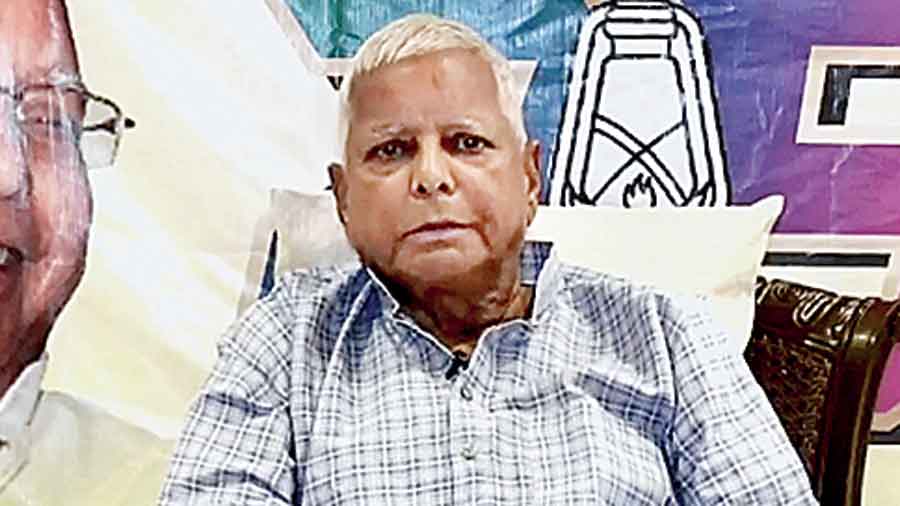 Rashtriya Janata Dal (RJD) supremo Lalu Prasad Yadav speaks on the party's foundation day ceremony in New Delhi.
PTI
---
Published 11.07.21, 12:07 AM
|
---
The inimitable smiles of Lalu Prasad are said to be a giveaway. Recently delivering an address — this time a virtual one — from Delhi after over three years on the silver jubilee foundation day of his party, Rashtriya Janata Dal, the 73-year-old was telling party leaders and workers about his health and how doctors have asked him to practise abstinence from food as well as recommended drinking less water. But at the same time, an impish smile swam across his face.
All senior RJD politicians listening to him also broke into smiles because they understood its meaning. Lalu, a diabetic with ailing heart and kidneys, is a foodie. He is known to love mutton, fish, sweets, and mangoes, and doctors have always found it extremely difficult to restrain him from indulging in them. There have reportedly been instances when he managed to eat sweets, mutton and kaleji (mutton liver) even while convalescing in hospitals. Referring to how well his sons, Tejashwi Yadav and Tej Pratap Yadav, have coped up with the rough and tumble of Bihar politics, he said, "humko umeed nahi tha (I had not expected)". And he smiled again.
Left out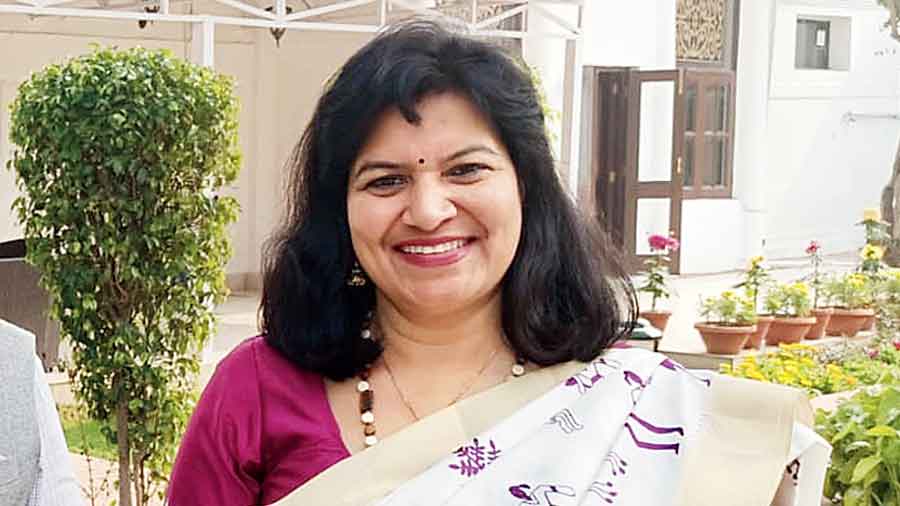 Ashwini Vaishnaw, a rather low-profile Rajya Sabha member, has beaten his party colleague and civil services batchmate, Aparajita Sarangi, the sitting member of parliament from Bhubaneswar, in the race for a berth in the Narendra Modi ministry. This is being seen as a setback for Sarangi who had won the high-profile Bhubaneswar Lok Sabha seat in 2019 against all odds. At that time, she had humbled the former Mumbai police commissioner, Arup Patnaik, who had reportedly been hand-picked by the chief minister, Naveen Patnaik, to contest the seat as the Biju Janata Dal candidate. There is no doubt that Sarangi was a strong contender for a ministerial berth at the Centre.
Sarangi's supporters are crestfallen. But if the bureaucrat-turned-Lok Sabha MP is feeling hurt at being ignored by the leadership then she camouflaged her feelings rather well. While interacting with the media which sought her reaction on the expansion of Modi ministry, she not only congratulated both Vaishnaw and Bishweswar Tudu, the two new inductees in the Modi ministry, but also described the former as a friend who also happened to be her Indian Administrative Service batchmate (1994).
Challenges ahead
The Bharatiya Janata Party-Indigenous People's Front of Tripura coalition government in Tripura is not in trouble right now, but the run-up to the assembly polls in 2023 is going to be challenging. Until now, the BJP has managed to check the dissent against the chief minister, Biplab Kumar Deb, from getting out of hand but the deep cracks in the IPFT are showing, evident from the resignation of one of its eight members of the legislative assembly, Brishaketu Debbarma, on June 29. The resignation has not been accepted on procedural grounds but this did not stop Debbarma from joining the Indigenous Progressive Regional Alliance on Thursday.
This is the IPFT's second blow at the hands of TIPRA. It had failed to win a single seat in the recent autonomous council polls in spite of being part of the ruling coalition. The TIPRA leadership has claimed more MLAs would join them and that they would contest all 60 seats in the state polls. This will not be good news for the BJP. If the 'rumour' of a Trinamul Congress revival in Tripura after its epochal victory in Bengal turns true, the BJP could be facing two formidable rivals — TMC and TIPRA — at once. In 2018, the BJP made history by ending the Left's 25-year reign. But if the BJP-IPFT do not get their act together, it is widely believed that 2023 could see history being repeated, this time in just five years.
Shamed again
Embarrassment seems to be a given for the BJP's Kerala unit. Whether it is losing its only seat in the assembly or its state president being accused of poll bribery, the party has faced it all in the state where it is yet to make as much as a toehold. While the party has high expectations of its educated newcomers, one of them has now made its leaders cringe by saying the youth wing, Yuva Morcha, should emulate the Democratic Youth Federation of India, the youth arm of its arch rival, the Communist Party of India (Marxist). The former director general of police, Jacob Thomas, whom the BJP had fielded in the recent state polls, made this suggestion to revive the saffron youth brigade. Reportedly, his contention was that while DYFI cadres actively take part in all occasions, whether funerals, medical emergencies or weddings, the same cannot be said about Yuva Morcha. Perhaps the BJP has chewed more than it could swallow by roping in former bureaucrats who have seen cadres of each party at work.
Stony silence
The death of Stan Swamy, the 84-year-old priest jailed on terror charges in Mumbai, sparked outrage from almost all Indian Opposition parties as well as international rights groups. But the Samajwadi Party, Shiv Sena and Aam Aadmi Party have stayed aloof, perched firmly on the fence between human rights and ultra-nationalism. The silence of AAP, once a darling of liberals, has further alienated the party from its progressive supporters who backed its stance against the Centre. Party leaders privately admit that their leader, Arvind Kejriwal, has decided not to make public interventions if there is no political gain.
Another notable silence was of the CPI leader, Kanhaiya Kumar, although his party condemned the harassment of Stan Swamy and the other 15 undertrials. Kumar, who wields more influence on social media than his party, has been an infrequent user since April. However, he started tweeting after the cabinet formation, leaving many wondering if he is going the AAP way of pandering to disgruntled BJP voters, who still consider him an anti-national.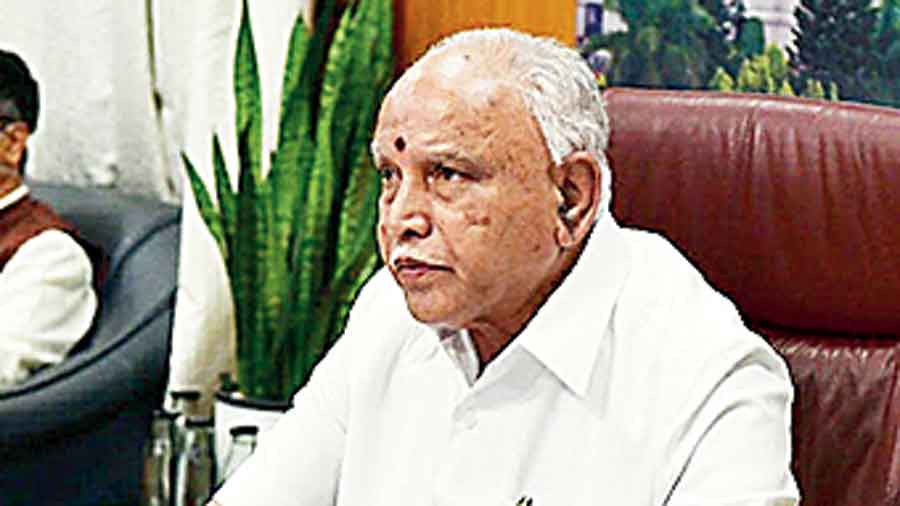 Footnote
Tired of internal strife and mounting discontent over the Karnataka CM, BS Yediyurappa, his loyalists are now planning a trip to Delhi to apprise the Central leadership of the trouble-mongers within the house. While it is not easy to dislodge Yediyurappa, given the support he has from lawmakers and religious leaders, the CM can ignore the dissidence only at his peril. It now remains to be seen how the counter move would be taken by those miffed with his leadership.