Welcome to the Great Indian cow knowledge fest
It 'gaus' without saying that the focus of Sunday's exam is on ways the desi breed is far superior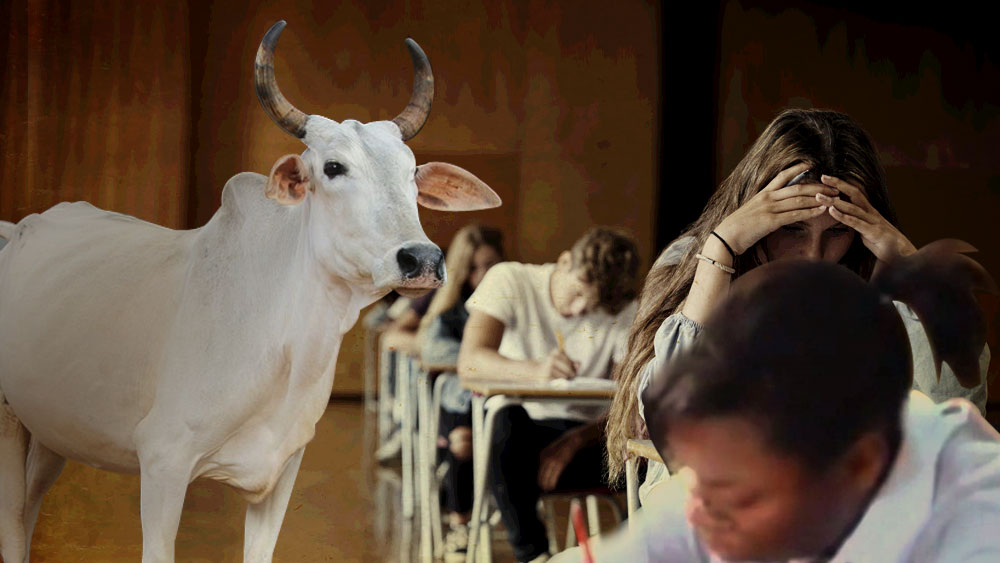 ---
---
Holy cow! It seems nearly half a million people have signed up for the government's online exam to test their knowledge about "cow science" and the "advantageous" qualities of the 51 breeds of Indian Gau-Mata like the Kasaragod dwarf cow and the Red Kandhari over foreign "exotic" breeds such as the Jersey cow.
The agency is holding a mock test this Sunday to be followed by the final exam four days later on February 25 and it's offering prizes to "successful meritorious candidates" and certificates to all exam participants.
People from virtually every district in India have registered for the test which is being offered in Hindi, English and 12 regional languages. And there's been keen overseas interest. Some 15 per cent of the exam hopefuls are from abroad, says the government agency Rashtriya Kamdhenu Aayog (RKA).
"We've got people from every continent from countries like Malaysia, UAE -- and even Pakistan" to join the Indian cattle knowledge fest, says RKA spokesman Pureesh Kumar.
The aim of the one-hour multiple exam exercise is to "infuse the curiosity into all Indians about the cows, and make them aware of the unexplored potential and business opportunities a cow can offer, even after it stops giving milk".
So what's in store as far as questions? Turns out quite a lot. The golden rule to remember for this exam is that Indian cows are superior in every way. For how superior, check out the exam 'syllabus' which makes some fairly eyebrow-raising claims, such as attributing earthquakes to cow slaughter.
Desi cows are also cleaner than foreign ones. And they display impressive respect:: "Whenever any unknown person comes near a desi cow, she will immediately stand.
And, of course, make sure you know what the exam syllabus lists as the five great contributions cows make to mankind -- milk, ghee, curd, urine and dung. But again, cow dung and urine of foreign breeds are "comparatively of inferior quality, says the syllabus.
It goes without saying that Indian cows' milk is superior to the milk from foreign cows and with its slightly yellow tinge even contains traces of gold. To be specific, RKA asserts that the milk from the Jersey, Holstein Friesian and other foreign-bred cows, imported from Western countries, have been linked to diseases from diabetes, heart disease and schizophrenia to autism. The milk produced by desi cows poses none of these dangers. Also, the Jersey cow, so the RKA says, suffers from a litany of problems from being lazy to not being "emotive."
To get the highest number of exam participants, the Kamdhenu Aayog has gone all out, persuading the University Grants Commission (UGC) to lean on colleges around the country to take part in the exam.
Letters have also gone out to the Kendriya Vidyalayas to persuade school-going children to take part (it's going to be slightly dumbed down for kids). Got a yen to participate? It's not too late to sign up as today's the last exam registration day. And there won't be any nail-biting wait for the results which will be declared immediately on the website of the RKA.
The Kamdhenu Aayog was set up back in 2019 to focus mainly on the protecting, developing and promoting Indian cattle breeds. It's other key mandate is to keep a close watch on the "implementation of the prohibition of the slaughter and/or cruelty to cows.
Then there is the business potential from cows via itself milk, ghee, curd, cow dung and urine which have "immense potential for generating huge revenue by utilizing its milk, ghee, curd, cow dung and cow urine base."
Also to be explored, there's the concept of "cow hugging" in the west for health benefits. In Rajasthan, the RKA notes there are already guest houses with walls and floors made from dung.
In addition, indigenous breeds have some unique features like hump on their back that has the special power to absorb the sun's energy with the help of the 'solar pulse' situated on their humps running through the spine, a unique colour and a curved backline, the RKA says. The Suryaketu Nadi, located in the cow's back also absorbs many positive and medicinal energy from the sunlight and the atmosphere, leading to more nourishing milk, cow dung, and urine.
The RKA's overarching aim is to communicate to the public that the cow "is not just a milk-giving animal" but that its.so-called "waste products" -- like cow-dung and cow-urine, which are cheap and abundantly available, are bio-degradable and environmentally friendly.
Also, aside from being used for fuel, cow dung is an excellent antiseptic, skin tonic and toothpaste. And interestingly, the RKA researchers say, drop a Ganesh idol made of cow dung from 30 floors, it won't break whereas if you drop a Ganesh made from foreign cow dung, from a lower floor, it will shatter. Meanwhile, desi cow urine stops gas disorders, bile, stomach acidity as well as cures leprosy and other skin problems, the RKA says.
As far as cow slaughter, don't even let it cross your mind as you could be facing some pretty unpleasant karma, according to the RKA syllabus.
So now you have the lowdown on the exam contents. What are you waiting for? Don't be a cynical "pseudo intellectual" as the RKA says. Go ahead -- and gau for it.