Weight of sin: Racial discrimination in the US
The multiracial protest gatherings blooming across the states may offer some solace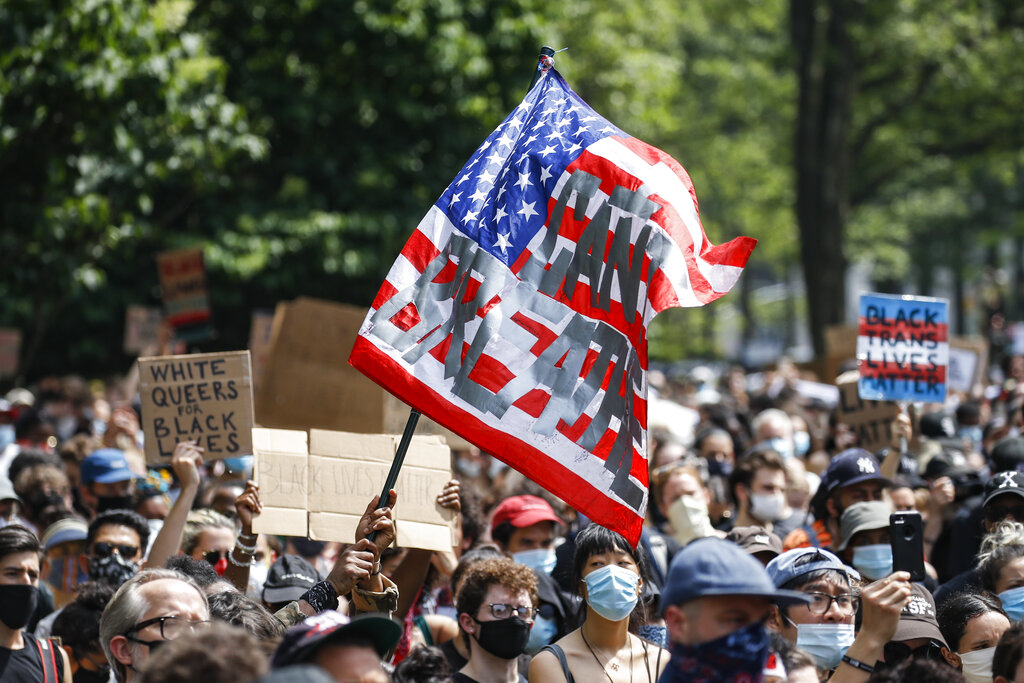 A protester waves an American flag with a message that reads "CAN'T BREATHE" during a memorial for George Floyd at Cadman Plaza Park in the Brooklyn borough of New York, on Thursday, June 4, 2020.
AP Photo/John Minchillo
---
Published 04.06.20, 08:33 PM
|
---
The United States of America seems to have been brought to its knees by its own Achilles heel — racial discrimination. A black man, George Floyd, died at the hands of the police — the image of a white officer in Minneapolis with his knee on Mr Floyd's throat is an enduring testimony to the underlying spectre of race — setting alight protests as well as arson in large parts of the country. The National Guard had to be deployed in 15 states; Los Angeles and Chicago imposed curfews; New York witnessed looting and sporadic clashes between police and protesters. The president — he wants troops on the streets — had to be shielded in an underground bunker to keep him away from protesters who had gathered near the White House. Donald Trump has, admittedly, condemned Mr Floyd's murder — there can be no other word to describe his death — but the president's combative attitude towards protesters —'thugs' and 'anarchists' in Mr Trump's opinion — added fuel to the raging fire. Unsurprisingly, Mr Trump, as is the wont of elected strongmen, has chosen to play with fire. He targeted governors of Democrat-ruled states and alleged that they were not being tough on protesters. This partisanship is intentional. Mr Trump draws much of his popularity from the American heartland whose attitude and historical record on racial equality are rather chequered. In fact, Mr Trump has been on record defending a rally by white supremacists. The polarization of the white vote could be a part of Mr Trump's electoral strategy as the president heads towards a difficult presidential contest with the country reeling under a pandemic, job losses and policy paralysis.

The hollow heart of the American Dream is exposed periodically. Even a black president had not done enough to end institutionalized racial inequality nearly six decades after Martin Luther King had talked of an egalitarian dream in a famous speech. This only reinforces the fact that idealism, be it in the US or India, must always be accompanied by concomitant political action. Otherwise a shadow is bound to fall between liberty as a cherished ideal and the freedom and rights of subjugated minorities. The multiracial protest gatherings blooming across the US may offer some solace. But this momentum must be sustained and lead to substantial, not incremental, transformations to usher in a liberty that remains elusive in the US. Till then, liberal, fraternal America would feel the knee on its neck.