We think of Planet Earth reverentially for a single day
Why do we need special dates to galvanize ourselves into simple civilities like binning non-biodegradable waste?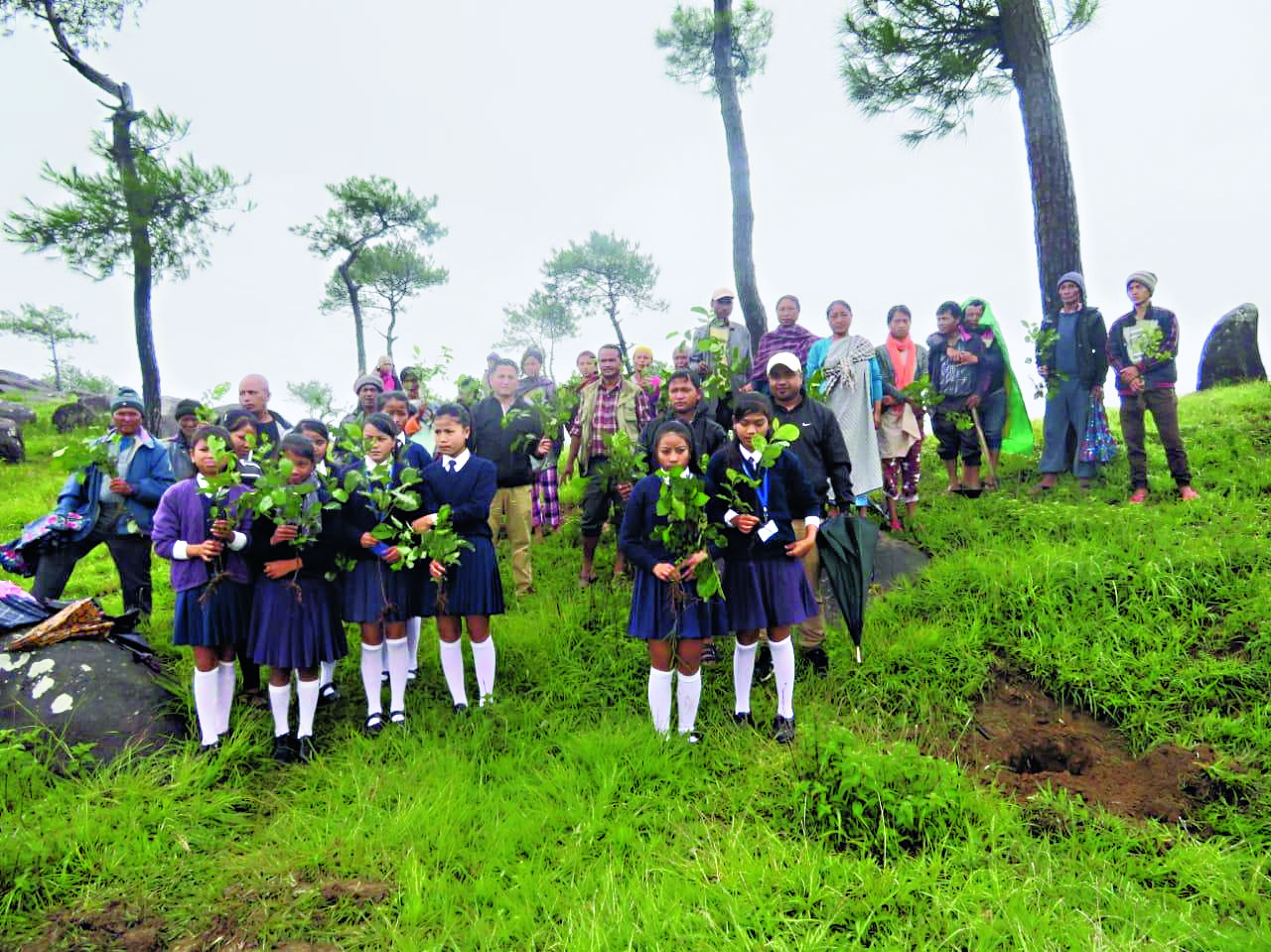 Students take part in a green drive in Meghalaya's South West Khasi Hills on June 5, 2019. Meghalaya has planted 1.5 million saplings on a single day.
Picture by Andrew W. Lyngdoh
---
Published 11.06.19, 10:27 AM
|
---
All those who joined bicycle rallies last week or planted saplings and ranted about air pollution on Wednesday, welcome to the most happening month on the UN calendar. The United Nations promotes its objectives by designating specific days as occasions to mark particular events. While January has three occasions (World Braille Day on the 4th, International Day of Education on the 24th and International Day of Commemoration in Memory of the Victims of the Holocaust on January 27), February sports seven, March 16, April 20 and May has 15. It is June that is the chartbuster, with 27 days of celebrations/introspection.
Consider the list: June 1 was Global Day of Parents, June 3 World Bicycle Day, June 4 International Day of Innocent Children Victims of Aggression, June 5 was World Environment Day and International Day for the Fight against Illegal, Unreported and Unregulated Fishing, June 6 observed Russian Language Day, June 7 was World Food Safety Day and June 8 World Oceans Day.
Ahead, there is World Day Against Child Labour tomorrow, International Albinism Awareness Day on June 13, World Blood Donor Day on June 14, World Elder Abuse Awareness Day on the Ides of June; June 16 is International Day of Family Remittances, June 17 World Day to Combat Desertification and Drought, June 18 Sustainable Gastronomy Day and June 19 International Day for the Elimination of Sexual Violence in Conflict. Further ahead, June 20 is World Refugee Day, June 21, besides being the summer solstice, is also International Day of Yoga and June 23 United Nations Public Service Day and International Widows' Day.
June 25 is the Day of the Seafarer and June 26 the International Day against Drug Abuse and Illicit Trafficking and United Nations International Day in Support of Victims of Torture. June 27 is Micro, Small and Medium-sized Enterprises Day. Bringing up the rear, June 29 is International Day of the Tropics and June 30 International Asteroid Day as well as International Day of Parliamentarism. The remaining months pale in comparison; July and August have only seven occasions each to highlight, September has 14, October 17, November and December have 15 each.
It is June that catalyses the fallout of human apathy with corrective mechanisms. We gleefully planted saplings on June 5 ever since World Environment Day came into existence in 1973. But how many of us have ever checked on the fate of those trees, leave alone added to their nurture?
Last week, students of a Calcutta school picked up plastic waste and hung it in the shape of a dolphin in their foyer. Commendable indeed, but why don't they do this every month? The chief minister of Meghalaya, Conrad Sangma, tweeted on Wednesday: "Happy to announce that #Meghalaya planted today 1.5 million trees. Thank you citizens and all officials and stakeholders for your pledge and support for #OneCitizenOneTree campaign." An Alpine transformation in the denuded Khasi and Garo hills? Amen!
Like an annual purification drive, we think of Planet Earth reverentially for a single day, banning plastic (more from the firmament of enthusiastic campaigns than on the ground), implementing stringent vehicular pollution checks (was the black smoke billowing from a yellow cab outside Jadavpur police station a figment of imagination?) and, of course, the customary planting of saplings by selfie-besotted VIPs on June 5.
As a colleagues' father, a former professor, remarked: "The earth was gifted to us after due thought and we must keep it green. That is a noble idea; but only on June 5? My wife believes 'charity must begin at home' and for the last four decades our home and neighbourhood are assured of greenery all through the year. Every season has different plants and flowers. We are fortunate to feast on greenery thanks to her efforts. For her, every day is dedicated to the environment." If only we could emulate this.
Similarly, tomorrow, World Day against Child Labour, will see an overdrive; visuals and tales of children working in brick kilns and tea stalls will swamp our senses just on that day. We sweep burning issues under the carpet, we need "dates" to galvanize ourselves into simple civilities like binning non-biodegradable waste or not splurging water. For that one moment of self-glorification, we clamber up the world's highest peaks in hundreds, over fallen mountaineers if need be, with a total disregard for ecological balance. As for littering, even Mount Everest, from where Nepal just cleared 11,000 kilogrammes of garbage, is set to weep away its pristine glacial splendour. Cry, our beloved planet!