We didn't start the fire, say Assam Congressmen to silence turncoats
DELHI DIARIES: In Uttar Pradesh, the JDU manages to have the cake and eat it too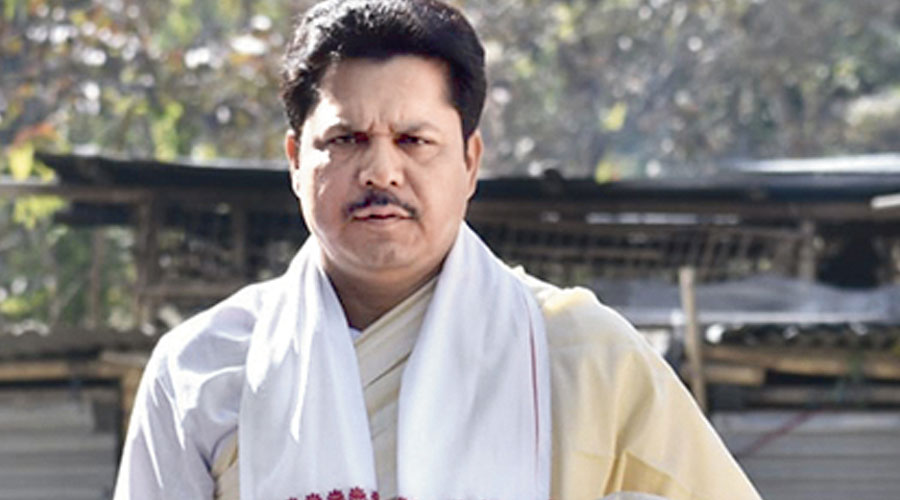 Bhupen Kumar Borah
Facebook
---
Published 30.01.22, 12:11 AM
|
---
Flamethrowers
The Assam Pradesh Congress Committee president, Bhupen Kumar Borah, has written a poem, "Moi fire brigade (I am the fire brigade)", targeting the chief minister, Himanta Biswa Sarma, in response to the latter's assertion that the fire which has been lit to curb criminal activities will continue to burn. Through his poem, Borah sought to remind people that unemployment, price rise and fake encounters have also been burning issues that have singed the general populace and that he would act as the fire brigade to douse those flames since the government was allegedly asleep. In response to this, Assam minister, Pijush Hazarika, said that a huge section of Congressmen were either thieves or robbers or their descendants and thus lost no opportunity to speak up for them. This saw Congressmen go after Hazarika, with Borah subtly reminding everyone that Hazarika's father was a dyed-in-the-wool Congressmen all his life. Hazarika's thief-and-robber barb was thus an insult to his father as well. Other Congressmen reminded Hazarika and Sarma that they were also Congressmen till 2015, before their switch to the ruling Bharatiya Janata Party. This attack and counter-attack will continue, but as one Congressman said, this barb has given them an opportunity to rake up the Congress origin stories of some of the leading lights in Assam's BJP unit with a younger Congressman adding, "We didn't start the fire".
Delicate balance
Forsaken by its ally, the Bharatiya Janata Party, the Janata Dal (United) is contesting the Uttar Pradesh assembly elections on its own. However, the JD(U) chief and Bihar CM, Nitish Kumar, and the Union steel minister, RCP Singh, will not campaign there even though the regional party wishes to enlarge and cement its national footprint. Senior JD(U) leaders cited different reasons for this abstinence — they said Kumar was not available owing to health issues (he had contracted Covid earlier this month) and Singh would not campaign because he was a minister in the Union cabinet.
Political circles, however, were abuzz with different rumours. A source said that the JD(U) was miffed with Singh over his closeness to the BJP and hence he had not been asked to pitch for votes and that Kumar had decided to keep away to balance the questions Singh's absence would evoke. One politician even wondered what the JD(U)'s chances were like in Uttar Pradesh in the absence of two of its best-known leaders. After all, Singh was a well-known bureaucrat there. "We contested twice there and did not win any seat. It seems we are going to be third time unlucky too," he said. Yet another leader recalled that Kumar once cancelled his campaign after finding that just a handful of people were present at a public meeting to listen to him. Somebody else pointed out that the JD(U) has planned to contest the polls solo and also not to annoy the BJP — "This is what you call having the cake and eating it too," he said.
Surprise catch
The liquor ban in Bihar has thrown up many funny tales. For instance, the police in Arwal district will auction 100 quintals of potatoes that it got stuck with while seizing liquor bottles hidden among them in a huge truck. They thought it would be better to sell the produce when nobody turned up to claim it. In fact, several police stations in the district have their hands full with food grain, grocery, garlic, onion, chicken, eggs and other goods that were seized by default because liquor was being smuggled into the dry state hidden among them. The instructions are to sell these items and deposit the money in the State treasury. "It's a good idea to do so for the cash-starved state. We must replicate this across the state," a senior police officer said. That will be quite a sight.
Target practice
The leader of the Opposition in Kerala, VD Satheesan, does not see a difference between the killers of senior journalist, Gauri Lankesh, and cyberbullies from the Communist Party of India (Marxist) who attack critics of the Left government's policies. With the Left government facing sustained opposition to its pet project, K-Rail — a semi-high-speed rail link to connect the north and south ends of the state — CPI(M) cyberbullies have been accused of targeting critics who raise valid points against the high-priced project that is seen as an environmental hazard.
Different attitudes
While the home minister, Amit Shah, has been spotted campaigning in Uttar Pradesh and Uttarakhand, and moistening his finger with saliva to distribute fliers, a Rashtriya Lok Dal leader who refused Shah's invitation to join hands is an example in contrast. The RLD leader, Jayant Chaudhary, is mostly seen with an N95 mask, even while meeting other leaders or addressing the press. His Twitter display picture has the message, "Mask On!!". Chaudhary lost his father, Ajit Singh, to Covid-19 last year. Shah had been hospitalized with the virus in 2020. Footnote
At a time when top politicians are caught lying about their educational qualifications, the Karnataka home minister, Araga Jnanendra, has admitted that he was a poor student. He confessed that he wouldn't have become a politician had he been a bright student. The minister recounted how his ordinary family background made him struggle his way up the ladder. But the BJP leader now wants to pay more attention to studies, although it's not clear what academic pursuit has caught his attention.