Way out of the vaccine crisis
It will be wise to expedite the production of indigenously developed jabs and use the compulsory licensing route if existing manufacturers fail to supply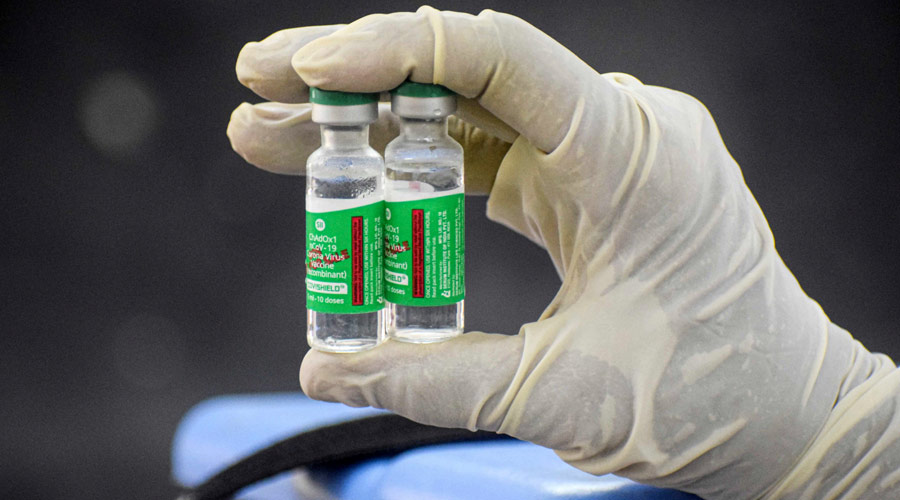 Representational image.
Shutterstock
---
Published 14.09.21, 01:27 AM
|
---
As on September 1, 2021, India had fully vaccinated 15,07,81,981 people — around 10.8 per cent of the population — as per data from the Union health ministry. This suggests that we have a long way to go to extend primary protection to the people from the Covid-19 virus. There is a rise in the number of Covid-19 cases in Maharashtra, Kerala and in rural India. Vaccination has become crucial given that the fatality rate could be reduced through a wider vaccination programme across different ages. The Centre has planned to complete full-dose vaccination for 94 crore adults within December, 2021. For this, it needs about 188 crore vaccine doses. A comprehensive rural vaccination plan is also necessary.
At present, only two companies — the Serum Institute of India and Bharat Biotech — are manufacturing Covid vaccines. There is an acute supply shortage of vaccines in India. In view of this problem, the chief minister of Delhi as well as a former prime minister had suggested that the Centre should give licences to other pharmaceutical companies to ramp up vaccine production. Even the Supreme Court has offered a similar suggestion.
As per the Doha Declaration of 2001, in the context of the Trade Related Aspects of Intellectual Property Rights, under the World Trade Organization, WTO member countries can waive off intellectual property rights and grant compulsory licence in matters related to public health emergencies. Within Intellectual Property Rights, more specifically within the Patents Act, 1970 — amended by the Patents (Amendment) Act, 2005 —there is a unique provision for compulsory licence to remedy the abuse of monopoly patent rights.
In October 2020, India and South Africa jointly demanded for IPR waiver to the WTO to temporarily suspend patent rights in the case of Covid-19 vaccines-related technology and medicines. Even the United States of America and some European countries have supported the waiver of the IPR, but it could take months before a consensus is reached.
In the first phase of the Covid-19 crisis, Remdesivir was considered as an important drug in the treatment of patients. Its patent right was held by Gilead Sciences, based in the US. Russia decided to step up the supply of Remdesivir in public interest and in January, 2021 it granted compulsory license to Pharmasynthez, a Russian company. Gilead has filed a lawsuit against this action in Russia's Supreme Court. Moderna, an American company, waived off the patent right for its vaccine and said that the company was willing to give license to other interested parties for vaccine production upon request. Till date, no company has come forward to acquire the license.
Lifting IPR or granting compulsory license may thus not facilitate the entry of new manufacturers to supply more vaccines. Secondly, vaccine supply chains are international. The BioNTech/Pfizer vaccine contains around 280 ingredients that are exported from around 19 countries. This makes compulsory licensing the wrong strategy to increase vaccine production.
A company's patent right can be waived off by government order. But one cannot force the inventor company to reveal its trade secrets. When the innovator company drafts the patent, it often lays down broad steps. But the finer points of production are not disclosed often. Hence, it is difficult to know the exact process of manufacturing a vaccine from the original patent draft unless the inventor company agrees to transfer the details of the mechanism. Vaccine manufacturing being a complex process, no company has come forward to produce the vaccine even though Moderna waived off its IPR in October, 2020. Vaccine development also requires a lot of money; another reason why we do not have generic Covid-19 vaccines, as of now. What we need along with IPR waiver is technology transfer and training facilities to enable new companies to adopt vaccine-production technology. Cooperation between and assistance from the government and the corporate sector are also necessary. The government should step in and facilitate the technology transfer process.
In order to tide over the vaccine crisis, the Central government has, of late, permitted the import of foreign vaccines like Sputnik V and those developed by Pfizer and Moderna. Some of these are already being marketed. But these foreign vaccines are not affordable for all. There is also the challenge of storage. Some of these vaccines require storage at specific cold temperatures for which then infrastructure is not readily available in most parts of India.
It would be wise to expedite the production of indigenously developed vaccines and use the compulsory licensing route if existing manufacturers fail to supply the required quantities.