Watch that space: Trouble with China in the Himalayas
EYE ON ENGLAND: BLM and the removal of statues; nuance lost in 'Sumdog Millionaire'; Row over Gandhi statue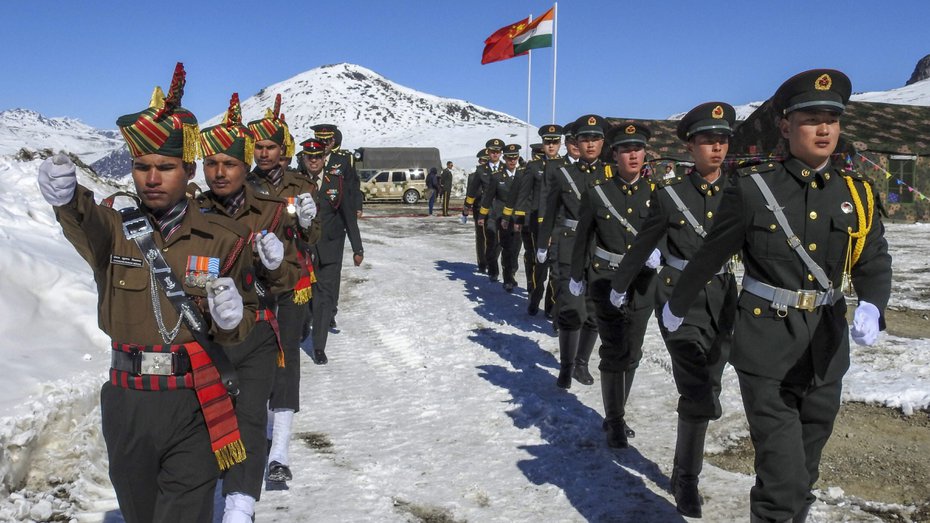 Indian and Chinese soldiers celebrate the 2019 New Year at Bumla along the India-China border in Arunachal Pradesh.
PTI file picture
---
Published 27.06.20, 01:13 AM
|
---
One person who actually knows something about China is Rana Mitter, director of the China Centre and Professor of the History and Politics of Modern China at Oxford University. His father, Professor Partha Mitter, is an eminent writer and historian of art and culture specializing in the reception of Indian art in the West. It was at his home that I had a long talk with father and son. "When I was 18, I took an entirely illogical decision which ended up shaping my life: I started to study Chinese," Rana explained.
What does he think of the present confrontation between Indian and Chinese troops in the Galwan Valley? "China does not regard India as an existential threat as it does the United States, but is concerned to make sure that its western flanks are not vulnerable," says Rana. He points out that Beijing "has more than enough on its plate at the moment" and that the "Covid-19 pandemic has hit China hard... All of this has affected Beijing's foreign policy, which has become more shrill and confrontational in the past few months".
Rana adds, "China's attempts to improve its image in the world have been very uneven in tone" and that "India may also undertake moves that could change the dynamic between them". He says, "For the past few years, there has been a great deal of interest in the idea of the Quad that would bring together India, Japan, Australia and the US in defence cooperation. The idea has been more rhetoric than reality so far. But a sense that Chinese diplomacy may be moving into a more assertive phase could reorient minds in the region. If that were to happen, then Beijing would... rethink the significance of the western border as a back door into China. Watch the Himalayas; they will not be peaceful just yet."
Let it stand
Among the 80 statues that are being targeted for possible removal by the "Black Lives Matter" and "Topple the Racists" movements there are several with Indian connections — Winston Churchill because he opposed Indian Independence, insulted MK Gandhi and aggravated the effects of the Bengal Famine of 1943; Lord Mountbatten, the last Viceroy of India who presided over the partition of the country; General Jan Smuts who harassed Gandhi in South Africa; and Generals Sir Henry Havelock and James George Smith Neill for the slaughter of Indians during the 1857 Mutiny. In Leeds, the statue of Queen Victoria, Empress of India, has been daubed with "BLM" and other graffiti.
On Robert Clive, there has been an entertaining debate, with William Dalrymple insisting the man was "a vicious asset stripper" and that "his statue has no place on Whitehall", and Zareer Masani arguing that "[h]istorical reality was rather different".
I have before me an autographed copy of Nirad C Chaudhuri's not entirely critical 1975 biography, Clive of India, setting out why "Clive was the greatest British figure in the history of British India". I would go and see Niradbabu frequently at his home at 20, Lathbury Road in Oxford, so I am sure he would have been outraged by the "Clive must fall" campaign. Actually, the statue of "Clive of India" which is near the entrance to the Foreign & Commonwealth Office in London is an especially fine one — and, to my mind, it should stay.
Lost subtlety
In between writing novels, Vikas Swarup, an old friend, squeezes in being a diplomat who is currently secretary (west) at the ministry of external affairs in Delhi. Just joking. Last week, BBC Radio 4 broadcast an adaptation by Ayeesha Menon of Vikas's debut novel, Q&A, which was first heard in 2007, before the tale was turned into the Oscar-winning movie, Slumdog Millionaire. I loved Danny Boyle's film but some aspects of the novel are subtler. For example, Vikas's protagonist, Ram Mohammad Thomas — a bit like Amar Akbar Anthony in the 1977 Hindi film whose theme was religious tolerance — became Jamal Malik in the movie. The change was a not-very-subtle gesture against Islamophobia in the West.
Wrong target
The city of Leicester in the East Midlands has become the scene of a new battle over a statue of Gandhi. A petition to have it removed was started by one "Kerri P from Derby, ENG, United Kingdom", about whom nothing is known, not even by Leicester City Council.
However, Keith Vaz, the former Labour member of parliament for Leicester East, is determined "the statue should stay exactly where it is". He has secured the support of Sir Peter Soulsby, Leicester's elected mayor who has given Vaz "an absolute assurance that there is no prospect whatsoever of the council agreeing at any time to the removal of the statue — and certainly not while I remain Mayor!"
However, the council is required to discuss any petition with more than 1,000 names but they have to live in Leicester. Those who have analysed the names of the 6,052 people who have signed the petition, often multiple times, suspect the objection is not so much to Gandhi but to India on issues such as Kashmir. There is also resentment that there is no public statue venerating Muhammad Ali Jinnah.
Footnote
The director of the Fitzwilliam Museum in Cambridge, Luke Syson, has digitally doctored some of the greatest paintings at the institution — like i (1876) by John Everett Millais — to produce a set of postcards showing men, women and children wearing Covid-19 masks "to wittily reimagine their protagonists as living at this moment". He adds that "over the last few weeks, things we took for granted have become precious. One of those is humour..."