Was Shashi Tharoor being tongue in cheek or did he put his foot in his mouth?
Shashi Tharoor's The Paradoxical Prime Minister has drawn mixed reactions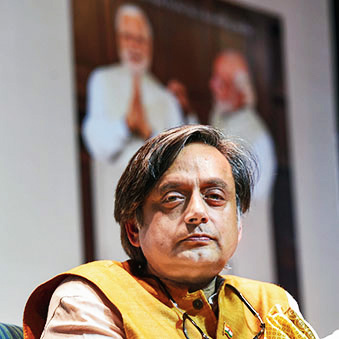 Congress MP Shashi Tharoor during the release of his book The Paradoxical Prime Minister in New Delhi
PTI
---
Published 10.11.18, 07:50 AM
|
---
Tongue in check

Sir — It is puzzling that the new book by Shashi Tharoor, The Paradoxical Prime Minister, is garnering so much negative attention. One allegation is that in the book Tharoor has compared Narendra Modi to a scorpion sitting atop a shivling. Several Bharatiya Janata Party ministers claim that this remark attributed to Tharoor is an insult to Shiva and have demanded an apology not just from the author but also the Congress and Rahul Gandhi in particular.
As usual, the BJP leaders have not checked facts before pouncing on Tharoor and his ilk. The comment that Tharoor quotes in his book was actually made by a Rashtriya Swayamsevak Sangh functionary in an article in a magazine. The fact that petty issues are being blown out of proportion only goes to show that the elections are drawing close and BJP ministers are trying to drum up a frenzy by hook or by crook.
Bidyut Kumar Chatterjee,
Faridabad
Sir — The senior Congress leader, Shashi Tharoor, is always in the news for the wrong reasons. This time, he has quoted an RSS functionary in his book who apparently said that the saffron body had been unable to contain Narendra Modi in Gujarat. The words of the quote are unacceptable. His party should publicly admonish him for his actions. Yet, while the Union minister for law and justice has rightly demanded an apology, it should be Tharoor and not Rahul Gandhi who should be made to apologize.
Modi's rise to power has caused some major heartburn among his political opponents. But if they continue their tirade against Modi, they will only be helping the BJP's cause in the upcoming elections.
K.V. Seetharamaiah,
Hassan, Karnataka
Sir — The flak that Shashi Tharoor seems to be facing for his new book notwithstanding, he is absolutely correct when he writes that Hindi is neither our natural nor our national tongue. Our government would do well to remember that a majority of Indians do not speak Hindi. Further, repeated false claims will not make it our national language. The debate of whether legal steps should be taken to assure the same are best avoided. Let us not prioritize one language over the many that our nation is blessed with.
H.N. Ramakrishna,
Bangalore
Unclear sky
Sir — Projects to beautify the city abound. Yet, there seem to be no plans regarding the removal or at least tidying of the wires that crowd the skies all across the city. Efforts like applying fresh coats of paint, repairing roads and landscaping parks and the roadside play an important part in making our city more attractive. But the innumerable wires that hang from various places in the city spoil these efforts.
Worse, these wires are dangerous. Not only are they hazardous in case of fires, but they also pose the risk of electrocuting passers-by. It is time the civic body came up with rules to prevent propping overhead wires wherever one pleases.
Suvendu Chunder,
Calcutta
Class act
Sir — The box office success of two recent films, Andhadhun and Badhaai Ho, has cemented the place of the unconventional actor, Ayushmann Khurrana, in Bollywood. He dared to break out of the image of the stereotypical protagonist. Another actor who is equally daring and is churning out good movies one after the other is Rajkummar Rao. The success of the likes of Khurrana and Rao suggest that the audience, besides preferring interesting plots, also like actors who do justice to their roles and who they can relate to, without caring about appearances.
These actors may not have the good looks of Salman Khan or the screen presence of Shah Rukh Khan, but their ability to carry a movie on their shoulders through their acting prowess has turned them into the blue-eyed boys of the audience. Both these actors hail from ordinary middle-class backgrounds and the authenticity that they bring to their roles reminds one of Amol Palekar, Farooq Sheikh and Naseeruddin Shah. Their originality is their trademark.
Aditya Mukherjee,
New Delhi