US-China cold war: A delicate matter of choice for India
With the intensifying trade war between the two countries and American sanctions against Russia, we might well be headed toward the creation of two de facto trading blocs too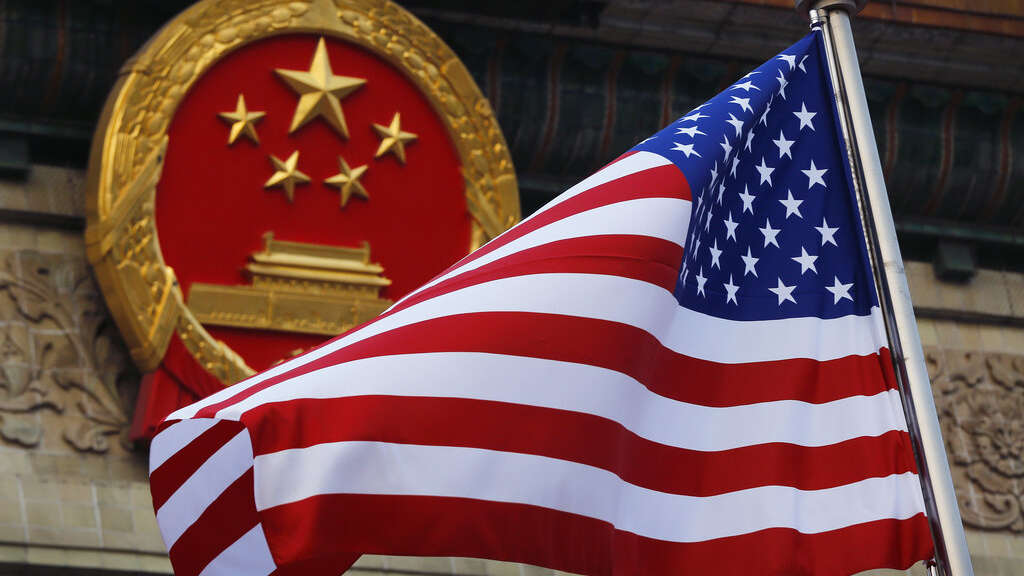 In this Nov. 9, 2017, file photo, an American flag is flown next to the Chinese national emblem during a welcome ceremony for visiting U.S. President Donald Trump outside the Great Hall of the People in Beijing. U.S. and Chinese trade envoys discussed strengthening coordination of their government's economic policies during a phone meeting, the Ministry of Commerce announced.
AP Photo/Andy Wong, File
---
Published 26.08.20, 02:10 AM
|
---
Addressing the who's who of American strategic thinking in an address in New York last September, the foreign minister, S. Jaishankar, described "multi-alignment" as the future of India's relations with the world's major powers. Where India's historic stance of non-alignment came to represent equidistance from global powers, multi-alignment, Jaishankar explained, meant keeping "your relationships well-oiled with all the major power centers."
Yet, there was a context for Jaishankar's comments — one that's changing as fast as the spread of the worst pandemic in a century. According to Jaishankar — and that is, indeed, India's formal position too — we're in a multipolar world. But while that has largely been true since the end of the Cold War, 2020 is altering those equations just like it has shaken up every other part of our lives.
In the first quarter of the year, the dollar share of bilateral trade between China and Russia fell below 50 per cent for the first time on record, pointing to a conscious move by the two nations to reduce their dependence on the American currency. Russia and China are increasingly coordinating their strategy on everything, from Iran and Syria to their approach to the United States of America.
Meanwhile the US is doing what China has long been accused of: effectively building a 'great firewall' of its own. Its tightening restrictions on Huawei are aimed at trying to kill off the Chinese telecom giant. Donald Trump's threat to ban TikTok, WeChat and other wildly popular Chinese apps is setting the stage for the creation of, effectively, two parallel internets.
With the intensifying trade war between the US and China and American sanctions against Russia, we might well be headed toward the creation of two de facto trading blocs too. Countries and companies would in that scenario need to choose between the two sides — sanctions would bar those who trade with Russia, use Huawei or play Tencent games (the Chinese social media giant is also the world's largest video game developer) from engaging with the US.
If that shift towards two barely intersecting worlds reminds you of the Cold War, it's because the parallels are real. And like the rest of the world, India will face increasing pressure to choose between a liberal but declining West and a rising but illiberal Eurasia led by China and Russia.
The former sees India as a useful partner to counter China's ambitions, and is willing to share cutting-edge technology and weaponry to assist New Delhi in emerging as a regional power. Yet while India and the US — and to a large extent Europe — agree on the need to balance China's rise, they disagree on other elements of the India story. The West insists India's trade barriers are still too restrictive and that New Delhi's intellectual property regime doesn't adequately protect innovation. And the US and the European Union will continue to keep India's human rights record — whether in Kashmir or against minorities and Dalits in the heartland — as a ready strategic weapon to use as a bargaining chip when it suits them. Trump, let's be clear, is an aberration that might pass as soon as January 2021.
Russia has never questioned India on its human rights record, and remains the backbone of India's military. But while still a major military power, Russia today lags behind the West when it comes to the most sophisticated weapon systems. What about China? Though it's Pakistan's BFF, it's easy to see it would keep quiet on Kashmir if New Delhi and Beijing were on better terms and their soldiers weren't bludgeoning each other to death with rocks and rods. It's much harder, however, to imagine China sharing some of the cutting-edge technology that has made it a global leader in artificial intelligence, automation and 5G.
Put simply, there are no easy answers to India's dilemma. To be sure, we're still some steps away from rigid, Cold War-like blocs. The Russian president, Vladimir Putin, has refused to call his partnership with China an alliance, and Moscow remains uncomfortable with the idea of playing a junior partner to anyone. The current situation is also fundamentally different from the Cold War because the nature and capabilities of China have changed, making even a working relationship with Beijing more complicated than ever before. On the other hand, current tensions between the US and Europe mean the West is far from the united force it was during the second half of the 20th century. If Trump returns to power, those fissures will widen.
It's also not a given that India must eventually choose between the West and the Russia-China axis. It has skilfully manoeuvred between major powers in the past. But to do that again, it must first recognize the reality of today. The multipolar world of the past 30 years is, once again, coalescing around two pillars. Ensuring that relationships with all major powers remain "well-oiled" — as Jaishankar put it — will need more grease than ever before.