Raqib Shaw, an artist unlike any other
On Shaw's technique, memories of Naipaul and Vajpayee, the future Bank of England governor, and the future of the India Club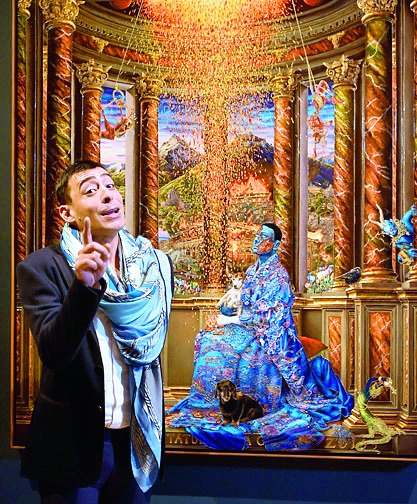 ---
|
London
|
Published 25.08.18, 12:00 AM
---
Steal the show
A BBC Radio 4 review alerts me to the fact that the extraordinary paintings of the Calcutta-born artist, Raqib Shaw, are at present on display at an exhibition at the Scottish National Gallery of Modern Art in Edinburgh. Eight recent works are included in Raqib Shaw: Reinventing the Old Masters.
According to the gallery, "Raqib Shaw's art is quite unlike any other artist. While his imagery may be inspired by the Old Masters, Raqib's technique constitutes an entirely unique kind of enamel painting... He uses needle-fine syringes and a porcupine quill, with which he manoeuvres the paint.... The finished works are elaborate, magical and breath-taking in their colour and complexity."
Raqib was born into a Kashmiri family in Calcutta in 1974. Later he would thank Calcutta for helping to shape his artistic sensibility. He came to London in the 1990s to work for his uncle, who traded in carpets, jewellery and shawls, but instead became an artist after attending the prestigious Central Saint Martin School of Art and Design. He now paints from a former sausage factory, converted into a multi-storeyed, floral-laden home and artist's studio.
The Calcutta boy, now a world famous artist, should show some of his work in Calcutta. In 2007, he caused a stir when his Garden of Earthly Delights III fetched £2.7million at Sotheby's in London. This was inspired by the 15th-century Dutch artist, Hieronymus Bosch, whose work of the same name was "very much about debauchery and hedonism in 15th-century Europe".
Clearer picture
It was good of the physicist, Bikash Sinha, to provide a little more clarity on V.S. Naipaul's trip to Calcutta in 1988, when the demanding author and his then Anglo-Argentine partner, Margaret Gooding, were accompanied by the journalist and Khushwant Singh's son, Rahul Singh. Bikash took them to dinner at the Calcutta Club. Although Naipaul was "extremely courteous in an old fashioned way" and approved of the Calcutta Club, Bikash remembers that he "would censure Margaret for no apparent reason".
Bikash also asked his guests home for dinner. He recalls Naipaul had just met his Presidency College friend, Dipanjan Roychowdhury, "the 'Trotsky of the Naxalite movement in Bengal'. Dipanjan was brilliant - he was already married to Arati, another contemporary at Presidency in the early Sixties. The discussion with Dipanjan and Arati featured rather prominently in his book, India: A Million Mutinies Now, a radical and optimistic perspective of India after the fearfully despondent An Area of Darkness. The evening was punctuated with his sharp and often provocative arguments and views."
What is Bikash's assessment now? "He never pretended to be a highbrow scholar of any sort. I suspect he hated them. What I noticed were his penetrating observations and insights on contemporary reality. Sir Vidia was a seeker of truth, however uncomfortable, however unpalatable."
Life as a gourmand
Atal Bihari Vajpayee's passing was given generous space in the obituary columns of British newspapers. Although by no means uncritical, they took the line adopted in India: that for a Bharatiya Janata Party politician, he was a good egg, as PG Wodehouse would no doubt have put it. "Despite his life-long involvement with the Hindu right, Vajpayee was widely seen by many Indians, including Muslims, as personally tolerant and compassionate and a good coalition-builder," noted the Financial Times. The Guardian said: "Vajpayee had a gift for ambiguity. Nobody could be completely sure whether he was a lone liberal among Hindu fundamentalists or simply a plausible salesman for religious nationalism."
He enjoyed "a hearty dinner", according to The Daily Telegraph. I can confirm that when he came to England in October 2002, he chose not to take up Tony Blair's hospitality at Chequers, the British prime minister's country residence in Buckinghamshire. After enjoying the cuisine of Quilon and the Bombay Brasserie, he teased Ananda Solomon and Sadeq Khan, the chefs who had travelled with him: "Can you get me such good food in India or do I have to come to London every time?" Eighteen dishes went up to his suite at the St James Court Hotel for one meal, with the plates returning empty.
Two possibilities
Who will replace Mark Carney as governor of the Bank of England? As Jasbir Singh Sachar, a friend and publisher of the Asian Who's Who International, likes to say, "Two names are coming in the air." Although these are a long shot, one is Raghuram Rajan, the former governor of the Reserve Bank of India. The other is Baroness Shriti Vadera, chairwoman of Santander UK since March 2015, and the first woman to head a major British bank.
The struggle goes on
The Westminster City Council ruled that the India Club, linked to Krishna Menon's League, should be preserved as a historical and cultural asset. But Marston Properties, which owns the freehold of the building, is determined to demolish it and oust the leaseholders, Yadgar Marker and his daughter, Phiroza. Last week, Marston Properties submitted 'new plans' promising to include a restaurant and bar. This is disingenuous because, as Marker pointed out, the application makes "no provision for the India Club".
FOOTNOTE
If I were to make a 'power list' on influential Bengalis in the UK, I would have to include four Chakrabartis, agrees Sir Suma Chakrabarti, the president of the European Bank for Reconstruction and Development. Then there is the Labour Party's shadow attorney general, Baroness Shami Chakrabarti (picture), and the sisters, Reeta and Lolita Chakrabarti - a BBC presenter and a theatre director, respectively. "It's completely extraordinary... how four people have the same spelling," says Suma.